Libraries are the lifeblood of many communities. Their impact goes much further than lending out books, often offering safe shelter and access to resources, event space, Internet services, and more. We are proud to support the technological needs of libraries, and within our catalog you'll find offerings to suit a wide variety of operational needs.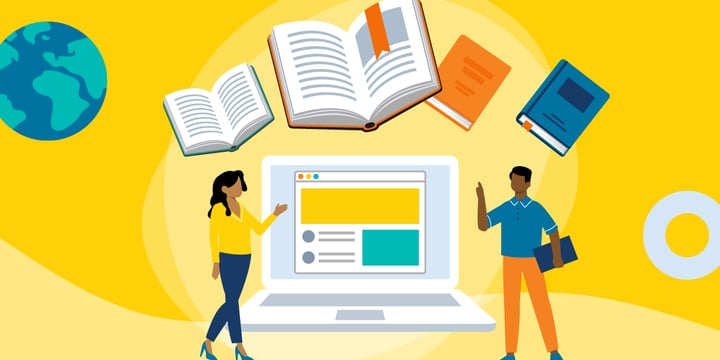 In this post, you'll find some highlights of the TechSoup catalog that can help libraries to better support their staff and operations.
Productivity and Communications
Productivity and collaboration tools form the foundations of day-to-day operations for many libraries. You'll likely use word processing software on a daily basis and need effective ways to communicate with your patrons and get the word out about what's going on at your library. Here are a few tools that can set you up for success.
Microsoft
Microsoft offers a range of cloud-based and on-premises offers that can provide the building blocks of your daily operations. Office 365 and Microsoft 365 cloud subscriptions include productivity tools like Word, Excel, and PowerPoint, along with Outlook mail and calendar capabilities. You can also access SharePoint and Teams, which enable you to collaborate more effectively through file sharing, video conferencing, and instant messaging.
If you need to equip your public-access computers, look out for the Computer Labs Only label on our Microsoft offers. These are on-premises donations that can only be used for public-access devices, not for computers assigned to individual staff members or volunteers. You can request up to 50 of each of these tools, including Microsoft Office, Visio, and a Microsoft Windows operating system.
Adobe Creative Cloud
If you're looking to boost your library's visual assets, Adobe Creative Cloud covers every base. It brings together Adobe's suite of creative tools to enable you to create and use photos, videos, illustrations, and printable designs that can be used to promote events, encourage donations, or simply decorate your library. You can build unique visual elements with Illustrator and turn them into flyers, posters, or zines in InDesign. Lightroom helps you to enhance your photographs, while Premiere Pro has you covered for any video editing needs.
Adobe Express
If you're looking for the brilliant results of the Creative Cloud apps but without the time or expertise to really make the most of them, Adobe Express is a great solution — and the premium plan is available at no cost to libraries. It harnesses the functionality of Lightroom, Photoshop, Premiere Pro, and InDesign in an easy-to-use platform, which can also post directly to your social media accounts. Express can be used on desktop or mobile, working from the templates provided or completely from scratch, and you can import your library's branding and logo to ensure that your designs are just right.
Constant Contact
Looking for a way to become more effective in your communications with patrons, volunteers, and supporters? Constant Contact is an online marketing platform and customer relationship manager (CRM) that can help you to send the right message at the right time. It helps you to store your contact information in one place and to use your contacts' data and previous activity to send them emails at a time when they are more likely to open and interact with them.
You can build beautiful emails from Constant Contact's templates and test different subject lines and send times to find the most effective strategy.
DonorPerfect
DonorPerfect is a donor management system (DMS) that keeps information about your donations and donors in one place. It helps you to track your contacts' demographic information along with their donation history, as well as processing new donations through the platform using integrated forms on your website. You can also send gift acknowledgments and fundraising emails straight from the DonorPerfect platform and access reports that can help you to analyze donation trends over time.
Accounting and Fundraising
Library funding strategies can vary from government funding to project-based grants and individual donations. Get started with a great accounting tool to keep your finances on track and a database to help you find the most suitable funding sources.
Intuit QuickBooks
If you're looking for a tool to manage your library's accounting needs, QuickBooks is a great solution. You can access it on desktop or mobile, integrate it with Excel or CSV files, and integrate it with your email in order to process invoices and estimates directly. With the Online Advanced version, you'll also get access to customized reports to help you track the efficiency of your budget use, as well as self-paced online training to help you make the most of the software.
If you're considering Intuit's desktop products, please note that we expect support to end for those offers soon, so we recommend choosing a cloud-based option.
GrantStation
Many libraries rely on a variety of fundraising sources in order to stay afloat and offer their services. GrantStation helps you search for suitable funders, narrowing down results using your library's criteria. It covers national, regional, and local foundations, along with corporate giving programs, government grants, private sector grantmaking programs, and more.
Searching for suitable funding streams for a library can be tiresome, confusing, and labor-intensive. Using GrantStation can save your staff time by narrowing down your list to those funding sources that meet your needs and that you are eligible for.
Hardware
Whether you're equipping your staff and volunteers, offering machines for public access, or developing a technology lending program, many libraries direct resources towards acquiring and updating their hardware. From laptops and desktops to mobile hotspots, here are the offers you can get access to through TechSoup.
Refurbished Hardware
TechSoup collaborates with computer refurbishers to offer good-as-new refurbished hardware that now comes with a two-year warranty! You can find Dell, HP, and Lenovo laptop and desktop computers, as well as Microsoft and Apple tablets. You'll also find monitors, mice, and other peripherals to complete your library's setup.
Lenovo
Through TechSoup, libraries can get access to a catalog of discounted products from Lenovo. They offer laptops, desktops, monitors, tablets, accessories, and software. There is no limit on how many discounted products you can purchase from Lenovo, which makes this a great way to equip a new suite of public-access computers.
Dell
For another great hardware option, consider accessing Dell coupons through TechSoup. Dell offers laptops, desktop computers, tablets, accessories, and a Dell Technologies adviser to assist with your decision-making, as well as free remote setup assistance on purchases. The remote computer setup assistance will guide you through the initial configuration of your computer, software, and peripherals, as well as helping you transfer data to the new machine and connect to Wi-Fi networks and printers.
Mobile Beacon
Mobile Beacon offers mobile hotspots, allowing you to connect devices to the internet via 4G when Wi-Fi is not available. If you operate a mobile library, off-site workshops, or any other program away from your normal premises, these hotspots are a great solution. You can be sure that you'll have a secure connection and avoid the need for staff or volunteers to be using their own mobile data.
You can also join the growing number of libraries that are using mobile hotspots to start an Internet lending program. If you have patrons of your library or members of the local community who do not have Internet access, consider lending out hotspots so that they can use the Internet at home.
Security
In order to protect your library's data, as well as that of your patrons, it's important to have a robust security system in place. Malware, spyware, and an ever-increasing number of other threats can steal your data, disable your systems, or deny you access to your files. In order to keep your library up and running, and reduce operating costs by avoiding downtime, check out these great security tools.
NortonLifeLock
NortonLifeLock offers two solutions through TechSoup: Norton 360 Deluxe and Norton Small Business. Both tools provide protection from viruses and malware in order to keep your systems running smoothly.
Norton Small Business will prevent uninvited connections from joining your network, which helps to prevent data theft. It also monitors mobile devices for suspiciously high battery use and intrusive behavior, and it can locate and wipe mobile devices if they're stolen. You can manage all of your devices from Norton's web portal.
Norton360 includes many of the capabilities of Norton Small Business, as well as some extra features like dark web monitoring, a secure VPN, password manager, and cloud backup. Both offers provide a donated one-year license.
Avast CloudCare
Another option for effective antivirus protection is Avast CloudCare. It prevents uninvited connections to your network and protects against viruses and malware. You can manage all of your devices through a centralized dashboard and see in-depth reports. These reports will show you which devices do and don't have antivirus, as well as the details of any blocked threats.
Libraries can also make use of CloudCare Content Filtering, a cloud-based content access regulation service. This is a great security measure for libraries with public access devices as well as staff computers, limiting access to sites that may bring security risks into the network. It's also a great way of enforcing a computer use policy for staff and patrons.
Bitdefender
Bitdefender is security software that protects from viruses, worms, spam, ransomware, and other threats. It prevents unwanted connections and continually monitors for threats using a firewall. It protects personal information like your Social Security number, and its web-filtering technology lets you know whether your search results are safe before you actually click on a link.
Equip Your Library
TechSoup is dedicated to supporting libraries as best we can. As well as many great technology tools, we send out a newsletter just for our library members, as well as providing other resources and events just for you. You can also access all of our courses in order to train and equip your staff to make the most out of your tech. Check out what TechSoup can do for your library.
Top photo: Shutterstock