With so many nonprofits overwhelmed by their day-to-day needs, it's difficult to prioritize marketing. However, marketing can be the key driver of success for your organization through creating sustainable growth in donations, supporters, and impact. In order to have a successful marketing strategy, we must understand the methodologies to leverage when planning and executing.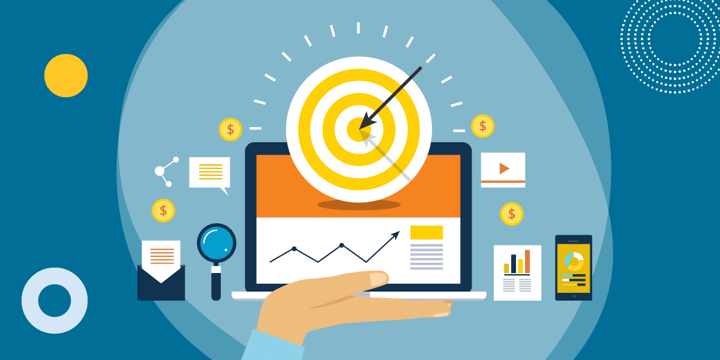 How the Marketing Landscape Is Changing
With increasing migration to digital environments, nonprofit organizations are able to more effectively mitigate the challenges of traditional marketing. Across the web from websites to blogging to social media, there is no shortage of space to write, create, and promote content associated with your mission or organization, at a relatively low cost.
This digital migration has given rise to a new set of marketing tactics and a powerful new methodology for success. This new methodology has been gaining traction across nonprofit organizations and solves some of the problems we face in traditional marketing strategies.
What Is Traditional Marketing?
Traditional marketing is also known as "push marketing" or "outbound marketing" and has been the industry standard since the early days of productization and modern business strategy. Traditional marketing tactics include direct mail, print advertising, billboards, and telemarketing; it focuses on a "pay-to-play" approach. The available space for marketing messages of this kind is limited due both to physical availability, like competing for a billboard spot, and to mental capacity in the minds of your audiences.
Centered around market trends, value propositions, and staying top-of-mind, many traditional techniques can be largely successful for those who have the budgets to experiment, test, improve, and expand. However, there are two major downfalls to this approach: high costs and low targeting. There is no guarantee that your ideal target audience will see your message even if you find the budget to try. This is what we might call the "spray and pray" approach — hoping that if you get your message out there across enough touchpoints, you might find the right person at the right time.
The New Marketing Methodology
This new marketing methodology is known as inbound marketing but may also be referred to as "content marketing," "pull marketing," or "contemporary marketing." Where traditional strategies focus on quick growth through acquisition and promotion, inbound marketing focuses on more sustainable, long-term growth through relationships, social awareness, and valuable content.
Inbound marketing is the process of attracting the right person, developing the right message, and delivering it at the right time. The focus shifts from what the consumer can do for the organization to what the organization can do for the consumer. By putting the control back in the hands of the audience, you build deeper relationships, reduce the feeling of "being sold to," and find those who are genuinely interested in and aligned with your mission.
Inbound marketing tactics include content marketing such as blogs or downloads, virtual events, social media, search engine optimization (SEO), pay-per-click (PPC), and landing pages or website strategy. All of these tactics focus on attracting the right audience to your organization, either through keyword targeting or even paid advertising, which is done in a highly targeted way.
The inbound methodology can be broken down into two key phases. The first phase is problem identification. This phase is focused on attracting strangers to your organization and mission and educating them on the problem your organization solves. Through this phase, your goal is to increase awareness but also drive engagement with your organization. This initial engagement can be low-barrier, such as a newsletter intended to continue the educational aspect of the problem or need your organization is structured around.
To better understand this structure, consider a local nonprofit whose mission is to keep a river in a small town clean. In this phase, that organization would be looking to increase awareness throughout its community about the pollution issues the river is facing, why clean rivers are important to communities, and specifics around what is needed to keep the river clean. Here, they might look to encourage newsletter subscriptions to stay up to date on the needs of the river.
From here, we move into the second phase — solution orientation. At this point in the strategy, the audience they are speaking to should be aware of the problem and want to act to solve that problem. Now it is up to the organization to first convince that audience that it is the solution to the problem. At this phase, the organization would have a group of potential supporters who care if the river is clean and want to ensure that it remains unpolluted. The organization would then be looking to show its specific impact and success during this initiative through case studies, testimonials, and before-and-after pictures. Then it would drive those audiences toward ways to support the organization, like volunteering for a community cleanup day or donating money.
Creating a Successful Inbound Marketing Methodology
All inbound marketing tactics focus on the idea of meeting your target audiences online in spaces they are already in, with content they are looking for, open to, or likely to interact with. But how does this happen? For every promotional campaign or tactic you run, you should always do so with your intended, or target, audience in mind. Instead of asking yourself, "What do I want them to know?" ask, "What questions will this person have before they are ready to take action?" Here are seven questions to ask when you strategize your marketing to ensure that you are building audience-first content.
Who is my intended audience?
Where does my intended audience spend their time online?
Where does my audience go online for news?
How can my audience interact with my organization online in a low-stakes environment?
What is the lowest barrier of entry I can create to capture a potential lead or supporter?
What is the intended end goal for each of my audiences?
What questions or challenges is my audience likely to have before they are able to reach the intended goal?
Ensuring that the content you create is audience-centered is a great first step. The TechSoup Digital Marketing Services team specializes in inbound marketing road maps to kick-start, revamp, and reenergize your marketing initiatives.
Find Out More
Top photo: Shutterstock