In 2020, it can feel like nonprofit staff are working twice as hard to raise half as much.
Where in-person fundraising events have dropped off, volunteers have stepped up, foundations are giving more, and donors' commitments have remained steadfast. 2020 may mean additional risks to mitigate, but the opportunity to raise funds during a year-end fundraising campaign is still there. The key to success lies in how you go about structuring your year-end campaign, by optimizing the tools you have on hand.
Begin by evaluating the people, processes, and technology you already have in place at your nonprofit organization. Optimizing these three key areas will help determine what's possible given your capabilities and capacity. The goal of this assessment is to determine how you can accomplish all of the things you need done quickly and efficiently.
Focus on the strengths of your team, identify areas to streamline your process, and define the technology that will allow you to scale. This post will focus on the methodology required to optimize each of these foundational pillars to ultimately double your year-end fundraising and set yourself up to raise more money and awareness online in 2021 and beyond.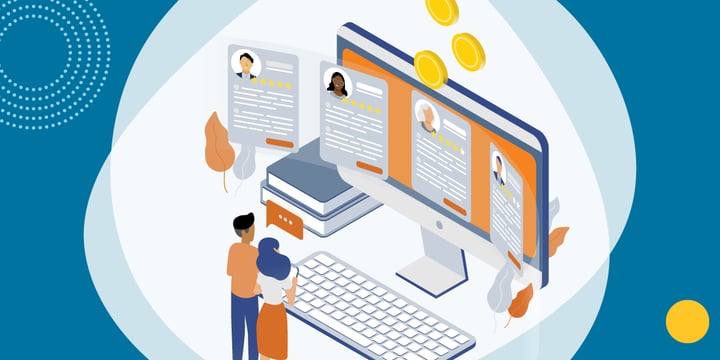 Focus on Your Team's Strengths
With your fundraising and programmatic goals at top of mind, determine what skills on your team will have the greatest impact on revenue for your year-end campaign. Assess the strengths, capabilities, and capacity of your current team — staff, interns, volunteers, and contractors. Some example questions to consider:
Do you have a strong project manager to ensure that deliverables and deadlines are met?
Does your fundraising team excel at delivering highly segmented content across channels?
Do you have a strong digital designer, developer, and copywriter to create landing pages that convert?
Does your top-performing major gift officer have time to personally connect with her portfolio?
Do you need surge capacity to execute upon a robust paid digital campaign?
Is a team member particularly talented in acquiring corporate partners or matching gifts?
Do you have a volunteer or administrative lead on hand who can press send on 1:1 emails or text messages to supporters?
The answers to these questions will vary depending on your mission and revenue, but are of equal importance whether you are a nimble team of two or three staff members or juggling dozens of employees. The strengths of your team and desired campaign end state go hand in hand. Once you have your roles and responsibilities divided up, align on your goals. Defining a SMART (specific, measurable, achievable, relevant, and time-bound) goal will help ensure that your team is aligned on what you're working towards.
Determine if you will require outside support to enhance your existing team's efforts, including any necessary enhancements to your day-to-day functionality and communication. Is everyone aligned and in sync on priorities and responsibilities?
The planning stage is the most time-consuming and critical step of your campaign process, but optimizing your team and workflow will increase the likelihood that you will surpass your year-end fundraising goals.
Streamline Your Process
Organization and expectation setting upfront go a long way. Once you've outlined your personnel requirements, define who will be responsible for which tasks, who's setting the strategy, and where everything is documented. Break up each step of your process into focused sprints, so it doesn't feel like you're summiting the mountain all in one go. When trying a new fundraising strategy or solution, start by prioritizing high-impact and low-cost solutions first and keep track of what has and hasn't worked in a project backlog.
Consider any communications constraints and appoint the key decision-makers to address. Project management tools are vital for growing teams with multiple specialists, ensuring there's visibility for all teammates to keep deadlines met. Don't forget about this tool when it comes time to assess your technology needs!
To best improve efficiency and effectiveness of your campaign, ensure that you are set up to track your team's progress on deliverables and outcomes. While you want to ensure proper reporting and evaluation of your KPIs, inject a bit of extra time to properly outline what your goals are. A few common examples include web traffic, conversion rate, and average gift amount.
Evaluate Your Technology
Ensuring that your systems will allow you to reach your 2020 year-end fundraising goal is crucial. More importantly, make sure that they will allow your organization to scale for years to come. A strong technology stack is essential for year-over-year growth, and there's never been a more pressing time to ensure that your technology is working in your favor.
At a high level, your tech stack will likely include
Customer relationship management system
Online fundraising platform and donation form
Email service provider
Content management system platform or website builder
Google Analytics or other enterprise analytics tool
Text engagement tool
Project management tools
Let's start with the basics. Namely, your customer relationship management system (CRM) and email service provider (ESP), as approximately a third of online donations are referred via email communication. Your CRM keeps all of your donor and supporter data in one place, and your ESP allows you to communicate with these supporters. Determine if the current systems that you have in place are working for you. You may want to consider migrating your email system to the cloud, and TechSoup can help with that.
Have you outlined your tech goals and any pain points that may be prohibiting your team from working efficiently? You can start by documenting your needs and obstacles while running a large year-end campaign and consider a tech transformation in early 2021, when giving is commonly less frequent.
Ensure the integrity of your send list by regularly cleaning out any information you wouldn't pay to keep. By this I am referring to any duplicates, bounced or cleaned contacts, or those who are subscribed but aren't engaging with your email content. Always leverage lists, tags, or any audience segmentation opportunities that your CRM provides since personalization at scale is a key factor for growth.
After you've done an overhaul on the mechanics that allow you to communicate with supporters, shift the focus to your owned channels and how you can optimize them. Owned channels include email, social media, your website, and your online donation form. Assess what the user experience is like on these platforms with the lens of a first-time visitor. How easy is it to make a gift on your website?
Tracking is a significant benefit to modern technology, but it takes time to set up, so ensure that you're factoring that into your timeline. As a free tool, Google Analytics is invaluable to nonprofits looking to evaluate website traffic and define which channels are driving the most revenue. Modern-day technology makes it easy to create unique tracking links, known as UTM parameters, that organize conversions down to the audience, channel, and content. Use this historical data to determine what content works best for your different nonprofit audiences and build your digital advertising strategy from there.
Make Time for Growth
The biggest constraint when it comes to optimizing your people, process, and technology is time, and it typically takes twice as long as anticipated. Nonprofit leaders everywhere are constantly grappling with how to do more with less, and these three areas of focus are a great place to start. This time investment will be well worth it when you set yourself up to raise money and awareness for your organization in 2021 and beyond.
To streamline the year-end fundraising process for all nonprofit leaders trying to do more with less, CauseMic compiled a comprehensive Resource Hub to maximize your revenue regardless of size or mission. Learn more here.
Additional Resources