Effective digital security requires more than antivirus software. You also need to think about other aspects, such as secure account management for your staff, secure file storage, and training to help your staff and volunteers spot bad actors and would-be cybercriminals. Here is a selection of the security products and services that TechSoup offers to nonprofits and libraries.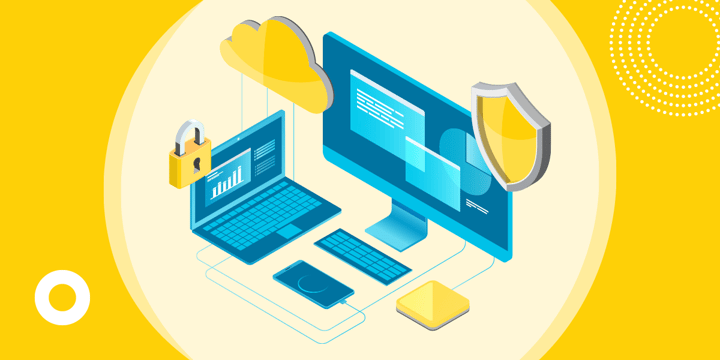 Okta: Single Sign-On and Identity Management
We all have a lot of usernames and passwords for the apps and services that we use to get work done. But not only is it confusing and frustrating to try to manage all those accounts, it can also be a security liability. For instance, you may forget to deactivate a former employee's account for one of the services you use, leaving your organization's data ripe for the taking. This is where Okta comes in.
Okta allows you to manage all your user accounts, all from one place. You can use it to easily add and remove user accounts, set password requirements, and set access permissions for individual users. Since it employs single sign-on, your staff members each have only one user account that they need to remember for all the apps you use.
Another key feature lets you create workflows for license requests, approval, and provisioning as an internal "app marketplace" for an organization.
TechSoup member organizations can get 25 free licenses, plus discounts on additional licenses.
Bitdefender: A Wide Range of Security Products
From PCs to Macs, from Android to Windows, Bitdefender offers products to cover a whole range of devices and needs.
Bitdefender Antivirus for Mac and Bitdefender Internet Security offer protection for small organizations with only a few computers to protect. These products offer the core security features that you need in an easy-to-use package.
If you have a larger number of systems, Bitdefender GravityZone Business Security is for you. It includes cloud-based management tools so you can manage all your computers from one place. In addition, Bitdefender Mobile Security for Android offers protection for your Android devices.
NortonLifeLock: A Popular Choice for Smaller Organizations
NortonLifeLock is another good option for smaller nonprofits. We offer two different NortonLifeLock security solutions: Norton Security Deluxe and Norton Small Business.
Ideal for very small nonprofits, Norton Security Deluxe offers core security features like protection against the latest malware and online threats, as well as a firewall and password manager. It offers protection for up to five devices, including Windows PCs, Macs, and Android devices.
Norton Small Business offers security for up to 20 devices and includes device management features tailored to a small-organization environment. You also get access to 24/7 phone support, just in case you run into problems.
Box: Secure File Storage and Collaboration
With so much moving to the cloud, it's important to make sure that you don't neglect data security. A secure cloud storage and content management solution like Box should be an important part of your security toolkit.
Box offers cloud storage, collaboration features like file versioning and sharing, and strong 256-bit AES encryption. In addition, it allows you to set access permissions so your staff members see only the files that they need to see. This improves security by reducing the number of people who have access to your most sensitive files.
Box is compliant with many security and privacy standards to meet your organization's compliance needs.
It also integrates with popular apps and services, like Office 365 and Google Docs. Box subscriptions are available for organizations of all sizes.
Veritas: Data Backup and Recovery
OK, backup software isn't exactly what most people think of when they think of computer security. But if you should ever fall victim to a malware or ransomware attack, you're going to want an up-to-date backup in case you need to erase your hard drive and start fresh.
To this end, we offer two backup solutions from Veritas to help you safeguard against data loss. Both Veritas System Recovery and Backup Exec allow you to back up and restore laptops, desktops, and servers. But the two have slightly different feature sets that cater to different kinds of use cases. See our comparison of Veritas backup solutions to learn which one is right for your needs.
KnowBe4: Cyber Security and Compliance Training
Using the right tools to protect your data is important. But so is knowing how to spot threats in the first place. With KnowBe4's Cyber Security Compliance Training, your team will learn how to spot threats and learn best practices to defend against data theft, scams, and other tactics that cybercriminals use.
But That's Not All
These are just a few highlights of the security products and resources that we offer to nonprofits. Take a look at our nonprofit security hub to find additional products, services, information, and resources to help you secure your organization.
Additional Resources