If Zoom wasn't a household name before the pandemic, it certainly is now. Our work and social lives became dependent on the platform, and even as restrictions are slowly easing across the world, many have chosen to continue working remotely and keeping work and client meetings primarily on Zoom.
Meeting online comes with a different set of risks than meeting in person. Read on to find out more about what these risks are and how you can use Zoom's great security features to keep your meetings secure.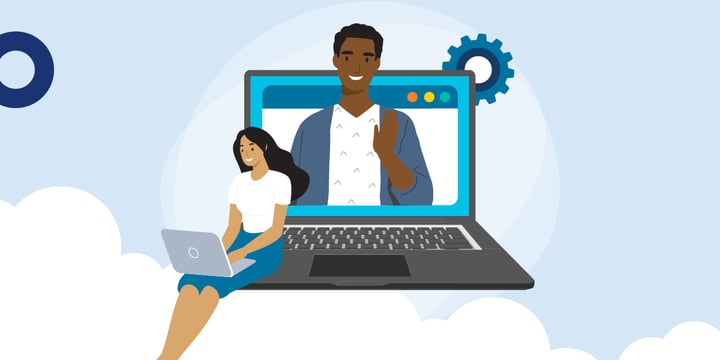 Knowing the Risks
Zoom is a convenient and effective way of holding meetings with people who can't gather in person. It has become essential for those working from home or collaborating with people on different sides of the planet. However, the public nature of the Internet means that there are some security risks associated when communicating in this way.
One key problem is that meetings can become subject to what has been called Zoombombing. This name refers to incidents where uninvited attendees join Zoom meetings in order to disrupt. They might do this by saying obscene or bigoted things, such as racist, homophobic, or antisemitic slurs, or by sharing content of that nature. Specific contexts where this has been an issue include schools and universities, city council and board meetings, and support groups such as Alcoholics and Narcotics Anonymous.
The other key security risk is around meeting recordings and transcripts. Like any other document, it is important to ensure that any record of a Zoom meeting is kept securely and backed up accordingly.
While these concerns are serious, there are great ways that you can protect your meetings from such risks by making use of Zoom's security features.
Make Use of Zoom's Security Features
Zoom provides plenty of ways for you to make your meeting more secure. Before the meeting, require a meeting passcode, enable the waiting room, and only allow signed-in users to join the meeting. This makes it much more difficult for unintended participants to join the meeting. You can also create a new, unique link for every meeting rather than using your personal ID. Share the link and password privately rather than on any public platform. Zoombombers look for meetings that are vulnerable to being hijacked. Meetings that have their links displayed publicly, or that let anyone join the meeting without identification or a password, are much easier targets than ones that don't.
During the meeting, you can disable participants' video and audio and lock the meeting once it's started to prevent new participants from joining. You can also remove a participant if they become disruptive. Limiting permissions for chat, file sharing, screen sharing, and annotations is also a good way of avoiding unsolicited messages, image or file transfers, and disruption within the meeting.
If you have recorded or taken a transcript of a meeting, you should ensure that this is stored safely in order to keep it away from prying eyes. This is particularly important if the recording contains personally identifiable information or anything that might compromise the safety or privacy of your clients or staff. Use the same protocol as you would with any other documents and delete the files if they are no longer needed. If your recorded meeting includes discussion of medical records in any capacity, you must ensure that you are HIPAA-compliant when dealing with it.
If a user is particularly disruptive, you can report them to Zoom's Trust and Safety team after the meeting.
The Road Ahead
As part of its focus on increasing trust and security on the platform, Zoom is continually introducing features to make meetings more secure. Recently introduced security features include end-to-end encryption for chat, meeting recordings and chat transcripts, watermarking screenshots, and extra authentication methods. You can also password-protect your cloud recordings to ensure that they don't fall into the wrong hands.
In the future, Zoom is looking to introduce Verified Identity. Zoom is working with Okta to add an extra layer of security when participants enter a meeting. Verified Identity relies on a combination of identifying factors to ensure that a user is who they say they are. There will then be a check mark next to the names of verified users once they are in the meeting.
Zoom Trust Center
Zoom's Trust Center is the place to go for all resources about compliance, privacy, safety, and security. Along with details on how Zoom is complying with government regulations around data and privacy, you can also find Zoom's own trust and safety policies. If you're looking for updates on encryption, a detailed overview of relevant HIPAA regulations, or best practices for using Zoom in your specific context, the Trust Center has all the information you need.
Put Safety First with Zoom
Zoom is dedicated to keeping trust and security at the forefront of everything it does. By enabling the features Zoom has available, you can ensure that you know exactly who is in your meeting and avoid any unwanted guests. You can also ensure that any incidents are reported and dealt with accordingly. Zoom is constantly innovating, coming up with new ways to keep your clients, staff, and data safe when using the platform.
By accessing Zoom through TechSoup, you can get a 50 percent discount on a one-year subscription for Zoom Meetings Pro or Business plans as well as selected add-ons.
Additional Resources
Top photo: Shutterstock