Fundraising is crucial to the sustainability of your nonprofit, and among the most valuable sources of funding are long-lasting and recurring donors. According to Giving USA, 68 percent of nonprofit donations in 2018 came from individual donors. Big or small, all donors are valuable. However, more than half of all first-time donors leave after their first donation. So how can you nurture your donor community to make sure they continue contributing? How do you turn new donors into recurring donors?
As reported by NextAfter in The Nonprofit Recurring Giving Benchmark Study (PDF), recurring donations grew 70 percent from 2013 to 2017. Below are a few suggestions to leave a long-lasting impression and convert one-time donors into year-round supporters.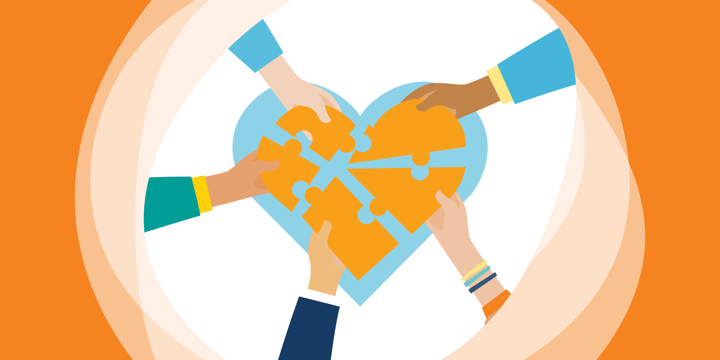 Thank Your Donors
Always be sure to express gratitude to your donors. An email, a phone call, or a handwritten thank-you card is the most cost-effective way. According to a 2017 Software Advice survey, 46 percent of donors prefer a personalized letter.
You can also go the extra mile by providing donors with a success story that shows exactly how their contributions have led to your organization's success. The survey above also showed that 60 percent of donors prefer success stories over updates and goal progress. Either way, donors prefer to know how their donation has made a difference.
Lastly, it's important to stay consistent with your gratitude. NextAfter found that only one in 10 organizations kept in contact with recurring donors after the third month. And if you fade away after a few months, then the donor can too. To avoid making this mistake, make an organized calendar or spreadsheet so you can always know exactly who you haven't contacted in a while and who should be reached out to in the near future.
Acknowledge Donors on a Regular Basis
Big or small, publicly acknowledging donors is a powerful way to make them want to continue involvement. As DonorBox points out, recognizing your donors publicly evokes social proof, defined as "a psychological and social phenomenon wherein people copy the actions of others in an attempt to undertake behavior in a given situation." In simpler words, donors are more likely to contribute if they see others contributing as well. A sure way for donors to see this is simply by occasionally acknowledging those that are already involved. To accomplish this, DonorBox recommends posting a photo of a donor (with their permission, of course) along with a quote, which is a valuable way to give specific recognition. You can also include their name when hosting an event, or you can thank them on your website.
That said, we can't overstate the importance of getting permission before publicly displaying any details about a donor. Many individuals want to remain anonymous for a variety of reasons, so make sure to get written consent before you publicly acknowledge them.
Make Donors Feel Included in Your Team
Donors don't want to simply feel like a source for money. If they donate and never hear from your organization, the chances of them coming back for more are slim. NextAfter points out that "recurring donors are solicited more and acknowledged less" over time. This is a common mistake that can be avoided through consistent communication about topics other than fundraising.
A cost-effective method to keep all community members involved is by using a private Facebook group as opposed to a public Facebook page. Classy.org points out that using a private group protects your dialogue and won't be affected by Facebook algorithm adjustments. Moreover, according to Nonprofits Source, 55 percent of users who engage with nonprofits on social media will ultimately take some sort of action, and 59 percent of those people donate money.
Additionally, there are also platforms designated specifically for nonprofit communication such as Raiser's Edge NXT, DonorBox, MissionBox, or DonorPerfect. Through these, you can easily communicate and send out notifications, provide updates on growth and statistics, and offer convenient ways to donate. TechSoup has a range of offerings designed to help you communicate with your donors: Check them out on our website!
It's crucial to keep donors updated, celebrate milestones, and treat them like a true part of your team. Take your donors out to lunch, check in on them occasionally, and engage with them on social media or email. Don't only accept their donations, but provide them with a sense of involvement. Network for Good recommends even sending pictures of your team "in action," or hosting meet-and-greet events with others involved. Through these actions, your donors will feel like valuable members of your community.
Seek Feedback from Donors
The simplest way to get feedback from your donors is through social media. Pay attention to what posts your donors interact with the most and keep this in mind when you create content for your social media page. To take it a step further, you can even post polls on Facebook or Twitter and allow your donors to give feedback that way.
For more detailed feedback, consider surveying them with a tool like QuestionPro. Simply create your survey and send an email out to your donor list and allow them to give feedback at their own leisure. If you're looking for some question ideas, Fired Up Fundraising gives some great examples to include in your survey. Also, be sure to check out these five useful survey templates on our blog.
Lastly, CallHub recommends seeking feedback over the phone after holding events. It's less time-consuming than an in-person meeting, is cost-effective, and offers a more personal relationship with your donors. Allow them to express their opinions about what they liked and didn't like and how they think your organization can improve. Giving your donors a voice is crucial, and if they feel that their thoughts are appreciated, they'll feel more valued in the cause.
Keeping Donors Connected
There are different ways to make your donors feel valued. But regardless of your strategy, it's crucial to keep them involved in your mission and maintain consistent communication. Keep them updated, check in on them when you can, and allow their feedback when necessary. If you're accepting their donations, they're officially a part of your mission. If you can show that recognition in some way, your donors will feel more attached to the organization, ultimately becoming long-lasting donors.
Additional Resources: Donor Management