With an increasing number of nonprofit employees working remotely, getting everyone in the same room for a meeting can be tricky these days. But effective collaboration and communication are key to success, so in order for organizations to adapt to this ever-changing landscape, a reliable video and web conferencing tool is necessary.
TechSoup has partnered with Zoom for the last three and a half years, and its 50 percent discount through our marketplace has helped many nonprofits across the world power their conferencing and webinar hosting needs. Today we're proud to announce that Zoom has extended its discount program to benefit all eligible nonprofits in the 236 countries and territories served by TechSoup.
But it's not just the nonprofits we serve who have been — and will be — putting this software to use. Many of the partner NGOs within the TechSoup Global Network utilize this software at their own organizations as well, and it's helped them a great deal in their daily operations.
And as a show of special support to TechSoup, Zoom has donated Pro and Webinar accounts to all our global partners that facilitate TechSoup offerings to NGOs around the world. This gives them a unique ability to reach and communicate between themselves and the organizations they serve. Partners already using these donations include Connecting Up, Haus des Stiftens, TechSoup Canada, and more
These improvements directly translate into an improved ability to deliver on the network's promise to provide organizations around the world with the technology and knowledge they need to better serve their communities and address the world's most pressing issues.
"At Zoom, our core value is to care. As such, it is important to all of us at Zoom, and to me personally, that nonprofits are able to use our platform at an affordable price so they can scale their reach and help more people," said Eric S. Yuan, founder and CEO of Zoom. "Our partnership with TechSoup allows us to do just that. This program has been so beneficial, I am glad we can extend it to more nonprofits around the world as well as the Global Network partners."
Let's take a closer look at the ways in which Zoom is being used to support operations throughout global civil society today.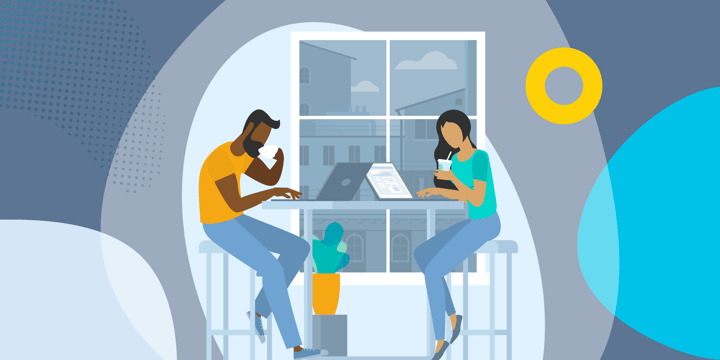 Connecting Up (Australia and New Zealand)
Since 2018, Connecting Up — TechSoup's partner serving Australia and New Zealand — has been using the Zoom Meetings Pro Plan in its daily operations. Out of all Zoom's features, Connecting Up has found the video conferencing tool most helpful.
Before using Zoom, Connecting Up's acting COO Pankaj Chhalotre explained that collaboration between the many partners with whom his organization interacts was challenging. "We often have group conferencing with people from other states and countries, and this has been difficult in the past because either there isn't a common platform, or the common platform is difficult to set up," he said.
Chhalotre also expressed that before using Zoom, meeting logistics proved difficult. But the fact that Zoom allows anyone with a link or dial-in code to join a call has been particularly helpful.
"Video conferencing with links allowing us all to jump into the same conversation easily has allowed us to collaborate and communicate much more effectively," he said. "Zoom helps us achieve our mission by allowing us to have good-quality engagement and build relationships with the organizations supporting us in our work. This amplifies our impact."
But Chhalotre said there's even more to it than that.
"Instead of investing in the technology, the saving from Zoom donations has enabled us to reinvest into our core mission of connecting the not-for-profit sector to the right tools and capabilities they need to fulfil their mission," he said. "We appreciate the generous support that Zoom has provided to Connecting Up, and we look forward to continue to work together."
Haus des Stiftens (Germany)
In Germany, TechSoup partner Haus des Stiftens has been using Zoom internally since 2012. Like all partners in the TechSoup Global Network, Haus des Stiftens is committed to empowering local NGOs with high-quality — and affordable — technology and know-how so that they may do more good in the world.
"We support committed donors, companies, and nonprofit organizations in using more resources more effectively for the UN Sustainable Development Goals," said Clemens Frede, head of program development at Haus des Stiftens.
Frede said that Zoom's ability to plug directly into Haus des Stiftens' Outlook calendar has been helpful in scheduling video conference calls with various parties, both internal and external to his organization. It's also been a boon for its ability to collaborate across multiple stakeholders.
"Collaboration and communication is very difficult if people work from different locations on the same activities and projects," he said. "We can now start or schedule easy and in-real-time group meetings, wherever staff members are on this planet."
He continues that Zoom has allowed them to do more than drive projects forward more quickly. Better communication and collaboration have helped to make operations more efficient across the entire organization. These benefits are directly carried over to the communities served by Haus des Stiftens.
"Using Zoom software helps us to start and schedule real-time group meetings either internally between our different locations or externally with our large partner network. We collaborate to facilitate 4Good programs for 65,000 NGOs throughout Germany, Austria, and Switzerland."
TechSoup Canada
As a project of the Toronto-based Centre for Social Innovation, TechSoup Canada finds itself communicating and collaborating across a wide variety of teams and organizations. And according to managing director Wayne Miranda, Zoom has helped his organization in many of the same ways as the other partners, especially in terms of connecting employees and volunteers who work remotely.
But TechSoup Canada is also using Zoom Webinars to benefit the organizations it serves. "Recently, we used a Zoom webinar to reach 170 nonprofits to share tips and tricks to help them take advantage of TechSoup Canada's offerings," said Miranda. Specifically, we used it to provide training on data visualization and how to leverage infographics and visual storytelling, on digital transformation and its importance to nonprofits, and to source feedback on our catalog and its future growth to best serve our nonprofit members."
A Valuable Tool for NGOs of All Kinds
It's clear that our partner network has been putting Zoom's generous donation to good use. But for all other nonprofits we serve, Zoom also offers a 50 percent savings on multiple Zoom services so they can also benefit from this powerful solution. The core service is Zoom Meetings. Add-ons like webinar capability are also available at 50 percent savings.
Through technology, the global NGO sector has been able to increase its scope of influence and draw upon the expertise of changemakers located in every corner of the planet. And while Zoom software is just a piece of a larger puzzle facilitating this work, it's proven to be a valuable one — both for partners in the TechSoup Global Network and for the many local NGOs they serve around the world.
Additional Resources: Meetings and Webinars