The pandemic disrupted the nonprofit sector like never before. Nonprofits learned how to pivot their business models, held fundraising events through virtual platforms, adjusted theories of change, and looked at their staffing models from a new lens. Now that we see the light at the end of the COVID tunnel, the team at NPO.net, a nonprofit job board serving the Chicago region, wondered how COVID-19 impacted nonprofit employers and job seekers.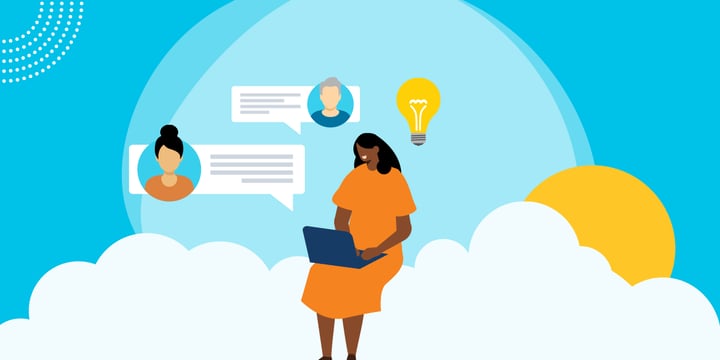 To satisfy our curiosity, we compared data in NPO.net from March 2019 and February 2020 (pre-COVID) with data from March 2020 to February 2021 (COVID). The dataset comprised just under 11,000 nonprofit jobs posted and 7,668 new job seekers. We looked at the following data:
Number of jobs posted
Full-time, part-time, and hourly employment
Types of positions posted by employers
Educational requirements
Job seeker registrations: number, willingness to relocate, job sought, salary expectations
Some of the results were predictable; others were somewhat surprising. In this post, we will look at what we uncovered. We hope it will provide you with some insights into what the hiring landscape looks like in our sector for the months and years ahead.
Number of Nonprofit Jobs Posted
To be expected, the numbers of nonprofit jobs posted on NPO.net declined by 53 percent once COVID hit. Fortunately, job postings from January and February 2021 were the highest since March 2020, signaling that recovery has begun. However, the numbers are still 55 to 60 percent of last year's numbers during the same period, revealing that there is still a way to go to full recovery.
Full-Time, Part-Time, and Hourly Employment
While the mix of full-time (86 percent) and part-time (12 percent) employees did not change industrywide from 2019 to 2020, there was a 38 percent increase in "per hour" compensation. One could speculate that this change was due to the volatility of the COVID market. Additionally, full-time positions are recovering 12 percent faster than part-time roles. However, jobs that pay by the hour are recovering at about an 18 percent higher rate than salaried positions, signaling continued uncertainty by nonprofit recruiters.
Types of Positions Posted by Employers
Another interesting finding was the positions most sought by employers, listed here in order of frequency:
Case management/social services (26 percent)
Education/teachers (12 percent)
Medical and health (11 percent)
Development/fundraising (10 percent)
Administrative support (7 percent)
Executive/senior management (6 percent)
Program management (6 percent)
Case managers and social service agencies saw an increase in demand for their services due to mass layoffs caused by COVID. These frontline workers helped individuals and families navigate social programs and gain access to basic needs. We anticipated the need for medical and health workers to be higher to compensate for quarantined workers. Lastly, we were not surprised with the decreased jobs posted for programs and fundraising, which are typically higher on this list.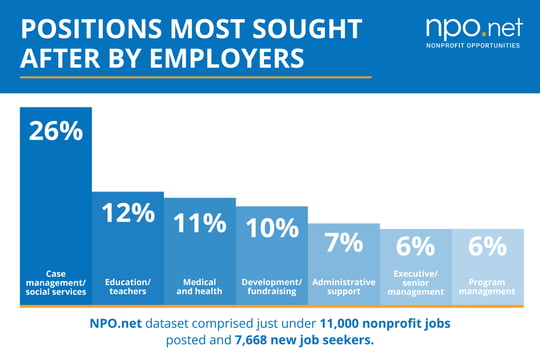 Also, for current job seekers, we found that several roles are recovering faster than others in 2021, namely:
Finance, accounting (141 percent increase in 2021)
Advocacy, lobbying (128 percent increase in 2021)
Human resources (88 percent increase in 2021)
Administrative support (55 percent increase in 2021)
Senior management (50 percent increase in 2021)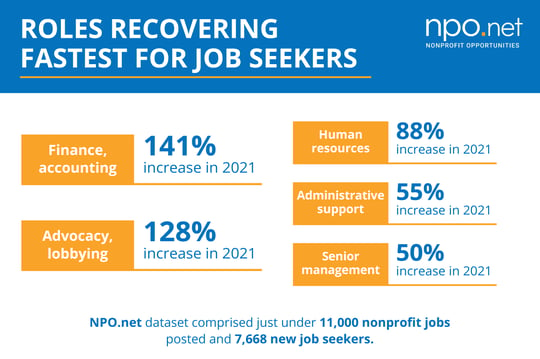 Educational Requirements
While there were many changes to the nonprofit job market in 2020, the need for secondary degrees (associate, bachelor's, master's, doctorate) did not change from 2019 (82 percent) to 2020 (81 percent). Additionally, jobs requiring a secondary degree are recovering at a 36 percent faster rate than jobs that require a only high school diploma or certificate.
Job Seeker Registrations: Number, Willingness to Relocate, Jobs Sought, Salary Expectations
There was a 361 percent increase in the number of job seekers registered in NPO.net since COVID. In July and August 2020, NPO.net saw a tenfold increase in job seekers registering. A steady increase month to month has continued to this day. In the 2019–2020 dataset, 69 percent of job seekers were willing to relocate for employment. However, that number significantly declined to 8 percent after the onset of COVID, representing a 197 percent decrease.
Of the job seekers willing to relocate since March 2020, the majority registered between March and July 2020. This number dropped significantly thereafter. Another interesting trend is that applicants were willing to accept a salary that was 9 percent lower on average — yet another representation of the need for nonprofit jobs.
We also observed significant shifts in the job seekers using NPO.net. There were five positions that experienced particularly large decreases and another five positions that are being sought after by applicants. Additionally, there were five positions that were more sought after by applicants in 2021 than in 2020.
| Significant Decreases in Job Seekers by Position | More Sought After by Applicants in 2021 |
| --- | --- |
| Event management (56 percent decrease) | Operations and project management (87 percent increase) |
| Legal services (45 percent decrease) | Computer and tech systems (85 percent increase) |
| Human resources (43 percent decrease) | Marketing (81 percent increase) |
| Administrative support (36 percent decrease) | Development and fundraising (78 percent increase) |
| Database management (35 percent decrease) | Medical and health (57 percent increase) |
With the surge of new job seekers registered in NPO.net and the types of positions they desire, we could not help but wonder if a large percent of new job seekers are individuals trying to transition from corporate to nonprofits. This was a trend we speculated on back in 2009–2011 when there were mass layoffs due to the economic downfall. Operations, project management, technology-related positions, and marketing are very transferable skills from the corporate environment to nonprofits.
Final Thoughts and Insights
"When we are no longer able to change a situation, we are challenged to change ourselves." — Victor Frankl
When the pandemic hit, most of us initially froze and then transitioned to make the necessary adjustments. Employers who needed talent proceeded cautiously with new hires and opted for hourly workers to limit their liabilities. Once it was apparent that COVID was not going away quickly, job seekers adjusted their perspective on their willingness to relocate for employment, adjust salary expectations, and make industry changes to expand their employment opportunities.
We speculate that once we are in a post-COVID environment, the workforce will be willing to relocate for excellent employment opportunities once again, and employers will resume hiring full-time workers versus hourly employees.
On a positive note, we are seeing an uptick in the numbers of jobs posted since January 2021. We will keep monitoring the emerging trends to see the continued impact of COVID on the nonprofit industry.
About the Authors
Kara Kennedy is executive director of NPO.net. For 37 years, NPO.net has been connecting good people with good organizations to make a real difference.
Josh Moore is a consultant at Deloitte.
Additional Resources
Top photo: Shutterstock