Social media can be fraught with land mines — especially for nonprofits and businesses with a reputation and client base to lose. You don't have to look far to find examples of misguided or unintended posts, including many from the corporate world.
One which often comes to mind is the now-legendary #gettngslizzerd tweet from a social media specialist at the Red Cross who accidentally cross-posted something meant for her personal account.
While this example is relatively harmless, there are plenty of cases that worked out poorly for the brand, the individual manning the social media accounts, or both. It's important that all staff at your nonprofit understand what they need to do to protect the organization from legal liability and what the expectations are for their own conduct on social media.
A social media policy that clearly spells out what is and is not acceptable for the organization's social media activities as well as for those of everyone on staff can go a long way toward providing this protection. Here are a few things to consider when developing a social media policy at your nonprofit.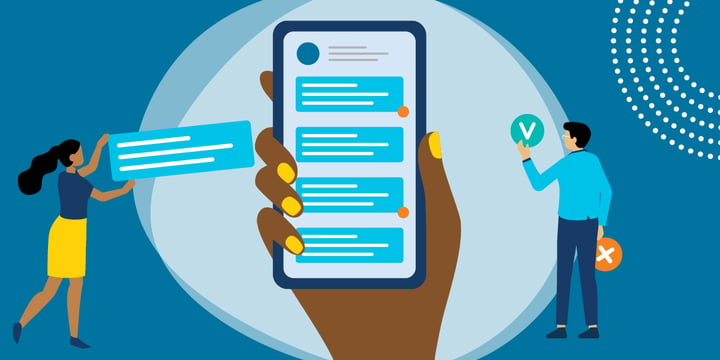 What's in a Good Social Media Policy?
On the organizational liability side, your social media policy needs to be explicit about these things:
How it will protect the privacy of constituents
What needs to be done to protect the security of the organization, including staff, clients, and technology
What social media managers need to do to respect copyright and intellectual property laws
It will also lay out the parameters of what can and can't be done and provide examples. It should cover what information or types of information can and can't be posted because of privacy issues or staff and client safety or because it might damage the organization's reputation. For example, can staff post photographs or videos of clients or services? What are the consequences of posting such information? Would the organization be in legal jeopardy if it is posted? Would the organization be at risk of losing funding or losing the trust of its clients or constituents?
There's a great deal of discussion about copyright law and its impact on social media. Much of the gray area is around the concept of "fair use" and what types of posts fall within its definition. Your social media policy should explicitly lay out
When a staff person needs to request permission from a copyright holder
Who a staff person can contact with any questions about whether or not something is protected
What should be done if a violation takes place
Moderating Posts from Others
Because it's almost inevitable in today's social media landscape that an organization will come across bad actors online, your policy should also cover the behavior of individuals who interact with your accounts online and staff guidelines for moderation. Is your staff allowed to block individuals interacting with your organization's social media account? If so, under what circumstances? How should your staff deal with disinformation or trolling behavior?
In 2014, people started posting to Smucker's jam company's Facebook page about its political position opposing mandatory GMO labels on food products. The company deleted the posts, an action which did not go unnoticed, earning a lot of bad publicity. A good policy should instruct staff how to handle individuals legitimately upset or critical about something your organization has done.
Considerations for Personal Accounts
A social media policy should also cover your staff's use of personal accounts on social media. While many employees feel as though their activity on personal accounts does not affect the organization, in many instances it can and does — like the time an ESPN sports analyst accidentally tweeted a link to a porn site, for example. The policy should spell out
What types of information related to the organization staff members can and cannot post
Whether staff members can friend and follow board members, donors, or clients on social media
The advisability of using personal accounts for work-related content
Tech Impact's new Nonprofit Social Media Decision Guide includes a worksheet to walk you through the process of developing a social media policy at your organization, along with other worksheets to help you with such efforts as finding an audience, defining your voice, creating a strategy, setting goals and choosing platforms to meet them, and measuring your success.
It's also full of detailed research and engaging examples of how other nonprofits are using their platforms. If you think this could help your nonprofit, download the guide today.
Additional Resources
Top photo: Shutterstock