At the outset of the COVID-19 pandemic, almost every organization had to adapt. Essential services previously only conducted in person had to move online, and Zoom was suddenly a household name. You'd be hard-pressed to find someone who didn't rely on Zoom during times of restriction: We used it for everything from conferences to virtual happy hours to catch-ups with friends. For libraries, heritage organizations, museums — and any other organization whose work is at its heart extremely physical — Zoom became a lifeline. Not only did it become the new conference room, but it also became a hub for training, check-ins, and other services.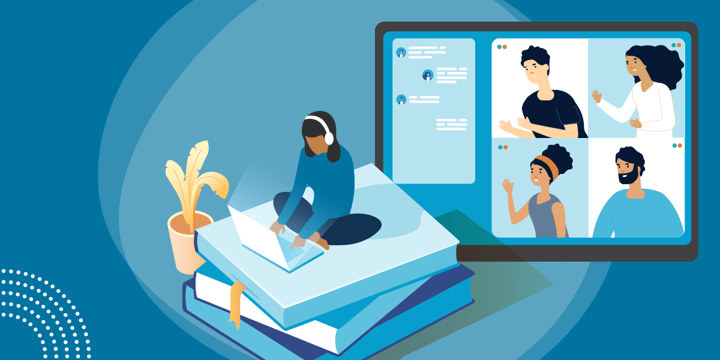 We spoke to two such organizations that have made the move to using Zoom through TechSoup. Read on to hear more about how Zoom has changed the way they work for the better.
Shorewood Public Library
The Shorewood Public Library in Shorewood, Wisconsin, uses Zoom to conduct many of its day-to-day activities. At the start of the COVID-19 pandemic, when in-person meetings and programs became impossible, it started off by using a free conference calling service to conduct remote meetings. Emily Vieyra, assistant director at Shorewood, tells us that this was a functional system, but it left something to be desired in that participants couldn't actually see each other.
Once it became clear that virtual meetings and programs weren't going away, Shorewood purchased a Zoom license through TechSoup, in order to host meetings that brought their community together despite being physically separated. In addition to small meetings such as book clubs and author visits, the library used Zoom to host large events. These included a discussion titled Do Black Lives Matter? The event had over 400 participants and focused on the history of systemic racism in the Shorewood community and the country at large. They also use Zoom for board meetings, staff and committee discussions, and other events previously conducted over conference calls.
Zoom has become "universal and ubiquitous," says Vieyra, and offers great flexibility in offering programs online. At the heart of a public library is the desire to open its services to all. Therefore, the fact that those without Internet access can join a call from their cellphone or even landline is a great asset. Now, Shorewood Public Library conducts nearly all its programs on Zoom, with the exception of prerecorded story times, craft activities, and outdoor events resuming in person. Over 2,000 people have attended Shorewood's library programs over Zoom so far in 2021, a testament to the flexible and accessible nature of the platform.
The Heritage Management Organization
The Heritage Management Organization, based in Chicago, aims to empower the caretakers of the world's heritage to treat their assets as sustainable resources of education, local pride, and economic development. It does this primarily through training, offering 18 different programs to more than 1,000 professionals from 85 countries, according to the organization's director, Evangelos Kyriakidis. These programs equip those preserving heritage with the skills they need to maintain objects and stories and make them available to the public in sustainable and accessible ways. Participants include museum staff, archeologists, and a wide range of other professionals who discover, preserve, and display objects and stories from people and civilizations gone by.
"Heritage is the building blocks of our identity," says Kyriakidis, and he explains that the most important people tasked with preserving heritage are often ill-equipped and under-resourced. Before the start of the COVID-19 pandemic, the organization's training operated exclusively in person. At the onset of the pandemic, it quickly adapted its training to be conducted over Zoom in order to adapt to restrictions being put in place worldwide. They were immediately impressed by Zoom's features: Virtual backgrounds, branding possibilities, and live interpretation features all made online training a more viable and accessible option than previously thought possible.
By accessing Zoom through TechSoup, the Heritage Management Organization has been able to work with a far greater audience than before. Those who cannot travel for essential training now have access to the wealth of knowledge and valuable connections offered by the organization. Plus, the automatic interpretation feature gives access to those who do not speak the primary language in which the training is conducted. Heritage is now building up a coalition of companies that want to help African heritage institutions to build their capacity.
Helping Nonprofits Serve Their Communities
For organizations such as libraries and heritage organizations that serve their communities in such an immediate, physical way, the COVID-19 pandemic has forced them to innovate in order to continue reaching the people that need them. Zoom has made it possible to meet remotely with one other person or thousands, to deliver training across continents, and to reach audiences that were totally inaccessible previously. Nonprofits and libraries can access Zoom through TechSoup, giving them access to a 50 percent discount on a one-year subscription for a Zoom Meetings Pro or Business plan. Check it out!
Additional Resources
Top photo: Shutterstock