The beginning of a new year serves as a reset for many individuals and organizations. We look at the ups and downs of the previous year and consider what we might adjust in the months to come. In a changing world, many nonprofits are looking to expand their content strategies and find new ways to draw in potential supporters.
To help you keep with the times and get creative with your content strategy, we've gathered some trends to look out for in 2022. Read on to learn what to expect, and how you can make the most of these trends.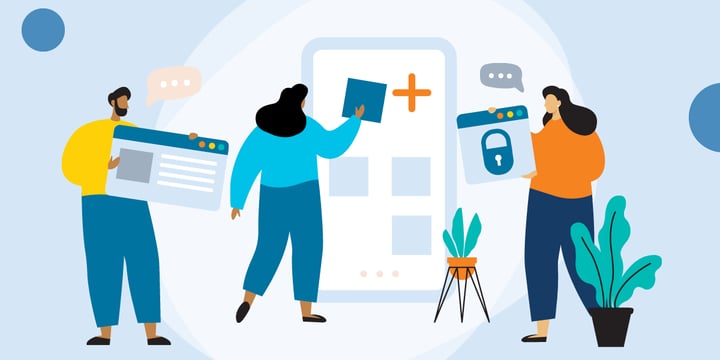 Data-Driven Content
Great content marketing combines creativity and data. An excellent writer and thorough research will get you a long way, but you can make your content far more effective by using the data available to you.
There is an ever-increasing array of tools designed to help you understand your audience. By cross-referencing demographic data and analytics metrics, you can find out a huge amount about who your audience is and what they're looking for. Tools like Google Analytics and HubSpot feature a range of tools and reports to help you gather and understand data about your audience and how to tailor your content towards their needs.
Choose some key performance indicators (KPIs) to find out how effective your pages are and use this information to create more of the content that performs the best. By monitoring the success of your content over time, you'll get a sense of which topics resonate the most with your audience, generating more organic traffic to your website.
Google Analytics is a great tool dedicated to helping you track the performance of your content. If you need some help getting started, Google's Analytics Academy has courses dedicated to helping you make the most of its features.
Visual Storytelling
If you want your content to be engaging and memorable, make it visual. Interspersing your written content with relevant photo and video content breaks up text and draws the reader in. While text is processed by the short-term memory, images go directly to the viewer's long-term memory. This means that images are retained much more effectively, so viewers will remember and recognize images on your website better than any information from text.
Images
According to a Venngage study, original graphics are the most effective image type. They allow you to incorporate your branding and tailor the content towards your goals. Stock photos can help to break up text or make a page look more professional if you don't have the capacity to produce your own images. However, creating original visuals is the best way to make your content eye-catching and recognizably linked to your organization's goals.
Videos
Videos are the most effective type of visual content you can use. By creating unique, branded, and visually engaging video content, you can communicate your message in a more memorable way. This includes webinars and presentations, which showcase information in a more dynamic and interactive way. This helps you appeal to viewers, engaging with them more directly and helping your message to stick in their memory. You can also use this kind of content in tandem with blogs, for example, by combining a short text post with an informative, visually engaging video.
SEO
Following search engine optimization (SEO) standards means using thoughtful placement of keywords in titles, body text, and other HTML elements to increase organic traffic to your website. By learning about your audience and the questions they are asking, you can build content that caters directly to their needs. Good quality content will naturally rise through the ranks of search engines, helping your target audience to discover your content and, in turn, your organization.
Keyword research is your golden ticket here. Keywords are words or phrases that your audience are most likely to use when searching for content like yours, and tools like Ahrefs can help you find them. You can then use these as a starting point for your content ideas.
For example, if your organization is a food bank, and you discover that keywords like "how to donate food" or "food drop-off location" are frequently being searched in relation to food banks, you can create a blog post detailing exactly how to donate items to your food bank. Place these keywords in subheads, links, and other strategic places on the page, and your content should begin to appear higher on search engine results pages. This will increase traffic to your website, helping people learn about your cause and encouraging them to donate.
To help you work out where to start, here are some SEO best practices for nonprofits.
Podcasts
If you've got the hang of text and visual content, but are looking to branch out to new formats and audiences, consider creating some podcast content. Podcasts are on the rise as an entertainment medium, with educational podcasts proving particularly popular. When done well, they can deliver dense and complex information in bite-size chunks, accessible to those with no prior knowledge of the topic at hand.
There is a good chance that your organization is an industry expert. You probably conduct research in your field and have a number of extremely knowledgeable people on your staff and your board. You can use these resources to build entertaining and educational podcast content, interviewing the invaluable experts you have at your disposal. This will help to educate people about your cause, and it's also a great way to encourage them to learn about and support your organization.
This great article from Whole Whale can help you to get started with podcasting at your nonprofit.
Make 2022 a Great Year for Content
As the pandemic continues, it's more important than ever to stay connected with our communities remotely. This means that content marketing is an all-important area to invest time and resources. Keep an eye on these trends in the coming months and try incorporating some into your 2022 content strategy!
Additional Resources
Top photo: Shutterstock