The dust has cleared and 2020 is upon us. For years, transformative marketing tools and technologies have been making the leap from the business sector to the nonprofit space. But growing your brand awareness, gaining new followers, driving impact, and accelerating funding, all with a bite-sized budget, can be challenging.
Below, you'll find a collection of marketing trends you can capitalize upon today, along with some key takeaways to help you along the way.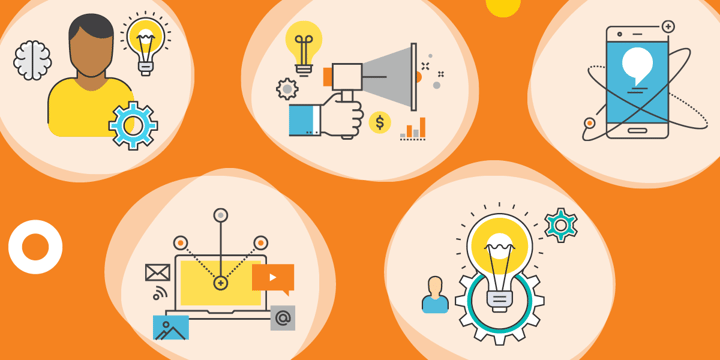 1. Nonprofit Demographic Trend: Gen Z
Gen Z, also known as PhilanthroTeens, refers to a cohort of young people born in the late 1990s and later. They will be on the rise in 2020 and today make up over 27 percent of the U.S. population.
Gen Z is more hyperaware of the world's challenges than millennials. This hyperawareness and technology immersion empowers many Gen Zers to engage with nonprofits and make a difference in the world at a very early age.
Here are some key Gen Z trends that showcase their highly charitable habits:
57 percent will save their money rather than spend it.
32 percent donate their own money.
26 percent of 16- to 19-year-olds practice volunteering on a regular basis.
50 percent are looking for a job in volunteering.
10 percent want to start their own nonprofit organization.
77 percent are extremely interested in volunteering opportunities and in careers for the nonprofits.
Key Takeaways
Be authentic, respect their privacy, institute diversity, and have a sense of humor.
Meet them on their terms and their trending channels beyond Facebook such as TikTok.
Leverage Gen Z micro-influencers. They may one day become global celebrities. Greta Thunberg's meteoric rise to global recognition is a great example of why this is important to consider.
2. Nonprofit Branding Trend: The Rise of Mission-Driven Micro-Influencers
In 2020, nonprofits will move beyond the narrow definition of an "influencer" as a celebrity personality with millions of followers and come to the realization that they can just as easily compete with the big brands for a fraction of the cost by leveraging micro-influencers.
Micro-influencers are online personalities with between 1,000 and 100,000 followers, operating in a specific niche. This could be a Gen Z skateboarder with 2,000 YouTube followers or a baby boomer yoga instructor with 10,000 Instagram followers.
Micro-influencers exist in nearly every niche online, and your job is to recruit the ones that most represent your mission to support your volunteer recruitment, event attendance, and fundraising, online and off.
Key Takeaways
Use tools such as hashtagify.me to find #hashtags and micro-influencers in your nonprofit's niche.
Go beyond just using that #hashtag. Begin liking, commenting on, and sharing your micro-influencers' posts to build your trust with them.
Follow up by inviting them to your events, sending them free swag, and asking them to help support your cause.
Take small steps first: Get them to share your posts and promote your event. Eventually, you might have them lead an online fundraiser and become a full-fledged brand ambassador.
3. Nonprofit Social Media Trend: The Rise of Storytelling Apps
In recent years, new social media platforms have exploded on the scene. TikTok is one such platform. It started in 2016 and immediately gained popularity among youth and now adults, surpassing Twitter and Reddit in downloads. It is quickly becoming a powerful nonprofit social media marketing tool.
Facebook and Instagram are aiming to keep pace with their "story" tools with limited lifespans to drive immediate engagement. Marketers have taken notice of this trend and will continue to leverage it to their advantage. According to a recent report by Hootsuite, 64 percent of marketers have either already incorporated Instagram stories into their strategies or plan to do so in the near future.
Key Takeaways
Girls Who Code partnered with TikTok to celebrate International Day of the Girl in 2018. This is a good example of leveraging this new platform.

The nonprofit asked users to create videos of themselves writing an issue that they're passionate about on their hand, and TikTok donated $1 per video made to the organization.
The videos organized under the hashtag #raiseyourhand have garnered 21.1 million views.

Combining user-generated and cause-related content with fun interactive video editing and sharing tools is a formula for success. Give it a try at your organization!
4. Nonprofit Email Trend: Personalization
Email personalization is when organizations use member data within their email communications to make the information feel tailored specifically for the recipient. It is proven to increase open rates and drive outcomes because it helps nonprofit marketers give their subscribers more useful content. Here are a few interesting statistics:
Personalized emails help to improve conversion rates by 10 percent and click-through rates by 14 percent.
Personalized email campaigns help to produce almost 20 percent more sales opportunities when compared with the nonpersonalized ones.
Personalized calls to action (CTAs) result in a 42 percent higher conversion rate than regular CTAs.
By capturing subscriber data (like a first name, business, interest, etc), and segmenting their email database into more detailed lists, nonprofits are now able to break away from mass email blasts and to instead make their supporters feel like superstars.
Your nonprofit's supporters may be flooded with marketing messages from multiple channels to the point where they have started to tune them out. Traditional advertising and email blasts are losing their effectiveness. Personalization and automation go hand in hand to accelerate the sales cycle when you are seeking to increase volunteers, funders, and advocates.
Key Takeaways
Segment your target audiences into key persona profiles.
Identify the messaging along each stage of their "supporter journey."
Insert the key messaging within each communication channel along that path.
Set up workflows within your CRM to capture and deliver the key information they seek.
Have your audiences opt in to the type of information they are most interested in — volunteering, research, events, fundraising, and so on.
Take the leap from online personalization to a phone call to seal the big deals.
Intrigued? Ask TechSoup for a consultation to review the latest automation and personalization tools on the market that meet your budget.
5. Nonprofit Technology Trend: Automation Made Easy
The year 2020 will be the year of automation for many nonprofits. Marketing automation helps nonprofits streamline their lead generation, member segmentation, prospect lead nurturing, supporter life cycle marketing, up-selling, funder retention, and overall marketing return on investment (ROI).
Marketing automation software has traditionally been too expensive for small to midsize nonprofits. Recent advances in technology have made marketing automation accessible and affordable for nonprofits seeking to scale their marketing efforts. Today, all-in-one marketing automation platforms start as low as a few hundred dollars a month. HubSpot even offers a free version to dip your toe in the water.
If this is your first foray into marketing automation, here are some key implementation steps that a skilled marketing automation consultant should walk you through.
Choosing the right marketing automation software that meets your budget and goals
Identifying who will manage the platform and training them
Integrating the new software with your CRM
Importing your contacts into the platform
Launching your lead capture forms and content downloads
Connecting your social media channels
Integrating your calls to action
Setting up your email templates
Running your first campaign or email send
Measuring your results
Once it is implemented, managing a marketing automation platform is relatively easy, and your staff can be trained within a week. This will then enable a team member to manage all of your nonprofits marketing from a single platform. This includes SEO, email marketing, social media calendars, list management, fundraising, event marketing, and more. If you're interested in learning more, contact TechSoup for a digital marketing consultation today.
How Does Your Digital Marketing Stack Up in 2020?
Have you ever wondered how your digital marketing stacks up to your nonprofit peers'? TechSoup is seeking nonprofits to participate in its inaugural digital marketing benchmark study. The 5-minute survey is safe, secure, and easy. Shape your nonprofit's digital marketing future and take the survey today.
Additional Resources