Seeing as how it is one of the original forms of online communication, it's pretty astonishing that email marketing has continued to maintain a central role in our daily lives as nonprofit professionals. How does email marketing fit within your nonprofit's communication strategy? Does your nonprofit even have an email marketing strategy?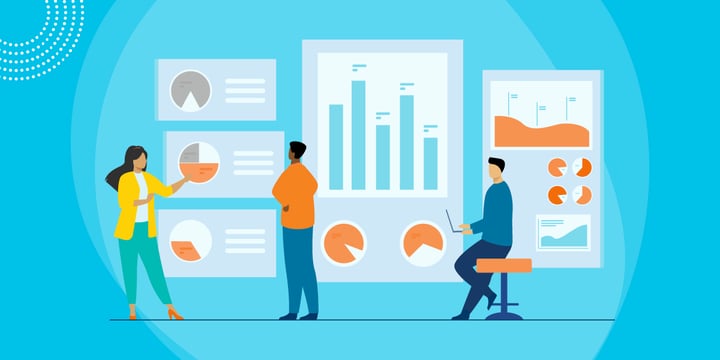 Between April and July of 2020, TechSoup, in partnership with the digital marketing and technology agency, Tapp Network, built our first Nonprofit Digital Marketing Benchmark Survey. Our mission was to gather data on how nonprofits were responding to the drastic change in digital communications amidst a pandemic and to provide helpful insights and recommendations. From paid advertising and email marketing to social media and content, we've uncovered the data your nonprofit can use to measure your digital marketing. Last month, we took a look into our findings on blogging within the context of content marketing. Before that, we offered insights gained from our inquiry of how nonprofits use social media.
In this third installment of a four-part series on our findings, we'll be taking a look at some key insights we found for nonprofit email marketing.
Email Marketing Strategy
As a strategist myself, I live and breathe creating a roadmap for my team to see the whole picture of any strategy we implement for our clients. This is a valuable step in ensuring that you're headed toward a relevant and meaningful goal for your marketing efforts. Whether it's growing your database or increasing your individual donor metrics, email marketing plays a crucial role in meeting your goals and showcasing impact to your funders and sponsors.
In order to get an understanding of how nonprofits incorporate email marketing into their overall marketing, we posed the question, "Do you have an outlined email marketing strategy?" As it turns out, an astonishing 70 percent said they do not have one.
In my previous blog post, I briefly touched on the "inbound marketing" methodology. Inbound marketing is the strategy of attracting, engaging, and ultimately "delighting" users with your organization. Throughout time, this approach will build strong and meaningful relationships with your audiences. To learn more about inbound marketing, be sure to read this great educational piece on HubSpot.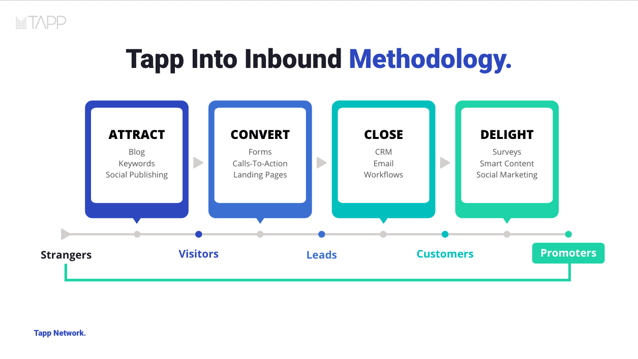 So far, we've touched on social media and blogging. Let's explore how email marketing fits into this approach of building and nurturing your audiences. Whether a visitor is coming to your website to gain knowledge about your cause or considering whether they want to volunteer for or donate to your organization, you'll want to give them the opportunity to provide you with their information.
This could be via a regular newsletter, notifications when a new blog post is published, or simply requesting more information about a particular program or initiative. The goal here is to capture their information and continue to provide a curated and meaningful dialogue with those individuals. Over time, the goal is to build your database with engaged subscribers and properly track your relationships with them through a customer relationship management (CRM) tool.
Define Your Audiences
What is a CRM tool? Don't worry, it's a question that comes up frequently, so you're not alone if you've found yourself asking it. A CRM is pretty much what the name sounds like — a tool to help you manage your relationships with your "customers" (or donors, volunteers, and supporters). Using a CRM allows you to create detailed records of how an individual has interacted with your organization. When implemented correctly, it can help you manage demographics (age, location, etc.), donor details (how much they have donated and how often), interests (volunteering, donating, etc.), and much more.
When it comes to email marketing, it's important to be as personal and accurate as possible. That's where "segmenting" comes into play. With the appropriate data, an organization using a CRM can easily separate or segment contacts based on particular pieces of information. This way, if someone in your list has shown interest in volunteering, you can be sure to include them in your next email that outlines volunteering opportunities.
So, with the power of segmentation in mind, we asked nonprofits, "Do you have the ability to segment your email lists?" Our data showed that 41 percent of respondents do not have the ability to do so. As nonprofit marketers, we are hoping to see that number drop over time as nonprofits continue to optimize their existing email marketing strategies with tactics such as segmentation.
How Often Should I Send Emails?
Having covered the bigger picture of email marketing strategy and the power of segmentation, the next question we asked was, "How often should I email my stakeholders?" What we found is that 33 percent only send an email when it's truly necessary, 30 percent of nonprofits email once a month, 19 percent email two or three times a month, and 18 percent send four or more emails a month.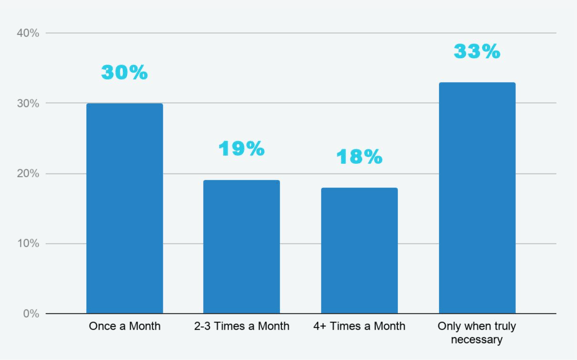 While quantity is definitely an important metric to keep an eye on, what's more important is relevance. Having your monthly or quarterly newsletter is a valuable way to keep all your stakeholders abreast of what you've been working on. But is there a way to build upon that with more specific initiatives?
For example, when someone makes a one-time donation, you could follow up with a thank-you email and the opportunity to become a monthly donor. Then, using a CRM, you could monitor whether that individual has become a monthly donor. Let's say they haven't. You could have an email set up to be sent three months after their first donation, including what your organization has been able to do with their one-time donation and another opportunity to become a monthly donor.
This process is what we call an "automated drip" email campaign. An automated drip email campaign is managed in your CRM and has specific criteria for an individual that will trigger specific messages to go out depending on the recipient's actions. For reference, here's an example.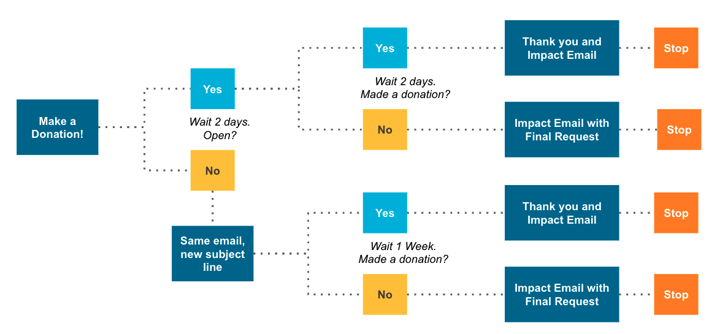 All of these emails are prewritten and set to deploy according to the yellow and blue boxes — whether the recipient opens an email and then requests information. Once set up, these types of emails require no manual initiation, leaving you and the rest of your communications team to focus on the results.
Three Best Practices for Email Marketing
As you can see, email marketing can take a lot of time and attention to get right. Use these benchmarks to help determine what you can do to make the right adjustments. In addition, here are a few best practices for email marketing to help get you started.
1. Use Automation Where You Can
As we mentioned before, using automation to send out emails is a great way to increase capacity and maintain engagement with individuals. This could be something simple, like automatically thanking someone for signing up for your newsletter and including a one-page PDF document of the work your nonprofit is doing.
2. Personalization Is Important
Gone are the days of "to whom it may concern." Be sure to keep your emails personalized! Make sure you're using the right options on your email software to include the names of the recipients.
3. A/B Test Your Email Subject Lines and CTAs
Most email marketing software will allow you to A/B test your emails. In A/B testing, you change one attribute and test how that change impacts performance. For emails, the best thing to test is your subject line and compare how many people opened your emails. You might be surprised by what the data shows!
If you're interested in exploring more about email marketing, feel free to reach out to our experts! And don't forget to download our 2021 Nonprofit Digital Marketing Benchmark Report.
Additional Resources
Top photo: Shutterstock