With people spending a fourth of their time watching videos on their phones, there's no doubt that video marketing is important. Nonprofits should develop content that not only meets their audience preferences, but also stays on brand and helps people to give, volunteer, and stand for a cause.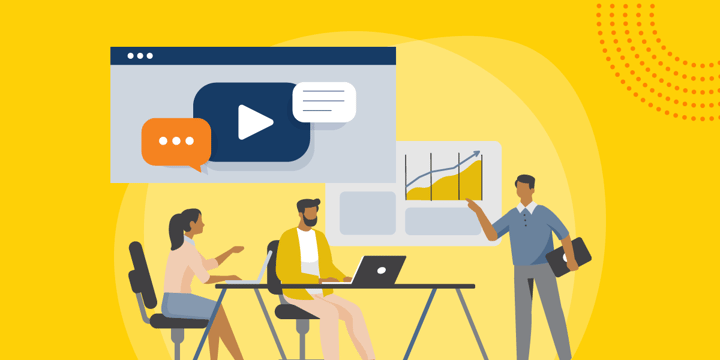 Video marketing can be a simple way to build trust between your nonprofit organization and potential donors and volunteers. Including an introductory video in an email or web page can help to engage viewers in your work. While text and images make an impact on your audience, videos tend to make more of an emotional connection to a viewer.
Besides educating your audience on your mission, and raising awareness, you can build trust with testimonials or behind-the-scenes stories of how donor money is being used.
If you're looking to leverage video marketing, here are some tips for incorporating video content across your digital communication strategy.
1. Stay on Brand
Nonprofits with consistent branding are more likely to have a higher "donate rate" than nonprofits that don't. If your nonprofit has a YouTube channel, for instance, you should use branding that is consistent with your website, landing page, or other social media channels.
Look to other nonprofit organizations that consistently stay on brand and follow their lead. You'll notice that they have a small selection of fonts they use across all channels, a color scheme, and a consistent style of art or imagery.
2. Keep It Simple
Keeping the attention of your audience should be at the forefront when crafting a nonprofit video marketing ad. Keep in mind that distractions are all around us, and keeping your audience's attention is important to the success of your video campaign. Let us take a look at some successful video marketing campaigns and what makes them successful.
The Girl Effect: This video by the nonprofit of the same name showcases the ripple effect of poverty on a 12-year-old girl. It then shows how if she were provided health care from a young age, including birth control, she would have avoided a teenage pregnancy and stayed in school, which would provide her with far more autonomy later in life. The video ends by linking to the nonprofit organization's website.
Cystic Fibrosis Trust: This video raises awareness of cystic fibrosis, explaining that it is the most common fatal disease in the U.K. The CTA links to the Cystic Fibrosis Trust website, encouraging people to donate in order to raise awareness and support research into a cure for the disease.
3. Tell a Compelling Story
Video can be used to raise awareness and show viewers your mission as a nonprofit. Videos allow you to tell the story of your nonprofit, in a way photos and words cannot.
Show your donor's action: When putting together a video, make sure you keep in mind that donors want to see how they're making an impact. Whether it's a testimonial from a client or a tour of your project or premises, it helps to show viewers where their support will go.
Connect with your audience: You can also work to ensure that the viewer sees themselves represented in the video. What would it look like to volunteer for your nonprofit? Could you interview a donor, asking them why they have continued to support your organization over time? This can help people to feel comfortable enough to commit to supporting you.
4. Make It Personal
Videos allow you to incorporate some of the nuance and personality that can be lost in writing. Here are some ways to make your videos personal to your audience.
Recipient testimonials: Seeing with your own eyes what donating a simple duffel bag or suitcase could do in the life of a foster child helps to demonstrate the true impact of the work. This is exactly what Comfort Cases does in its video marketing strategy. They show the difference in children's demeanor when packing belongings into a suitcase rather than a trash bag, tugging at the heartstrings of viewers. This also helps those who have never been in the foster care system to understand the need for Comfort Cases' work.
A word from the CEO: There are 1.5 million nonprofit organizations throughout the U.S. To stand out from the rest, consider sending a thank-you video to each donor, addressed from your CEO. This feels much more personal than an automated email.
5. Educate and Build Awareness
Nonprofit organizations can also use videos to help educate and build awareness about their mission. Show viewers how your organization has impacted its community with donations from people like them. Everyone wants to feel like they are making a difference, and sometimes seeing the impact can be powerful.
6. Show Off Your Staff
Your audience might be interested in who is behind your organization. By showcasing your staff, you're humanizing your nonprofit too. Try showing interviews with your staff, what drives them, and why they work for your nonprofit.
7. Drive Action
Gating content, or putting high-value content behind a form, is an excellent way to drive more leads into your ecosystem. These leads can be enrolled in email workflows to nurture them into supporting your organization.
Lead capture forms for nonprofits should be kept simple: first name, last name and email should be your most important fields. Long lead capture forms might drive away potential donors if they take too long to fill out. At the end of the day, you want to know more about the visitors to your website — why they are there, and how you can further contact them or enter them into an email life cycle.
So you have successfully created a strong, compelling, and effective video for your nonprofit. What now? Most nonprofits are funded by donors and volunteers. A CTA at the end of your video is an imperative part of a nonprofit video marketing campaign. Be clear and simple when choosing wording for your CTA, keeping your goals and needs in mind. Using words like "donate," "act," "give," "change," and "transform" will encourage action from your donors.
Implement Video Marketing for Your Nonprofit
Leveraging videos in your nonprofit marketing strategy is a compelling way to raise awareness and connect and build trust with your audience. With these guidelines, you can begin finding creative ways to use videos to drive engagement. The TechSoup Digital Marketing Services team specializes in full-funnel marketing strategies to drive more engagement. From video strategy to editing, to promotion, the TechSoup Services team is here to help.
Additional Resources
Top photo: Shutterstock