Every part of a nonprofit's weekly operations, from team meetings to volunteer management and donor outreach, requires good communication. It can be extremely difficult to create the right environment for teams to thrive if messages get lost or don't reach the right audience. There's a huge range of technologies available to support your communications efforts, and knowing which are best suited to your needs can be a challenge.
Read on for a quick-start guide to communications tools at your nonprofit.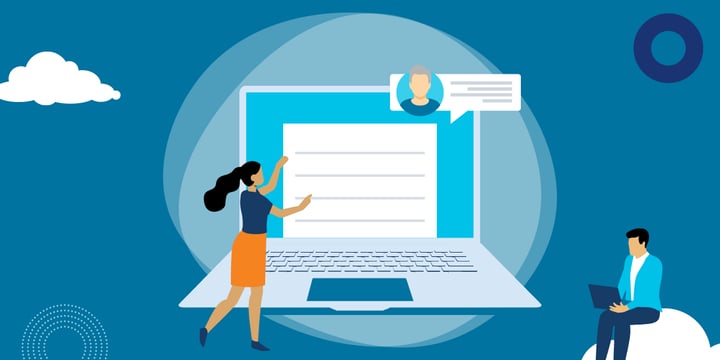 Internal Communications
Begin with a review of what your team's needs and priorities are. Try to identify areas where your team is struggling with communication or could use some support. For example, is there a need for more effective instant communication? Is there a lack of coordinated workflow management? It's also important to know who needs access to internal communication channels. Is it just your paid staff or a wider circle of volunteers, board members, or other stakeholders?
Once these needs are established, you can begin to decide where some tech support would benefit your team.
Internal Messaging
For real-time communication, Slack is an excellent and well-established tool. It allows you to quickly and easily message colleagues, share files, and create channels for specific departments or projects.
Microsoft Teams is another useful platform, incorporating instant messaging along with file sharing, scheduling, and integrated video conferencing capabilities. Teams also has capacity for creation of dedicated groups and is designed to be an all-encompassing application to access all your productivity tools in one place. For internal and external email, along with an integrated calendar, Microsoft Outlook is a great all-rounder. Note that both Teams and Outlook come as part of productivity suites like Microsoft 365 and Office 365. If you need some support getting started with Teams, TechSoup offers courses to help you and your team get to grips with its features.
Meetings and Video Conferencing
Zoom is probably the most well-known remote meeting tool, with its ease of use and many useful integrations making it a top choice for many. It's a great all-rounder, providing one-click access to meetings, breakout sessions, and flexibility to hold one-on-one check-ins, small group meetings, or large webinars. Zoom's recent update brought in some great new features, but a real highlight is its auto-generated live captions, helping to make meetings more accessible.
An alternative is Webex by Cisco, offering secure video calls as well as helpful integrations that allow you to share and edit files within the platform. For collaboration, a great feature of Webex is its interactive whiteboard, available to use as a teamworking tool at any point during a meeting.
As mentioned above, Microsoft Teams also has a built-in video meeting and conferencing feature, which includes a similar whiteboard integration. Teams supports meetings of up to 10,000 people and is a good choice for both small and very large online events. Microsoft Teams is also included in your Office 365 or Microsoft 365 subscription, so it is available to you for no additional cost.
If you favor Google's productivity apps and interface, Google Meet blends seamlessly into the rest of its suite. This makes real-time collaboration, spontaneous check-ins and scheduled meetings easy. It also offers virtual rooms dedicated to specific projects, so that you can jump in for a check-in at any moment.
Collaboration
In-the-moment collaboration on projects is a key need for organizations working remotely. Working together on documents, spreadsheets, and presentations is made easier with cloud-based productivity tools, and you can provide clarity and ease by using a project management tool. Google Docs offers real-time editing and sharing, along with comment and suggestion capabilities that allow everyone to have their say without too many emails flying back and forth.
Applications within Office or Microsoft 365 solutions, such as PowerPoint, Word, and Excel, have the same functionality. These collaboration tools are also an essential part of Microsoft Teams and several of the other productivity apps included within Office. Capabilities include allowing for in-the-moment teamwork, including co-authoring documents, comments and @mentions, and integrations with other productivity tools.
For project management needs, Asana helps you to manage workflows and see clearly who is responsible for what. It allows you to quickly see how a project is progressing without following up and ensures that everyone understands their own role within a project.
External Communications
Next, consider your channels for communicating outside of your staff and volunteers. This could include grantmakers, members of the communities you serve, or prospective and existing advocates and donors. When tackling your external communication, it's important to know who you need to reach. What information would you like your audience to receive, and what do you want from them? Your goal might be engagement, an increase in donations, or more volunteers. Whatever it is, this should inform your outreach.
Email and Social Media
Your email and social media outreach is often the first contact an individual has with your organization. To help you manage these all-important first impressions, you can use Constant Contact's marketing management capabilities. These include tools to help you create great emails for specific goals or campaigns, track engagement, and get feedback from your community. Alternatively, GetResponse can help you reach new audiences with your email campaigns, build landing pages geared towards your goals, and use webinars to raise awareness of your organization.
Website
The first step to creating an engaging and informative website is to find a platform to build and host it. Wix is suitable for website-builders of all experience levels. Its tools allow you to build from templates or from scratch, but either way you can customize your site to look and feel exactly how you want it to.
You can add to the appeal of your communications materials and website by dedicating time to the visual elements. Adobe Creative Cloud contains a wide variety of apps enabling you to create great photo, graphic, and video content to help engage your audience. A New Website Consultation can give you the expertise you need to get started, while our Security and Hosting service provides a domain and ongoing security. We can also review the wellness of your website, and maintain it by fixing issues as they arise.
Fundraising and Donor Management
The way you communicate with prospective and existing donors can make or break your relationship with them. If their interactions with your organization make them feel valued, and convince them that their contribution is making a difference, you'll build loyalty and advocacy within your pool of donors. Therefore, donor management and fundraising should be factored in as an important part of your communications strategy.
There are plenty of tools specifically geared towards fundraising and donor management. DonorPerfect consolidates your fundraising data, helping you save time and make better decisions with your outreach efforts. Little Green Light specializes more in tracking contact information and coordinating events and appeals. Keela focuses specifically on building meaningful relationships with your constituents, automating workflows and providing actionable insights from your audience activity. Whatever your fundraising goal, you can find the right technology to support your needs.
Live Events
Organizing live events online can be a great way to engage supporters and build your community of donors and advocates. Bevy is a community events platform, supporting small community meets along with large-scale events of over 100,000 people. It provides invites, which allow prospective attendees to read about the event, RSVP, and join in just two clicks. This cultivates a great audience experience before the event has even begun, and the professional feel of Bevy events is heightened with virtual networking tables and sponsor booths.
Microsoft Teams can support events of up to 10,000 attendees, facilitating presentations, webinars, online fundraisers, and a wide range of other large-scale events. In-meeting chat and hand-raising make it possible for hosts to interact with attendees in an organized manner, and you can make recordings or transcripts available after the event.
Zoom can support events of up to 1,000 attendees with the Large Meetings add-on. Its flexibility makes the platform ideal for large meetings, presentations, and conference-style panel events. The virtual whiteboard, chat, and breakout rooms provide a variety of options to facilitate discussion and collaboration, and guests can join from desktop, mobile, or a phone dial-in option.
Planning and Strategy
As you review your communications efforts and plan for the future, it's important to have some clarity around your plans for growth over the next few years. Whatever your strategy entails, your communications plans will need to grow and scale along with it. Create a content strategy for any outlets you have and consider how you can harness these platforms to increase engagement and draw in new supporters. Schedule regular check-ins with your team to keep strategies on track, and prioritize investing in technology that will help you grow.
Built to support the growth of your organization, HubSpot is a highly scalable tool providing rich, extensive insights into the effectiveness of your communication efforts. It is a constituent relationship management (CRM) platform with a range of tools dedicated to marketing, content management, customer service and more.
How Do I Create an Effective Communications Strategy?
Your strategy needs to start with an understanding of your audience, your team's needs, and your organization's goals. From there, you can select the right tools for each area of your organization and begin implementing them with your staff and volunteers. Whether you want better internal communication, more social media engagement, or a rise in donations, you can build a strategy to meet your goals.
Great communication can be a key to more effective teamwork, futureproof strategies, and better marketing. Depending on your organization's needs and budget, there are a range of tools and strategies to help you build strong communication channels both internally and externally. By understanding your own team, audience, and goals, you can select technology that meets your organization's needs.
Find Out More
Top photo: Shutterstock