If you are a nonprofit trying to compete in an increasingly saturated market, optimizing your website is one of the most impactful ways to stand apart, spread your mission, and drive donations. Check out this list of eight ways you can utilize your website to grow your organization and outreach.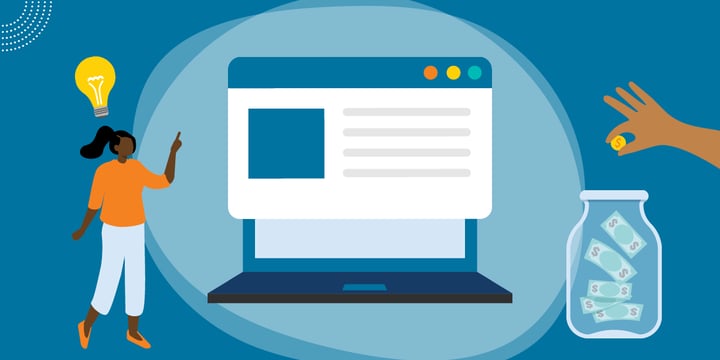 1. Clarify Your Mission
One of the simplest ways to leverage your website is to deliver clear messaging around your mission. Structure your site in a way that will allow new visitors to quickly and easily determine the problems your organization solves and how you solve them. Powerful messaging and imagery can help to convince visitors of the importance of your organization and help lead them to get involved.
2. Attract Supporters
In order for your organization to grow, you need to create a healthy lead flow of potential supporters. Optimizing your site in a way that both attracts and nurtures those visitors into becoming supporters is extremely beneficial. One way to do this is to make sure your site is search engine friendly, or incorporating search engine optimization (SEO) best practices. This ensures that potential supporters who are searching for keywords related to your organization or mission can find your website and get involved. Not sure how to get started? Check out this TechSoup blog post to learn the five steps to take to get your organization to the top of search results.
3. Increase Donations
With a clear mission and a steady stream of potential supporters, your website is ready to convert that traffic into donors! Online giving grew more than 20 percent in 2020, a trend we expect to increase in the coming years as the digital landscape for nonprofit organizations continues to evolve. Ensuring that your donation funnel is optimized means that the more you grow qualified traffic to your site the more you will grow your funding. Sustainable and scalable donation funnels can be built using platforms like Donor Perfect or Little Green Light. Click the button below for a curated list of fundraising tools and resources for nonprofits, including blog posts, courses, and products.
4. Grow Your Email List
While working to increase the traffic to your website, you need to prepare for multiple user journeys, or the different paths a contact can take from being a stranger to your organization all the way to becoming a promoter. Not all visitors will be looking to make a donation, and therefore you need a lower-level request, or conversion point, for those users.
One way to capture that lead is by simply asking for their email address so they can be kept up to date on news from the organization. Setting up a monthly or quarterly newsletter is a great way to highlight the success of your organization — including events, fundraisers, and staff changes — and promote further participation.
5. Recruit Volunteers
Another effective way to convert your website visitors into supporters is by having an easy way to get involved as a volunteer. Having a web page dedicated to getting involved can pull all of these conversion points together for the visitor to self-select how they'd like to participate.
For larger organizations or for organizations that have an active volunteer schedule, an optimized web page specifically for volunteering is a great way to highlight the benefits of volunteering. It can show pictures from past events, promote your calendar of events, and have a call to action for the visitor to get in touch. The best way to set this up would be a form that the user fills out with the organization-specific information to optimize the volunteer onboarding process.
6. Promote and Manage Events and Registrations
Fundraising and other types of events have experienced extreme changes in the last year. More and more organizations are moving to virtual or hybrid events. Even as in-person events start to return, using your organization's website as a way to promote and manage your events is a great way to grow involvement and participation.
Building out an event calendar not only promotes the events themselves but also gives credibility to your organization by showing activity and action! If you're not sure how to plan, promote, and manage virtual events, check out this Ask the Expert event on remote fundraising.
7. Incorporate Your Social Media
Encouraging multiple platforms to interact with your organization can lead to a more active user base that keeps your mission top of mind. Similar to cultivating an email list, building a social media presence can help share important news, raise awareness of events and fundraisers, and promote donations throughout the year.
Use your website to encourage your visitors to follow your organization on social media by building links to your accounts throughout your site. A great way to do this is by hyperlinking social media icons in your header or footer. Don't forget to do the same in your marketing emails as well!
8. Demonstrate Your Impact
At the heart of all these efforts are the communities your organization supports. Demonstrating all the good work you are doing through testimonials, success stories, and videos enhances the trust and credibility of your organization. These stories are the "why" behind your organization, but they can also serve as the "why" behind receiving a donation, a grant, or a new supporter!
Websites are a powerful tool in growing your organization and communications. Don't have a website or in need of a reboot? TechSoup's web services can help your organization design and build a new website with all these goals in mind and more! Talk to an expert for a free website consultation.
Additional Resources
Top photo: Shutterstock