It has only been a few weeks since the world changed because of the coronavirus pandemic. We got going right way collecting and writing about what we hope is a useful array of information and resources for you. I hope you'll agree that it's impressive how much we have so far. Here's an at-a-glance look at what's available on our COVID-19 Resource Page.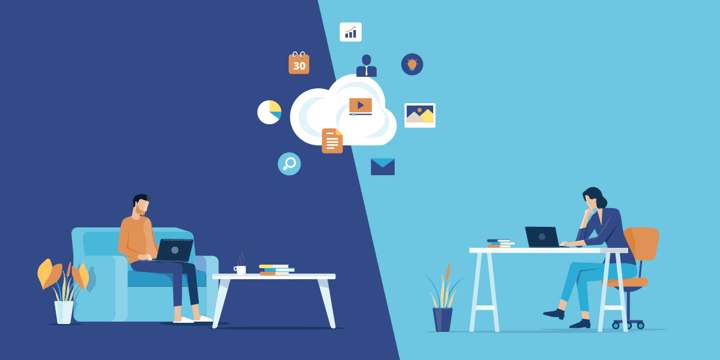 Tools to Support Remote Work
In our Tools to Support Remote Work section, we feature integrated productivity suites like the free and discounted Office 365 and Microsoft 365 offers and also Google G Suite. TechSoup also has a new collection of powerful online courses for your library or nonprofit that combines great skill-building content from experts at Microsoft and TechSoup called the Microsoft Digital Skills Center.
Policy Resources
In our Policy Resources section we have for you:
A sample Remote Work Policy and Agreement
A sample Pandemic Planning Policy
A sample Technology Policy Workbook
Information Security Policy Templates — lots of templates!
Webinars and Workshops
We have a growing list of Webinar and Workshop recordings including
Our Virtual Workshop: Managing the Impact of COVID-19
Keeping Your Systems Secure While Working Remotely
The CARES Act: What You Need to Know
How to Bring Your Live or In-Person Events Online
Blog Posts
We also have a growing list of TechSoup blog posts that we hope are super useful to you.
Resources for Remote Work During the COVID-19 Outbreak
8 Tips for Holding Remote Meetings During the COVID-19 Pandemic
Setting Staff Up for Remote Success with a Well-Planned Policy
Fundraising in the Time of COVID: A TechSoup Roundup
The Show Must Go On: Producing a Virtual Event
Keeping Your Systems Secure During the COVID-19 Pandemic
Communications During COVID-19 and Other Disasters
What You Need to Know Now About the New CARES Act
Guidelines for Configuring Zoom
TechSoup's Discussion Forum and Free Course
Additional Resources from Around the Web
Prepare. Respond. Serve. (Tech Impact + 501 Commons)
COVID-19 Nonprofit & Philanthropy Resources (Various Collaborators)
Disaster Resources (TechSoup)
COVID-19 Resources — Leap Ambassadors Community (The Leap of Reason Ambassadors Community)
COVID-19 Resources for Nonprofits (GlobalGiving)
Nonprofit HR Coronavirus Digital Information Portal (Nonprofit HR)
We sincerely hope that you find these resources useful. We assure you that we're not done compiling them yet, so from time to time be sure and check back to our COVID-19 Resource Page.