We are very excited to share Microsoft's announcement that libraries and museums are now eligible for all Microsoft nonprofit offers. This includes access to Microsoft nonprofit donations and discounts on both desktop and cloud solutions.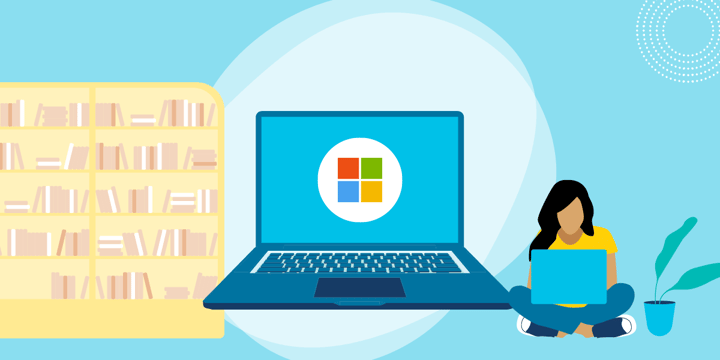 Libraries have always been eligible for donations for their public-access computer needs through the Microsoft nonprofit program at TechSoup. For staff needs, however, libraries needed to get Microsoft academic offers for both desktop and cloud solutions. There was also a brief period in January 2022 when all offers moved to academic offers.
We know this became a bit confusing. We heard your feedback — that the academic licensing was not always the best fit for library needs — so we advocated on your behalf in partnership with Microsoft. As of October 17, 2022, libraries and museums can now get all of their needs through Microsoft's nonprofit program. With this change, Microsoft is now able to better serve the entire library and museum sector.
In what follows, we'll go over the key offers now available and how they can benefit your library or museum. We'll also tell you what you need to know about the steps you need to take to start the process of requesting today.
Key Microsoft Offers Now Available to Libraries and Museums
Microsoft offers both donated and discounted licenses, with the choice to use cloud or on-premises solutions.
Microsoft Cloud Solutions
Microsoft's suite of cloud solutions can now be accessed by libraries and museums through the nonprofit program, and the program is now optimized to support smaller nonprofits in beginning their digital transformation journey. Microsoft 365 and Office 365 cloud subscriptions offer productivity, communication, and collaboration tools that can help you to work effectively with your team. You can use them to provide email services for your staff and volunteers, as well as working together, whether that is in-person or remotely.
PowerApps enables you to build and share apps with very little code, and libraries can now get 10 licenses for free as well as a discount on any additional licenses. This can help libraries looking to develop their own borrowing system or workflows for staff needs.
Libraries can also get access to grants for Microsoft Azure and Dynamics 365. Azure is a project management and version control application for organizations with several developers who need to collaborate on projects. Dynamics 365 offers a range of resources relevant to libraries, including finance automation, constituent engagement, and support to do more with your data.
Since both Azure and Dynamics 365 are grant-based offerings, you'll need to request them directly through Microsoft once you've confirmed your organization's eligibility. You can find out more about this process in the How to Access Donated and Discounted Offers section.
Microsoft On-Premises Solutions for Public-Access Computers
Many libraries provide public-access computers for their communities. Products like Office Standard, Windows Pro, Publisher, Project, and Visio Standard and Pro will be available as a donation for your public access needs. These are denoted in the TechSoup Microsoft catalog as products for "computer labs only."
How to Access Donated and Discounted Offers from Microsoft
All libraries and museums will need to first create a Microsoft account and get validated for nonprofit offers. Here are step-by-step instructions on how to do so.
Get validated on the Microsoft Nonprofit Portal. If you need help, download and read our step-by-step guide (PDF).

If you already have a Microsoft account, you can sign in to the Microsoft Nonprofit Portal with your existing username and password and get your account approved for nonprofit offers. This can take up to seven days, but the wait is usually closer to one or two days.



Keep your Microsoft account username and password handy. This is the account established when you created your onmicrosoft.com domain. Your user name is usually in the format name@organization.onmicrosoft.com.

After you complete this step, you will receive a confirmation email from microsoft-noreply@microsoft.com titled "You're eligible for grants and discounts from Microsoft." You can keep this email for later reference.

Please note that there is a slightly different process for requesting Dynamics 365 and Azure credits.*
Return to TechSoup and log in to your TechSoup account to request your products. Libraries can request products labeled "Computer Labs Only" for their public access computer needs. For library staff needs, you may access both cloud subscriptions and discounted desktop solutions.
During checkout, you will need to enter the Microsoft account name that you had created in step 1. You will also need to log in to the Microsoft 365 Admin Center with this username and password and accept TechSoup as your Provider. Please make sure to check the box to accept the Microsoft Customer Agreement.
Once this is completed, you should be able to come back to the TechSoup page and finish checking out.
You can also see the video below, which explains the new process for accessing and downloading solutions.
Building Better Offers for Libraries
We're excited about these new developments, as they'll help us provide libraries with the right resources to serve their communities and collaborate with their staff. These discounts, donations, and grants will help libraries and museums simplify licensing structures and reduce costs. But most importantly, they will directly support the critical work of serving their communities.
*Once your eligibility is confirmed, you'll use the following forms to request credits for Dynamics 365 and Azure:
Top photo: Shutterstock