Salado Public Library is situated in a small town of 2,400 people in Bell County near Killeen and Fort Hood in Central Texas. The county has significant Black and Latinx communities, which comprise almost half of the county's population. I spoke with Jeanie Lively, who has been the Salado Public Library director for 10 years now. She told me that the library serves 8,800 people, including rural parts of their county as well as some suburbs that are going up there.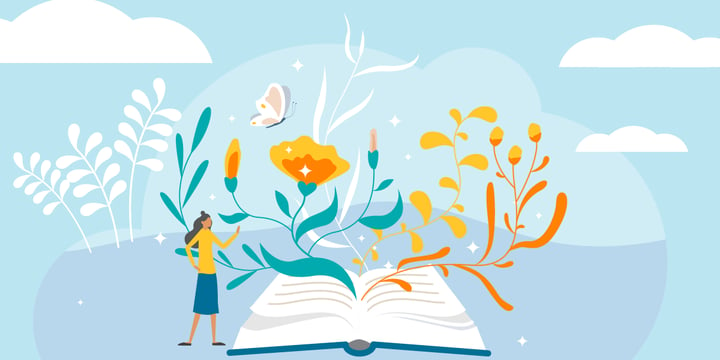 The library has experienced a strong increase in physical and electronic circulation in the last year, despite our still being in the pandemic. Salado Library is a great example of a library that started as a volunteer effort but managed to transition to become a professional full-service library for their rural community.
The Capital of Volunteer Libraries
It is not widely known, but Texas has long been the capital of all-volunteer libraries in the country. According to the Texas State Libraries and Archives Commission, there are still nearly 100 nonprofit libraries spread across the rural counties of Texas. Darryl Tocker, executive director of the Tocker Foundation, told me that a large percentage of those are still volunteer run. He added that Texas has far more volunteer-run libraries than anywhere else in the country. Salado Public Library started out as one of them.
There certainly are great volunteer libraries like the Pottsboro Area Public Library in Grayson County near the Oklahoma border. Under the extraordinary volunteer library director Dianne Connery, this library got multiple grants and awards, and very recently made the transition to having a part-time paid library manager and also a services contract with the City of Pottsboro and Grayson County.
Salado Public Library was able to make that transition nearly 30 years ago in the late 90s by establishing a local government library district governed by a board of trustees and funded by sales tax. In 1997, the Texas Legislature passed Senate Bill 1674, or the Library Districts Act. This legislation allows the formation of library taxing districts and permits voters to choose to create a library district and dedicate a portion of their sales tax revenue to support library services. The people of Salado voted yes. Salado Library was among the first Texas public libraries to take advantage of the law. To date, there are now 26 library districts or multijurisdictional library districts in Texas.
Securing funding enabled Salado Library to afford their first paid library director and eventually to become a full-service library able to serve its community with all the services modern libraries are now expected to offer. These include loaning hotspots so that rural patrons can have broadband Internet at home, computer training, digital materials like e-books and audiobooks, and a full array of children's and adult programs and many more services.
Not Your Grandparents' Library
Over the last 20 years or so, libraries have changed dramatically. Since 1790 and the first Franklin Public Library in Massachusetts on into the early 1990s, public libraries lent books and helped people with research. The advent of computers and the Internet changed all that. Libraries have expanded dramatically to become the go-to places for Internet access for poor and rural patrons, public-access computers, computer classes, individual help with electronic devices of all kinds, online homework help for schoolchildren, job search help, help locating social services — and the list goes on and on.
Public libraries are now expected to have both essential and cultural enrichment services for their communities. They are now expected to have easy-to-use online catalogs, extensive digital collections, and modern library automation systems. All these are quite expensive.
We found out how essential libraries are in 2020 when every library in Texas and the country had to shut their doors for several months. Just before the pandemic hit, Gallup reported that library visits nationwide were twice the number of visits to movie theaters or sporting events. Families with children are the heaviest library users. The Texas Public Libraries Annual Report for the pandemic year 2020 found that attendance at children's programs among Texas libraries was still over 2.5 million people. They have literally become America's pastime.
What a Rural Library Can Be
Jeanie Lively of Salado Public Library told me that her library now has five paid staff, three of them full-time, to run their library technology and essential programs. They also have lots of volunteers now who run their Friends of the Library fundraising program and serve on the board. Volunteers also work on publicity, marketing, and outreach; run classes like their popular crafts classes; and serve on their Book Selection Committee. Volunteers tend to come and go, so most libraries in Texas and the rest of the country have found that running essential services like circulation is best done by professional staff if at all possible.
Rural America contains our great Internet deserts. Broadband is expensive and scarce out there. Rural libraries are uniquely positioned to address this critical need for broadband Internet and computer access in their locales despite their small operating budgets. Dealing with this digital divide is a critical mission for all rural libraries in Texas. Salado Public Library was on the case pretty early.
They applied for and got technology grants, first for public-access computers, then just after the great recession, for Internet hotspots for "loaning out the Internet" to rural patrons. In the last year, they've had a 32 percent increase for in-library computer use, so they've recently invested in 12 new laptops that they're preparing for in-library use. Their first batch of hotspots have now worn out, so they've just gotten new ones from TechSoup via our Mobile Beacon Program that offers donated hotspots with unlimited monthly broadband at $120 per hotspot for a 12-month service plan. It is the lowest-cost unlimited broadband in the country.
Help for Small Libraries
It's worth noting that two essential nonprofit services are available to the small and rural libraries of Texas: TechSoup and the Tocker Foundation. TechSoup is a nonprofit that offers deeply discounted and donated technology to all 552 Texas libraries, large and small. Most Texas libraries are TechSoup members. TechSoup also serves all Texas nonprofit organizations.
Our TechSoup for Libraries is a free service that offers a free monthly newsletter, current library information via social media, and webinars tailored to libraries. Jeanie Lively told me that she's a big fan of the webinars that mostly explain how to use the technology that TechSoup offers. TechSoup Courses are also popular. These are affordable train-the-trainer-type, on-demand, self-paced courses that include digital inclusion training on all the popular applications like those in the Microsoft Digital Skills Center. To date, TechSoup Courses has served over 600 U.S. libraries and just under a thousand library workers who have taken advantage of them to gain proficiency in digital literacy subjects so they can help patrons do the same.
The products on TechSoup that Texas libraries request most are new Microsoft software for their public-access computers; Adobe applications like Photoshop; new Dell, HP and Lenovo IT and hardware of all kinds; low-cost warrantied and reconditioned laptops, desktops, and monitors; and of course the Mobile Beacon hotspots with broadband.
The Austin-based Tocker Foundation is unique in the entire country. Since 1964, it has offered grants to all Texas small and rural libraries to build their collections, buy computers and IT and library automation technology, install furniture and shelving, and make other physical improvements. This foundation solely serves small Texas libraries. Salado Public Library got a Tocker grant to build out their early childhood and teen programs. To date, the foundation has given over 1,200 grants to 444 library recipients (some libraries have gotten multiple grants).
What Small and Rural Libraries Need
Not surprisingly, Jeanie Lively reports that her library badly needs better and stronger Internet of all kinds: stronger Wi-Fi, more hotspots — everything. They'll be adding new computer classes soon and will continue individual instruction on all electronic devices. She also reports that since the pandemic started, the library has had a 24 percent increase in use of electronic resources. The pandemic and the library closures increased demand for e-books, audiobooks, and streaming media for nearly all libraries. Electronic resources are expensive, so she'd love to have more budget for that.
What drives Jeanie Lively? She told me that she loves best being able to give people the information they need — whatever it might be … just like librarians have done since time immemorial.
Top photo: Shutterstock