Wix is designed to help you make a website you are proud of, no matter your requirements or skill level. Anyone can increase their online presence by building a beautiful site — and the fantastic discount through TechSoup makes amazing websites more accessible than ever.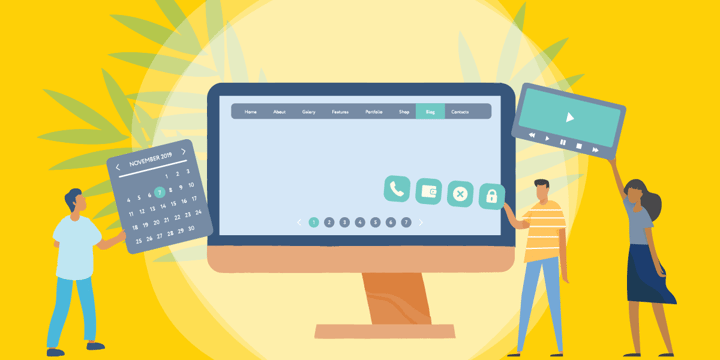 Total Flexibility
Wix can help you build a beautiful, unique website, whether you are a seasoned coding professional or you've never created a website before. Choose between three starting points on the Wix platform in order to quickly develop your online presence and make it look exactly how you want it.
The Wix Editor uses innovative drag-and-drop controls to help you design exactly the website you want, with no previous experience. You'll have access to over 500 templates created by website designers, or you can start from scratch and design every element yourself. Powerful web apps and advanced features can help to make your site look even more professional, and even more unique to your organization.
If you're low on time, cash, or staff but still want a professional, unique website where supporters can find all the information they need, check out Wix ADI. Wix ADI provides a web design service at a moment's notice: Just answer a few simple questions and let the software create a unique website for you. This innovative combination of AI and web design delivers a complete site, with customizable colors and fonts and helpful tips at every step.
At the other end of the scale, Corvid by Wix is an open development platform for building advanced web applications (although it is only available as an add-on directly through Wix). If you are looking for total design freedom, Corvid gives you just that, with hassle-free coding that allows you to tweak your web apps to exactly how you want them. Serverless computing simplifies the process, while the open-platform nature allows for easy connection to third-party APIs and a totally customizable user experience.
Get Discovered
The professional features offered by Wix include some fantastic ways to improve your chances of getting discovered online. A custom domain name, free website hosting, and a personalized mailbox can make you appear more trustworthy and legitimate to people who stumble across your site. Live chat, analytics, and connecting your social tools can help you to keep website visitors around and to convert them to loyal ambassadors, donors, and volunteers. Plus, Wix sites are SEO-friendly, making small tweaks in order to make your site more likely to appear in search engine results. It's a great way of getting your organization's mission statement in front of the right people.
Business Features
While not available through TechSoup, Ascend by Wix is available directly through their site. These extra features allow you to take bookings, sell merchandise, and organize events through your website. Wix offers some great "business features" in its website builder, making it easier than ever to avoid paying unnecessary fees and hopping between third-party services. There are features to suit nearly every organization's needs, but here are a few that nonprofits might find particularly useful.
Wix Blog
Do you have an impact story to share? Want to acknowledge a volunteer who has gone above and beyond the call of duty? Are you trying to attract new donors to your organization? A blog can be a fantastic way of keeping people updated with your nonprofit's activities and achievements, as well as helping them understand what you are all about. Especially if you are a small nonprofit, it can be beneficial to show the faces and stories of your volunteers and staff, in order to make readers feel like part of the community.
To maximize the impact of your blog, it helps to have a strategy in place. Check out this guide to creating an effective content strategy.
Wix Stores
Selling merchandise can be a great way of raising money for your organization while enabling your donors to feel that they are getting something out of it. But it doesn't just have to be selling t-shirts — there are countless ways to get creative with a store on your website. Create an intuitive storefront, design beautiful product pages, and ship anywhere in the world. Stores are a great way to keep things interesting in your fundraising!
Wix Events
If you organize events, conferences, or even meetings, Wix Events can help you keep all of the details in one place. Sell tickets, keep track of RSVPs, and share beautiful email invites, all right from your site's dashboard.
An All-Encompassing Web Solution
Wix is a great tool for all your website needs, and the Unlimited Premium plan is now available at a 70 percent discount to TechSoup members. Your online presence is a window into the world of your organization for potential partners, donors, and volunteers: Show them your best with an amazing website.
More Resources