For years, many book lovers felt that Barnes & Noble was the epitome of a soulless big box store. The store prioritized cost and efficiency over readers while putting many local, independent bookstores out of business. Then Amazon supersized this approach and put Barnes & Noble on the brink of bankruptcy as the pandemic began.
Barnes & Noble made a miraculous comeback by doing something that seemed counterintuitive — they pivoted from being transactional to being relational with their customers. The shift, according to their new CEO, centered on giving local Barnes & Noble stores much more authority to order what their readers in their area want to see."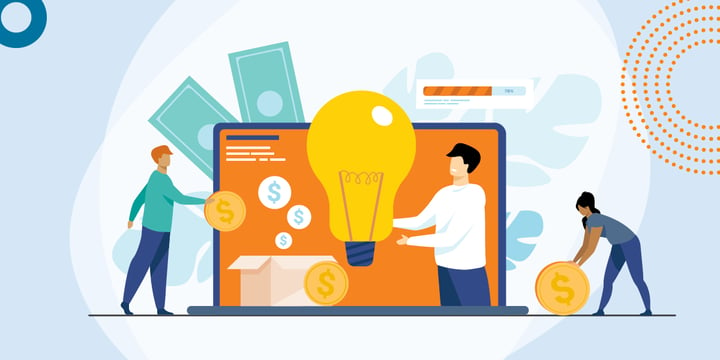 It's time for nonprofits to make the same pivot. In what follows, I'm going to share three steps that will help you better build better relationships with your donors and foster lasting relationships that lead to ongoing, recurring support for your organization.
Don't Be a Big Box Nonprofit
Many nonprofits have become the equivalent of big box stores in making donors feel like ATM machines instead of people. One key indicator of the failure of this approach is the fact that, on average, over three quarters of new donors do not make a second gift. I call this the "leaky bucket" problem. Organizations lose money acquiring new donors, who almost immediately become lapsed donors. And then they do it all over again the next year. This exhausting, demoralizing approach to fundraising also goes a long way in explaining the sky-high burnout rate for development staff.
The number of individual donors has dropped nearly 20 percent since the beginning of this century. It is not difficult to believe that this large drop is connected to donors feeling unappreciated. This commoditized approach to donors is a particular turnoff to younger donors who are used to having lots of choices in everything they do and need to be acknowledged and educated and invited to become repeat donors.
3 Steps to Better Donor Relationships
Creating a new approach to fundraising that is values-aligned with mission-driven work — one that focuses on building better relationships with your donors — is easier to do than you might think. It begins with these three steps:
Reduce the cost of online fundraising.
Accept as wide an array of financial vehicles as possible.
Customize communications with donors at every level.
Reduce Your Costs
Online fundraising requires software to process donations. The commercial companies that sell this software are expensive and charge platform or transaction fees — or both. In addition, there are third-party fees, such as those made by credit card companies. All of this adds up, and before the donation has reached your mission, a chunk of it has disappeared. This increases the internal pressure to raise more money.
Creating more time and space for development staff to breathe begins by working with a values-aligned nonprofit fundraising platform. And, yes, I am referring to my organization, Every.org, but also Give Lively and Givebutter. Nonprofit platforms do not charge any direct fees. (There is nothing we can do, yet, about those credit card fees.) For instance, an organization raising $500,000 a year online will save about $15,000 in fees using a nonprofit fundraising platform like ours. And perhaps even more importantly, our interest is in you and your organization's long-term financial health and mission, regardless of the number of transactions you create.
Allow Different Ways to Give
Second, it's critically important to be able to accept any kind of financial capital donors want to give, including stocks, cryptocurrency, or from mobile apps. This is especially important for younger donors who want to give what they want and when they want. They may have crypto to give, or they are on a train and want to give using Venmo. It is self-defeating to just offer credit cards or PayPal as an option.
MAPS supports research into the ways that psychedelic drugs can be used for healing. They were raising money in modest amounts until they began to use Every.org to accept donations of cryptocurrency. Less than two years later, they have raised $2.9 million in cryptocurrency. They met their donors where they were in terms of the kind of currency they wanted to give.
Customize Donor Communications
Finally, organizations need to thank and talk to donors in personal and meaningful ways. The way that we know that attention is spent on transactional and not relational activities is the pervasive problem of inadequately thanking donors. In fact, "inadequate" may not be an adequate word. I have given 12 donations this year to local and national organizations, big and small, and have received one tax receipt in return.
It would be an interesting exercise to see the disparity in time and energy your organization spends acquiring new donors versus thanking existing ones. Generally, the top donors get thanked, but it is the middle and lower levels of giving that get ignored, and the loss of these donors is at the heart of the leaky bucket problem.
You have likely heard about ChatGPT. That is just one AI tool in an enormous new AI toolbox. ThankView uses AI to customize thank-you videos for every donor. The Rainforest Action Network worked with Accessible Intelligence Limited to customize the first two communications a donor received from them based on their previous likes and interests: a thank-you note and then a call to action. Just by doing this, they increased the rate of monthly donors to the organization by 800 percent.
Don't Overthink It; Just Get Started
You don't have to do all of these steps at once. Pick one and get started because the conventional practices of fundraising are failing both organizations and donors. Increasing donor retention rates by just a few percentage points will enable development staff to breathe easier, making it feel less urgent to fill up the bucket. Whatever step you take will begin the process of patching up the leaky bucket and will rehumanize your fundraising by making each donor feel known and appreciated.
Additional Resources
Top photo: Shutterstock