Back in November, TechSoup launched its Direct Public Offering (DPO). There are many reasons why we're enthusiastic about this effort. First, it gives us a chance to gather the capital necessary to do big investments in our strategic vision, providing a new opportunity to engage our community. But we also believe that TechSoup is the first nonprofit to be qualified by the Securities and Exchange Commission for a Reg A+, Tier 2 debt securities offering. We look forward to sharing our learnings from this experience with other civil society organizations that might be considering using a DPO as a way to raise capital through this type of offering.
The DPO is just one component of our larger Growth Capital Campaign, which seeks to raise $11.5 million over the next three years. To date, we're about halfway there. You can see the details of our progress in this recent post by Marnie Webb, TechSoup's chief community impact officer.
We have the opportunity to accelerate the investment, and I'm proud to share with you that TechSoup's board of directors has recently launched a "DPO Challenge Match." For the duration of this program, board members will match these investments dollar-for-dollar, up to $500,000, for a $1 million investment.

Our first challenge period is already underway. Between now and May 31, two individual members of the TechSoup board of directors will match up to $150,000 in investments from a wide array of stakeholders, totaling $300,000 in new investment dollars. These stakeholders include the nonprofits we serve, our corporate partners, colleagues, those who have supported TechSoup for 30 years in one way or another, and individuals new to our community.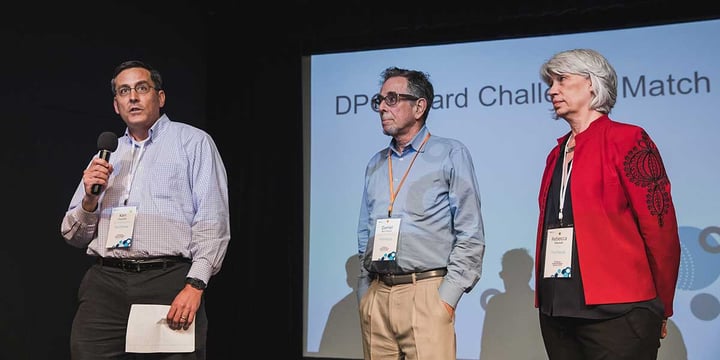 TechSoup's Ken Tsunoda, Daniel Ben-Horin, and Rebecca Masisak announce the DPO Challenge Match before an audience at the 2019 TechSoup Global Network Summit.
These funds will ultimately be used to
Expand our nonprofit marketplace
Provide increased validation and data services
Develop more apps for good
Improve our business processes and systems
Continue to develop our Cooperative Technology Platform (CTP)
You probably have a few questions, and I'll do my best to answer some of them now.
What Is the TechSoup Growth Capital Campaign?
At TechSoup, we're raising money in order to expand our capacity to support civil society with critical resources for generations to come. If we reach our $11.5 million goal, the TechSoup Global Network will nearly double the number of nonprofit organizations we serve globally. We project that we will expand our delivery of tech resources globally from $1.9 billion in 2018 to $4.8 billion annually by 2021.
In fact, for every $100 invested, an estimated $47,000 in additional resources will be distributed to organizations around the world that work every day to improve the lives of people everywhere.
How Can I Invest?
While there are a number of ways to support the Growth Capital Campaign, the DPO Challenge Match makes it a better time than ever to invest in our DPO. You can invest via the SVX.US impact investing marketplace. The three tiers of investments possible are all listed on our SVX.US page and are all 5-year terms. These include
You can also support TechSoup simply by sharing information about this campaign with anyone else you feel may be interested in this unique opportunity to support global civil society as an impact investor.
Please visit this site for more information about TechSoup's vision for our Growth Capital Campaign. And if you have any questions or ideas you'd like to share, please don't hesitate to contact us at invest [at] techsoup [dot] org.
It's an exciting time for TechSoup, our Global Network, and civil society across the planet. With the right amount of support, we'll be poised to support NGOs around the world like never before.
Let's do this. Together.
Additional Resources: Impact Investing