There is no denying that the past two years have reshaped the event landscape. Home workstations have replaced traditional offices, Zoom calls have replaced team meetings, and virtual and hybrid events have largely replaced in-person ones.
Many organizations have spent years relying on key in-person events to facilitate engagement and support. Shifting to predominantly virtual experiences may feel like an inconvenient stopgap. However, the pivot to virtual and hybrid events offers many new diverse and expansive opportunities for your nonprofit.
There's never been a better time to dive into online events for your organization. When planning hybrid and virtual events, the most important considerations center around platform functionality, partnership opportunities, audience engagement, event organization, and curated experiences for your guests.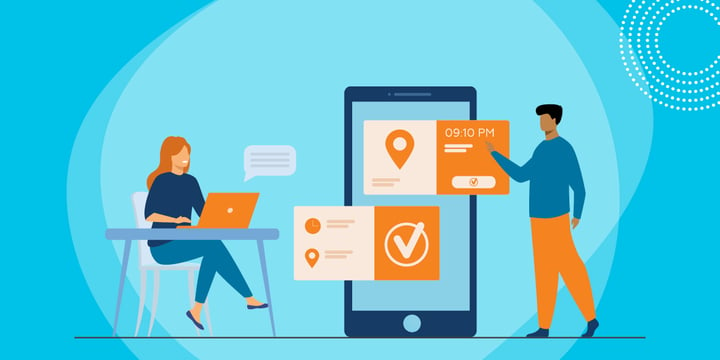 The Hybrid and Virtual Boom
Virtual and hybrid events have expanded possibilities for organizers, opening the doors to larger audiences and bigger revenues. Some virtual events have even doubled their attendance over traditional in-person events by providing a safe, convenient experience for those who otherwise cannot attend in-person events.
And, with more attendance comes more revenue. That's because online events are better able to target a wider audience, no longer limiting participants to a particular area. On top of this, common expenses are reduced when putting on virtual events, cutting budget on hotel reservations, event space rentals, dinners, decor, and much more.
Many people — including donors, volunteers, and staff — have actually come to prefer virtual events. Attending events in person takes much more time out of their schedule. Hybrid and virtual events are now becoming a staple in the tech and nonprofit spaces, and it is looking like they are here to stay.
Hosting Hybrid and Virtual Events
Ann-Marie Pawlicki Dinkel is the senior event manager for CMX and Bevy. She is in charge of running educational events throughout the year for CMX, which provides programs to help professional community builders grow and engage their communities. CMX's parent company, Bevy, offers enterprise software for virtual conferences and community events.
Ann-Marie became well aware of the transition from in-person to virtual and hybrid events in 2020, when she took their annual flagship conference, the CMX Summit, all-virtual for the first time. Despite the unprecedented pivot, the summit was a huge success, with five times more registrations and a 190 percent lift in social engagement.
Ann-Marie takes an optimistic view of the shift to hybrid and virtual: "It is not a limitation; it opens the door to engagement." According to Ann-Marie, there are five key areas of focus to any successful, engaged hybrid or virtual event.
Platform and Functionality
One of the first major choices your organization will have to make is which platform to use. Before settling on a platform, however, it is important to determine which functionalities will help you reach your intended goal. For example, if you want to focus on networking at your virtual or hybrid event, make sure the platform has virtual networking tables. If audience engagement is important, make sure the platform incorporates Q&A functionality. If it's a sponsored event, make sure that you can provide digital booths for sponsors and partners on the platform.
Depending on your budget and the size of your event, there are a wide range of approaches your organization can take. For larger events, like the CMX Summit, Ann-Marie works with a production company and the Bevy software to incorporate branded backgrounds, applause sound effects, interactive polls, name cards, and more. She even weaves in branded commercials, which can highlight sponsors, donors, or other initiatives.
But large productions are not the only path to a successful event. At a recent virtual conference, Ann-Marie guided attendees through sessions structured around the event's carefully planned agenda. The conference concluded with virtual networking tables for the attendees. Despite its simplicity, this was one of their highest rated events, with a 75 percent increase in newsletter signups. Ann-Marie attributes the success to the event's targeting, which defined global audiences receptive to their event's agenda.
Partnership Opportunities
Not only can going virtual or hybrid expand your audience, it can also open up more sponsorship opportunities. Companies are always seeking creative and expansive ways to position themselves. At live events, sponsors are only able to appeal to in-person attendees. However, with the expanded potential of global attendance in the virtual space, hybrid events offer sponsors a much more distributed and engaged audience.
At a recent event, Ann-Marie partnered with a company that sponsored a live ice carving. While this sort of creative approach can enhance live events, it appeals just as much to a wider virtual audience, offering both entertainment and innovative sponsorship opportunities.
Engage Your Audience
Ann-Marie's primary approach to hybrid events is to engage the audience: "I am all about putting on a show."
She recommends starting with something like a digital lobby, the first thing the audience will encounter at your event. "A little welcome goes a really long way." This can be a fully produced promotional video explaining what the audience can expect, or it can be something as simple as a welcome note.
One of the most important elements of your event is your MC. "Always have an MC. Your MC is your star. Make sure that person can guide the audience and engage them throughout the entire event."
Interactivity is essential. Ann-Marie likes to begin events with some opening questions and icebreakers. "Where are you from? How are you doing? Where are you located? What's your favorite emoji? That's one of my favorites to drop in." She says the chat will flood with emojis, kicking the event off on a fun, interactive note.
Hybrid events are more than just lectures and Q&As. Virtual attendees want to network too. Always try to host networking tables at the end of events, which will give the audience value and keep them engaged.
Organization Is Key
A hybrid event is a combination of both an online and an in-person event. You are essentially planning two events at once. When you have multiple streams of information targeted to overlapping audiences, it is essential that you plan content in advance and keep everything properly organized.
Ann-Marie likes to make sure she has one master document for the entire event that highlights the distinct protocols for both the virtual and in-person activities. This document houses things like budgets, asset creations, the agenda, speaker info, sponsors, and more.
For virtual events, prepare for inevitable tech issues by establishing a virtual concierge table or help desk. Additionally, you can host a mini training session before your event or put together a technical help guide that you can provide to your guests.
Tailor the Experience
It is important to understand what your community wants and then design the experience around this. If your audience wants to talk and network, make sure you have networking built into your agenda. If your audience wants to get to know the speakers a bit more, schedule longer Q&A sessions. If attendees are looking for a bit of fun, get creative in planning entertaining events for them.
The key to tailoring the experience is to ask attendees what they want. Gather this info by distributing post-event surveys, engaging your Slack channel, or meeting one-on-one with the most active members in your community.
Events Moving Forward
The limitations brought about by the pandemic have been taxing, but they have also highlighted the many benefits of shifting to a virtual experience. Geographic barriers to engagement have been demolished, enabling small organizations to host attendees from around the world. Nonprofits can now bypass exorbitant logistical expenses by hosting engaging, interactive events for guests attending from the comfort of their own homes. Hybrid and virtual events can truly open the doors to more meaningful, dynamic engagement with your audience.
Additional Resources
Top photo: Shutterstock