Events are a time-tested way for nonprofits to bring their supporters together, inspire a love for their cause, and fundraise. When COVID-19 shut down in-person events in early 2020, many organizations quickly pivoted to hosting virtual events with varying degrees of success.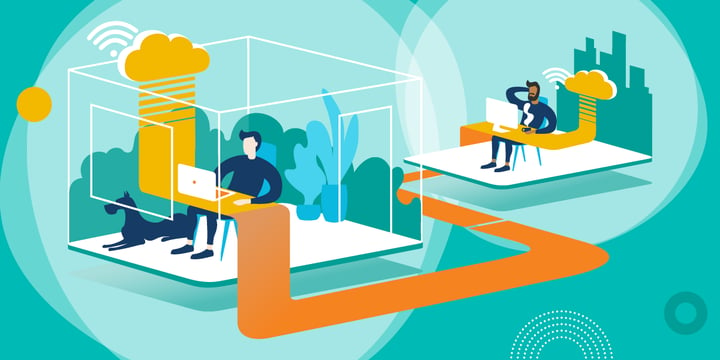 While 2020 and 2021 were challenging for many nonprofits and their donors, these challenges also helped bring to light many of the benefits of virtual events.
If your organization is considering how you'll host your events in the coming year, planning a hybrid event can be an ideal solution. This post will walk you through everything you need to know to plan and execute a successful hybrid event.
What Is a Hybrid Event?
The term hybrid event refers to any event that includes both in-person and virtual elements. These are some examples of hybrid events:
A benefit concert that invites in-person attendees and is live-streamed for at-home viewers
A 5K run that takes place at a set time and location for those who want to come together and that invites others to run their own route
A silent auction that invites both in-person and virtual attendees to bid on items
In short, you may be surprised to learn how low the barrier to entry is for hosting these types of events and how well they are often received. Now, let's take a look at some benefits.
What Are the Benefits of a Hybrid Event?
While some donors are anxious to return to in-person events, others have enjoyed the flexibility that virtual galas and events offer. If you've only considered hosting an all-virtual or an all-in-person event, it's valuable to think about the potential benefits of hosting a hybrid event.
Hybrid events allow donors who have concerns about attending in-person events for health reasons to participate and engage in giving.
Including a virtual element in your event eliminates geographic barriers that prevent participation. Supporters who have relocated and friends, family members, and supporters who are remote can all engage and give.
Offering a virtual element boosts accessibility. Issues like a lack of child care, scheduling conflicts, or time fatigue are no longer a problem when donors can engage virtually.
Donors like to make choices and have options. When life feels unpredictable (as it does for so many right now), donors are more likely to say yes to an event when they know they'll have options for participation when the time comes.
Hybrid events come with a built-in backup plan. We all know how important it is to be able to pivot. Planning a hybrid event ensures that you have the infrastructure ready and available should you need to shift quickly to an all-virtual event.
How Can I Host a Hybrid Event at My Nonprofit?
Hybrid events are often far simpler to pull off than organizations realize. Take a look at the steps below to get started.
1. Examine Your Current In-Person or Virtual Event Plan
Identify what elements of your event could be hybrid. For example, can any performances be live-streamed? Could your auction welcome virtual and in-person bidders? Consider who your current target audience is now and how you hope to expand your target audience by offering a virtual element.
2. Choose a Platform That Supports Hybrid Events
After you determine which elements of your event will be available both in-person and virtually, select a platform that is designed to manage hybrid events. You'll want to be sure that your virtual participants don't have to use multiple platforms or programs to participate and that your in-person donors experience a smooth event. You'll also want to consider the unique engagement tools your platform includes and how you'll use them to ensure that your virtual participants feel as excited to be attending the event as your in-person participants.
3. Promote Your Event
As you promote your event, be sure to highlight participation options. Since you will have already identified who your target audience is for your in-person event and how your target audience can expand when you add a virtual element, you'll be able to tailor communication and promotion to these distinct groups. The promotional plan you identified for your in-person participants may not change much, but you'll want to have a clear idea of how you'll reach potential virtual participants. Consider reaching out and spreading the word in cause-related groups and forums, across nonlocal media outlets, and via word of mouth from your local supporters to their nonlocal friends and family members.
4. Plan for Engagement
A successful hybrid event considers the experience of both in-person and virtual attendees. Think about creative ways to engage virtual attendees like sending welcome packets prior to the event, offering live-streaming, and making sure any keynotes or speeches also acknowledge at-home participants.
Building interactivity into the event is an important way to help virtual donors feel present. Consider adding interactive trivia or surveys. Or you can poll virtual donors in real time to let them help determine the event flow — such as choosing the next song, voting for winners in a talent show, or choosing how money earned from a specific auction item will be spent. You can hold flash auctions that keep them on the edge of their seats.
5. Launch Your Event!
On launch day you'll want to take a deep breath and then dive right in! While you'll likely host at least some of your event live, you'll also be able to introduce prerecorded speeches or video assets to cut down on performance anxiety.
With a well-programmed event and a capable platform, you won't have much more to do on launch day than make sure everything stays on track!
Virtual and hybrid events are here to stay. While the shifts brought on by the COVID-19 crisis felt challenging at first, there were some positive and powerful takeaways around nonprofit fundraising. Hybrid events have the power to help your organization reach new donors and raise more money. When donors feel engaged and connected, they like to give, and that's good news for everyone!
Additional Resources
Top photo: Shutterstock