What's new in library tech! Welcome to our monthly collection of fun and hopefully useful news items from our great twitter feed and wherever else we find them.
Happy National Bird Feeding Month! Food for wild birds is getting a bit scarce around this wintry time of year. We offer you breaking news on a smart bird feeder. Also, efforts by library advocates to urge the FCC to fund a fix for the learning gap. Also the IRS Free File Program for your patrons and whether or not patrons can sue your library if they get sick! We have an answer on that. Sort of. All that and so much more. Here's our lineup this month.
Behold! The Smart Bird Feeder
New Black History Month Resources
ALA, ULC and Other Library Advocates Urge the FCC to Fund Efforts to Close the Learning Gap
The IRS Free File Program for Your Patrons
Smart Apps for Patrons with Hearing Loss
The Nextdoor App Is Quietly Replacing Our Small-Town Newspapers
Six Browser Extensions That Can Immediately Improve Your Patrons' Privacy Online
Can Patrons Sue Your Library If They Get Sick?
Here's your library tech newsbytes for February 2021.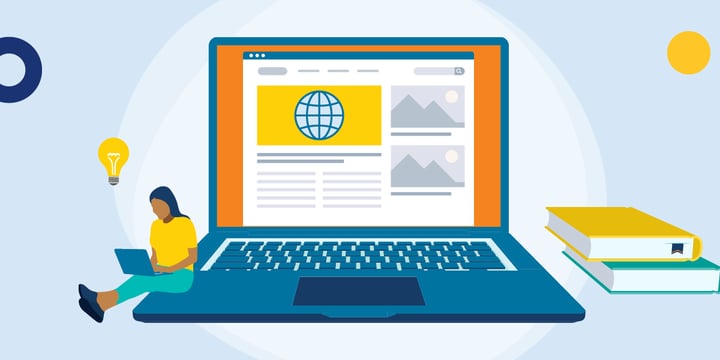 Behold! The Smart Bird Feeder
True to our theme this month, we bring you news about Bird Buddy Smart Bird Feeder. This clever camera-equipped bird feeder plus mobile app notifies you of bird visitors, captures their photos and organizes them into a beautiful collection. It's big hit on Indiegogo.
New Black History Month Resources
Still one of the best resources for general readers, History.com's resource page on Black History Month describes the origins of the celebration (President Gerald Ford officially recognized Black History Month in 1976), the Black History Month 2021 theme, milestones, and a photo gallery.
District Administration magazine also just came out with eight great free resources and lessons to explore on the topic.
Explore over 2,800 resources in the Racial Equity Resources Library compliments of the nonprofit Racial Equity Tools project. Find tools, research, tips, curricula, and ideas for people who want to increase their understanding and to help those working for racial justice at every level.
And for those of us who like the topic boiled down to essential numbers, the U.S. Census features Release Number CB21-FF.02. I had no idea that Texas has the largest Black population among states and that Cook County, Illinois (Chicago), has the largest Black population among counties?
ALA, ULC, and Other Library Advocates Urge the FCC to Fund Efforts to Close the Learning Gap
Library Journal infodocket reports that a coalition led by the nonprofit Schools, Health & Libraries Broadband (SHLB) Coalition are asking the new Biden-era FCC to close the remote learning gap. The coalition includes ALA and the Urban Libraries Council. Their petition to the FCC calls for allowing schools and libraries to connect the estimated 15 to 16 million students who lack home Internet access using funding from the E-rate program. The schools and libraries would use the money to invest in what works best for their students, teachers, and communities.
The IRS Free File Program for Your Patrons
NerdWallet reports that 100 million Americans are eligible for the IRS Free File program. Here's what your patrons need to know.
The IRS Free File Program is a public-private partnership between the IRS and the Free File Alliance, a group of tax preparation companies with online software such as TurboTax, H&R Block, TaxAct, FreeTaxUSA, and several more.
Patrons are eligible for the free service if they have less than $72,000 of adjusted gross income for 2020. The IRS estimates that 70 percent of all taxpayers are eligible.
The packages work for people who have income from only one job and aren't itemizing on their tax returns.
State tax returns are usually also included in these free packages, though some software providers tend to add a fee for that as the April tax-filing deadline nears.
Also, the Volunteer Income Tax Assistance (VITA) Program is a federal grant program that helps community organizations provide free tax preparation to low- and moderate-income individuals, the disabled, the elderly, and limited English speakers. Generally, the income limit to qualify for free tax help is $57,000. The IRS website lists VITA sites across the country. Of course, many libraries participate in VITA.
Smart Apps for Patrons with Hearing Loss
Researchers at the University of Texas are developing smart apps to help people with hearing loss. The biggest issue? Filtering out background noise and improving speech perception. One of the most recent apps uses artificial intelligence to remove extraneous babble, street background noise, and other sounds. Worldwide about 466 million people, including 34 million children, experience disabling hearing loss, according to the World Health Organization. About 15 percent of American adults report some trouble hearing, according to the NIH. More information on this research is available on the team's research lab website.
The Nextdoor App Is Quietly Replacing Our Small-Town Newspapers
OneZero on Medium reports that, as local newspapers disappear around the country, the Nextdoor mobile app Is quietly filling this news desert gap. It is an evolution of the neighborhood listserv for the social media age, a place to trade composting tips or offer babysitting services — and opinions, lots of opinions. It operates in 268,000 neighborhoods globally. "Anecdotally, Nextdoor has gone from being kind of sub-Facebook to actually being the main platform you hear people discussing as a vector for local news and events and discussions," says Emily Bell, director of the Tow Center for Digital Journalism at Columbia University. There are other hyperlocal apps that your patrons can use like Citizen and Neighbors.
Six Browser Extensions That Can Immediately Improve Your Patrons' Privacy Online
Zack Whittaker of TechCrunch recommends six browser extensions that will immediately improve your patrons' privacy online by blocking most of the invisible ads and trackers. Here are his essential picks:
Can Patrons Sue Your Library If They Get Sick?
Tomas Lipinski of American Libraries finally answers perhaps the most pressing question at the high tide of COVID-19: Can a patron who gets sick sue the library? Long story short: It's complicated. Your library can explore using a liability release or injury waiver. In signing the document, a patron agrees to release the library from any fault or liability for injuries resulting from ordinary negligence. Libraries that employ liability waivers usually require them for patrons who use makerspaces and crafting centers, since those activities are directly sponsored by the library and carry a high risk of injury.
Lipinski says, "The effectiveness of such agreements is an open question, as no court has yet ruled on their enforceability, and some states do not permit their use at all."
Can a government entity like a public library use such an agreement? "That complex legal question depends on an analysis of a state or locality's treatment of government sovereign immunity, public policy, and tort law. That kind of analysis should be undertaken only in consultation with legal counsel who are familiar with these issues." Sorry. I said it was complicated. Sigh.
However, we hope you like our latest batch of newsbytes this month!