In 2020, one in five U.S. residents sought out food assistance. That was an increase of 50 percent from the year before, according to Feeding America. The increased need continues to be seen across the country as families contend with rising costs of living. But it's not that there isn't enough food to provide for those in need; it's a matter of getting the right food to where it is needed at food charities when the needs arise.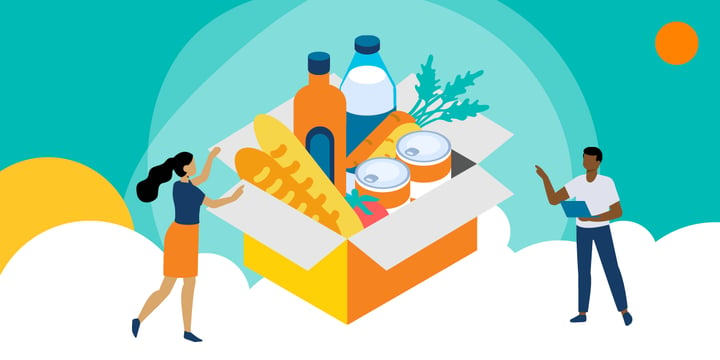 According to TechSoup's recent research, traditional food charity services are stretched thin. As a result, churches, neighborhood associations, schools, and other food programs have had to step up to help even more and are still working at increased levels to meet the demand. Small food charities — those with fewer than 10 people on staff, including volunteers — make up 70 percent of the organizations that TechSoup spoke with. This means that the majority of food programs are being managed by a small staff and volunteers, with limited resources.
Souper Bowl of Caring has been helping food charities of all sizes since 1990. Over $170 million worth of food and cash has been donated through our programs, which traditionally happen using the energy of the big game. Groups like schools and churches, and civic groups such as Jack and Jill of America, host food and cash donation drives to support their local food charity.
When the pandemic hit, we were asked to help identify what our food charity friends needed to get their work done. This was when our new Tackle Hunger Map was born. Along with being a strong extension of our mission — to unite all communities to tackle hunger — it now serves as a national solution to support food charities and community resiliency.
Here's how it works.
Real Needs Displayed with a Way to Help
The Tackle Hunger Map project is the first of its kind. The Tackle Hunger Map shows any charity that is feeding people what its current "status" is and provides a way to support its needs. With the simple click of a button from an automated email sent every few weeks, a food charity can specify its current level of need: critical need, needs nonperishables, needs perishables, or adequate stock.
These charities can be supported by anyone visiting the page, as users can easily go to the map and see where their local food charity is and support that need right through the map. Businesses or interested parties can see where there is critical need and respond with immediate help directly to the food charity location. Community organizations can know where best to send their clients who are food insecure at a specific moment in time.
Representation
Every charity feeding people can be on the Tackle Hunger Map, and each is displayed as a simple pin. The only way to get to the top of the map list is by the geolocation of the user. There are no paid-for advertisements that cause a charity to rise to the top.
In addition, Souper Bowl of Caring is helping to create a master list of all charities feeding people. We think there might be about 100,000 of them, but there is no database of all food charities. We host the largest maintained database so far, and it is growing every day. Remember, only a portion of all food charities are a part of the Feeding America network, which means they only exist because of independent donations.
Technology Support
With the vast majority of food charities supported by a small number of people, time and resources aren't always available to run websites or maintain an online presence. That means the charities cannot accept online donations.
The Tackle Hunger Map provides help. Charities pay nothing to be on the Tackle Hunger Map, and users pay only a minimal credit card and platform fee to donate online. Charities can either set up direct deposits of their donations, or Souper Bowl of Caring will send them their donations in check form within 30 days. Tax receipts are automatically sent from the Tackle Hunger Map platform to donors who give.
Community Resiliency
The data we collect from our food charities about their current level of need can also support healthcare organizations that see patients who clearly need better nutrition. Since 80 to 90 percent of health outcomes can be attributed to factors that are outside medical intervention, having access to good healthy food is a no-brainer. Using the Tackle Hunger Map, a social worker can easily see what charity can handle new clients and send them to a place where they can definitely find the resources they need to be more healthy.
Souper Bowl of Caring has been asking people to give just one dollar or one can of food to a local food charity for over 30 years. We know that food charities don't have time to reach out to their local churches or neighborhood organizations to get help because they are too busy just keeping up with the demand. They don't want to turn anyone in need away without food or resources that can meet their basic human needs. Groups like TechSoup and Souper Bowl of Caring and a host of other companies care about making this easier for food charities. We will do this because no one should go without soup in their bowl today.
About Us
The Tackle Hunger Map is an innovative new way to support local hunger relief. But Souper Bowl of Caring needs help to continue to build this technology that supports all food charities. This map is a solution to provide assistance to food charities based on their current level of need, but only if food charities interact with the map.
We can advertise this map to get donors to find their local food charities and support them through the map and through food collections. If you can help, please contact Alison Reese, Executive Director of Souper Bowl of Caring, at alison@souperbowl.org or call 1-800-358-SOUP (7687) ext. 00001.
A Note from TechSoup
We greatly value insights from organizations like Souper Bowl of Caring that are dedicated to fighting food insecurity. This persistent and seemingly solvable problem is why our team at TechSoup is dedicated to better understanding the needs of nonprofits working in this space.
To that end, we're developing a community platform designed for the specific needs of food security organizations that will include a curated list of resources such as technology services, products, courses, blog posts, forum discussions, virtual events, and more. If you'd like to stay informed about these developments, you can sign up for our email list and be the first to hear about offers from TechSoup for food charities.
Additional Resources
Top photo: Shutterstock