Before COVID-19, food insecurity was rising in countries across the globe, including the U.S., where 10 percent of the population experienced moderate to severe food insecurity. The rise of the pandemic has made one of the world's most urgent problems much worse.
We spoke to four food security organizations in Colombia, Portugal, South Africa, and the United States to better understand the challenges facing organizations working in food security and the ways the pandemic has shifted operations for them.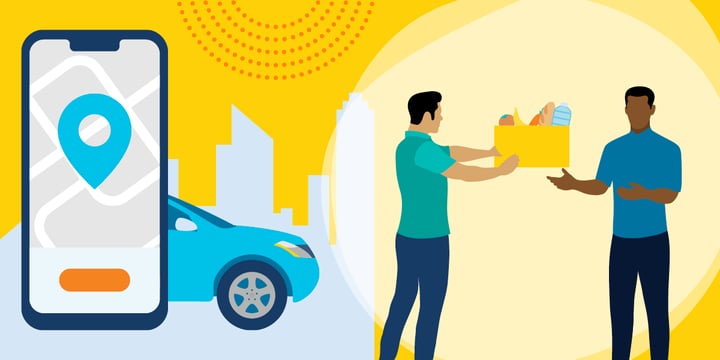 Despite having to respond to unique needs in their communities, these four food charities shared some common challenges. Among those: the need for digital solutions and training in their organizations to more effectively adapt to disasters like a pandemic now and well into the future.
Here's what we learned.
Young People, Women, and Domestic Workers Were Hit Hardest
All four organizations said young people, women, and domestic workers struggled most with hunger during the pandemic.
In Portugal, more than 136,000 workers lost their jobs in 2020, 67,000 of them women and most of them without access to unemployment benefits, according to a government report.
"COVID-19 brought a different and tragic dimension to those in need, and a wave of middle and low middle-class people who had never before experienced poverty and hunger," said Isabel Jonet, chairman of the board of Portuguese Federation of Food Banks.
Meanwhile in Jeff Davis County, Texas, close to 49 percent of the children are considered economically disadvantaged, with 70 percent of the population under 18 depending on food pantries.
None of our schools have cafeterias, nor do they serve lunch," said Vicki Gibson, executive director of Food Pantry of Jeff Davis County. "Our food pantry provides the only free lunch assistance to children in our county."
Once kids were attending school remotely, Vicki's food pantry continued providing daily lunch and snacks to children who were food pantry clients. "Parents would pick up the box of ingredients for kids' lunches on distribution days," Gibbs said. "That was enough to last two or three weeks until the next distribution."
In Colombia, the Colombia Food Banks Association (ABACO), which consists of 24 food banks, has made it a priority to continue supporting children even when traditional means of distribution are disrupted. To reach children who aren't in school due to the pandemic, food bank staff members meet monthly with the parents of the children to distribute food for consumption at home.
Kate Jacobs is operations manager at Africa Food for Thought. Her team has seen South African families who had one or more members informally employed before the pandemic — such as gardeners, domestic workers and short-term laborers — struggling the most.
"These families had previously been just making it and also had the dignity of employment and knowing that they were contributing to their children's well-being," Jacobs said. "Now they have had to readjust to the significantly reduced income, and the repeated lockdowns have meant that there is no guarantee that their jobs are waiting for them when society reopens."
Rural Food Insecurity Rising in the United States
Rural communities have been particularly vulnerable during the pandemic because they frequently contain older populations, higher rates of chronic disease, and limited healthcare infrastructure, according to the Center for Disease Control and Prevention.
In the United States, Feeding America projects that rural food insecurity rates (PDF) may have risen from 10 percent in 2019 to 14 percent in 2020.
In Jeff Davis County, located in a remote part of Texas within the United States, the number of households enrolled in the food pantry increased by 124 percent from January 2020 to December 2020.
"There is only one small grocery store which for some people is more than an hour's drive," Gibson said. "There is no public transportation, driver's license facility, or licensed childcare options. The lack of services like these makes it harder to move up the economic ladder."
Yet the pandemic also gave them an opportunity to think beyond the immediate crisis and deepen partnerships with their local library to form a new program called Mobile Comunidad. Together, they were able to purchase a van and set up additional distribution sites throughout the county. Now instead of clients having to travel an hour or more to get to the food pantry's main distribution site, they have to travel 15 to 30 minutes in most cases.
Partnerships and Donor Relationships Are Vital
Food bank leaders have not only continued their work in the face of challenging conditions but also expanded their operations, thanks to help from cross-sector partnerships.
In Colombia, ABACO delivered 88 percent more food in 2020 than it had in the previous year. And in 2021, the demand is still high. To keep up the dramatic increase in need, ABACO joined forces with more than 300 private sector and civil society organizations across the country.
"We are delivering food [through] an alliance of many organizations that not only donate food to us but also donate packaging, logistics capacities, vehicles to transport food, and even planes from some airlines," said Juan Carlos Buitrago, executive director of ABACO.
Together, ABACO and the national network of partnerships served 3.2 million people in 2020 — a 391 percent increase over 2019.
Partnerships have also been critical for the Portuguese Federation of Food Banks to adapt to their communities' growing needs. "The biggest lesson to our organization was the importance of partnerships and to not duplicate efforts and do what others can do better than us," Jonet said.
In Texas, Gibson said the pandemic threw them through an adapt-or-die situation dependent on outside support.
"We really had to think creatively when all in-person fundraising events had to be canceled," Gibson said. "We went back to basics. Mostly, we made big appeals on social media and countless personalized requests to individual donors via email and phone calls."
Gibson added that keeping the lines of communication open, with funders in particular, is the key. "We invite them to visit us in person so we can show them the impact they are having in our community," she said. "I talk to them throughout the year to let them know how things are going."
Mobile Comunidad has also relied on partnerships to offer additional support outside of hunger relief, including library services with the ability to check out books and DVDs, register to vote, and more. Gibson added they've also partnered with a regional family crisis center and veterans services to bring those services and resources to the remote areas of the county. Next on the horizon is hiring a social worker or healthcare professional.
In addition to expanding on partnership opportunities, organizations like Africa Food for Thought and the Food Pantry of Jeff Davis County depended on the trust they had built from existing relationships with foundations and donors to have the flexibility needed to adapt on the fly.
For instance, Gibson said many of the foundations removed application and reporting requirements, allowing them to focus more on the funded activities themselves. Africa Food for Thought also benefited from the open communication and flexibility with their donors to be able to continue to feed people through the pandemic.
"Our major donor was able to be very flexible with our funding and allowed us to pivot to more expensive take-home parcels rather than only providing cooked food when the risk was highest," Jacobs said.
Rethinking Work and Service Delivery with Digital Solutions
COVID-19 affected workstreams across all types of nonprofits, prompting them to rethink how they deliver services. Several of the food charities we interviewed said this created an opportunity for them to incorporate digital solutions into their organizations, echoing a larger global trend.
According to the TechSoup Data Handling and Digital Readiness Global Study, nearly 82 percent of civil society organizations around the world reported the pandemic negatively impacted their ability to deliver mission-critical services. In response, over 60 percent said they adopted communication and collaboration tools, which in turn, significantly improved their communications.
Africa Food for Thought is a good example of what this looks like in action. The organization participated in a training for their preschool teachers conducted over the communication platform WhatsApp. Each participant received data, then logged on when needed to answer questions at a certain time.
"That was really great for them in terms of the technology that is available in their daily lives," Jacobs said, adding that they are exploring how they can use WhatsApp more to communicate with other beneficiaries at a time when it's still difficult to gather physically.
Digital collaboration has also proven useful for the Portuguese Federation of Food Banks, which ENTRAJUDA (part of the TechSoup Global Network) supports through donated and discounted technology products.
At the beginning of the pandemic, the Federation launched an emergency food network in partnership with about 2,700 institutions and entities. This initiative, launched by ENTRAJUDA, included a digital platform that helped organize volunteers from municipalities and charities who were willing to donate, cook, serve at a collection point, and then transport it to those in need. The goods collected contributed to the feeding of more than 400,000 people experiencing food shortages.
So far more than more than 1,000 volunteers and 800 companies, foundations, town halls, and parish councils from Portugal and abroad have participated. Jonet said digital video conferencing and collaboration tools have helped them keep in touch with partners. "Many NGOs closed down because they didn't have these types of tools available," she added.
In Jeff Davis County, Gibson recognizes the importance of deploying digital solutions but hasn't done so yet. "We're looking into things such as inventory management, mass texting to remind people about distribution days and times, and appointment apps to eliminate waiting in long lines," Gibson said. "Basically, anything to make the distribution experience more like shopping in a grocery store."
While quickly adapting hunger relief services amid an evolving crisis looks different for each of these food charities, there is a common recognition: Digital solutions serve a significant role now and in the future for building a more flexible and resilient organization.
We'd Like to Hear from You
We greatly value the insights we've received from organizations dedicated to fighting food insecurity around the world. This persistent and seemingly solvable problem is why our team at TechSoup is dedicated to better understanding the needs of nonprofits working in this space.
We recently launched Quad, a peer-to-peer community addressing the world's most pressing issues. This is a space for you to connect with others working in your mission area, collaborate, and share challenges and solutions. To begin, we're focusing on organizations fighting food insecurity in their communities.
You can also learn more about the food security organizations we interviewed for this blog post:
Quad is a space designed for you. Build relationships with other nonprofit professionals and access guides, product comparisons, reports, and other great resources. By joining Quad, you'll also gain unique access to reduced admin fees and dedicated support and become part of an exciting community of nonprofit leaders.
Additional Resources
Top photo: Shutterstock