If you're a Google Analytics user, you are probably aware by now that support for Universal Analytics (UA) will be ending on July 1, 2023. This means that users will have to transition entirely to Google Analytics 4 (GA4) before this date and export any reports or data they want to keep within the six months after support for UA ends. We understand that this process can be confusing, so we've gathered some frequently asked questions about what is changing, how to transition from UA to GA4, and what will happen to your data when you do.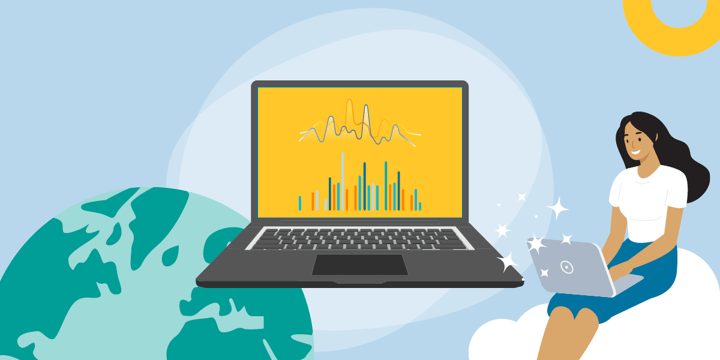 If you'd like extra support, TechSoup is offering a Google Analytics migration service for nonprofits. This service will help you to switch to GA4, including support for configuring your new GA4 properties and coming to grips with the differences in the newer tool.
We've gathered some common questions about the changes in GA and the process of transitioning to GA4. The Google Analytics help center is also a great, searchable resource for those looking to transition over to GA4 before support ends for UA.
What Is Changing?
Q: What's new in GA4?
A: Among other things:
Page views are recorded as "events" instead of "hits" as they were in UA.
Data retention is limited to a maximum of 14 months (default two months).
The structure of events has changed. All "hit types," including page views, clicks, and transactions, are under the same umbrella of "events."
GA4 will record some user behaviors by default automatically: outbound link clicks, page scrolls, internal site searches, video plays, and file downloads. These can be disabled, though, if you don't want to track them.
Q: Why is there a new version?
A: GA4 is built to connect web and app user data. It collects data on usage in both applications and your website, which may help you to understand your users' journey better if you run both a website and one or more mobile apps.
Setup
Q: How do I set up GA4?
A: You can use the GA4 setup assistant to manually make and connect to a new property. If you'd like some extra assistance or to outsource your migration needs, you can use the TechSoup migration service. That service will provide you with dedicated support to set up your new properties and learn how to use them.
Migrating from UA
Q: How do I know if I'm using Universal Analytics (UA) or Google Analytics 4 (GA4)?
A: Look at your property ID, which can be found under the name of your property. UA property IDs start with UA and end with a number (UA-XXXXXXXXX-1), while GA4 property IDs are only a string of numbers (XXXXXXXXX). Additionally, if you're using UA, you will see a blue notification at the top of your dashboard screen that says "Universal Analytics will no longer process new data in standard properties beginning July 1, 2023." If you've already dismissed the notification, it won't display.
Q: Can I migrate my settings from UA to GA4?
A: Yes. If you connect two properties that are in the same account, you can carry over the settings from one to the other.
Q: Can I use both UA and GA4?
A: Yes, until support for UA ends in July. UA and GA4 can run in parallel.
Q: What will happen to my UA property and its data? What happens if I don't migrate?
A: UA properties will stop collecting hits on July 1, 2023. Historical data will be available for about six months after that before being permanently erased.
Data Retention and Storage
Q: How can I back up my UA data?
A: You can save reports as PDFs or CSVs or export raw or sampled data via the reporting API to a data warehouse. If you're a Google Analytics 360 customer, you can also export directly to BigQuery.
Q: Can I store historical data in GA4 like I can in UA?
A: No. In UA, users were able to store unlimited data on the platform. In GA4, the default storage time is two months, but you can set it to 14 months. Neither option allows you to retain the data longer than that period, so you should connect your account to a data warehouse like Google Cloud (via BigQuery) if you want access to historical data.
Q: Will I still have access to legacy data?
A: After support for UA properties ends on July 1, you'll have access to historical data for about six months, after which it will be erased. If you want continued access to legacy data, you'll need to connect your account to a data warehouse like Google Cloud (via BigQuery).
Q: Can I migrate my historical UA data to my GA4 properties?
A: No. GA4 and UA store data differently and the two formats are not compatible, so it is not possible to migrate data from one to the other.
Get Prepared
For some organizations, this change will involve a fair amount of adjustment, learning, and potentially some investment in data storage. The sooner you begin the transition the better. You'll have time to properly adjust to the newer platform before support for UA ends, not to mention you can properly plan for the movement and storage of your data. TechSoup's Google Analytics Migration Support is available to help you through the transition if you need a hand or simply don't have enough time or flexibility in your team.
Additional Resources
Top photo: Shutterstock