The Microsoft donation program is going through some major changes. On December 9, 2021, the team at TechSoup ran a webinar to explain what these changes mean for the public libraries we serve. The webinar was led by TechSoup's own Shruti Ramaswami, joined by Microsoft's Catherine Devine, Business Strategy Leader, Libraries and Museums, at Microsoft Worldwide Education.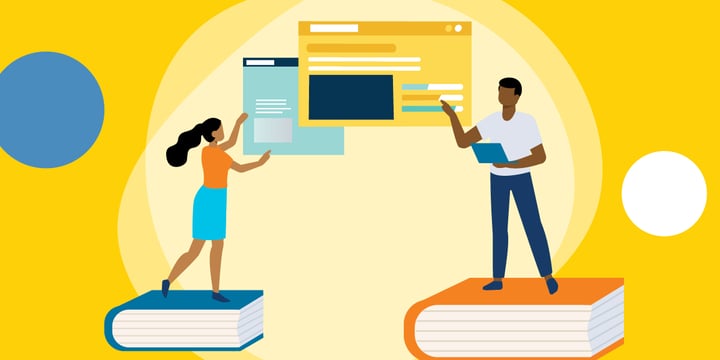 Keep reading for a recap of the webinar, including details of what has changed in the Microsoft donation program and how it affects public libraries.
Microsoft and Public Libraries
Until recently, libraries have been able to request donated on-premises licenses for Microsoft products for use on public-access devices. From now on, libraries must access all products through Microsoft's offers tailored for academic institutions.
For libraries, this means that on-premises licenses for public-access equipment will become slightly more expensive, since they will no longer be available through a donation. On the other hand, libraries will gain access to a wider array of licensing solutions, including cloud offers, through TechSoup.
On-Premises Licenses
For on-premises, perpetual licenses, you'll pay for the product once and install it onto your laptop or desktop. On-premises products work well for public-access computers, since the license is tied to a device rather than a user. With Academic licensing, you can get an unlimited number of these discounted licenses. These discounted on-premises licenses offer a significant savings compared to standard, commercial retail prices. They are also appropriate for all facets of a library's operations, including both staff and public-access equipment.
Cloud Licenses
TechSoup will also provide libraries with academic discounts on Microsoft cloud solutions. This includes popular offers like Office 365 and Microsoft 365.
When you purchase a cloud license, you pay for a monthly or annual subscription, and you assign licenses to individual users within your organization rather than to a specific device. You can mix and match license types depending on your users' needs, and the pricing is protected for a 12-month term.
It is worth noting that the costs of a cloud license are often lower than those of an on-premises license when the total cost of ownership is considered. For instance, instead of purchasing upgrades, you automatically get the latest versions of products included with your subscription as they're released. If your Microsoft cloud subscription includes downloadable software, you can install it on up to five laptops, desktops, and mobile devices for which you are the primary user. This reduces the number of individual licenses that you need.
The Procurement Process
The process of acquiring a Microsoft Academic license is different from the previous process for getting a nonprofit one. To request Microsoft Academic licenses, you'll now contact the TechSoup team, who can place an order on your behalf. We should note that we'll be streamlining this process in the very near future and expect to share more details soon.
Next, you will need to wait until Microsoft verifies your eligibility. Once verified, you'll access your products through the Microsoft 365 Admin portal. A Microsoft 365 cloud subscription is not required. You will then have five days to download your software. If you miss the five-day download window, our Customer Service team will be able to provide you with a new download link.
When selecting your products, note that Microsoft will only offer specific versions of products, and you can no longer downgrade to an earlier version.
Software Assurance Not Included
In the past, Microsoft had offered versions of its products with Software Assurance included. With Software Assurance, you can upgrade your on-premises software for free if a new version comes out within two years of your request.
On-premises Academic licenses do not include Software Assurance benefits, however. This is due to Microsoft's increased emphasis on its cloud subscriptions, which automatically receive updates for as long as you subscribe.
Public-Access Computers
In the webinar, multiple attendees wondered whether user-based licensing is appropriate for public-access computers that any patron can use.
This is a valid concern — libraries are among a shrinking but important group of customers that still require device-based licensing. The Microsoft Academic discount program currently offers a good range of on-premises solutions suitable for public-access computers. Also, there is an ongoing conversation within both TechSoup and Microsoft around how to ensure that these services continue to be supported by the Microsoft program.
TechSoup Is Here for You
A lot has changed in recent weeks with regard to Microsoft on-premises licenses, and there are more changes to come. Microsoft continues to provide nonprofits and libraries with great discounts on its products, and the TechSoup team is working hard to keep our members up to date on important changes.
Additional Resources
See more blog posts aimed at helping libraries.
Learn how to deliver tech training to your library staff with this course from TechSoup Courses.
Top photo: Shutterstock