Libraries have always played multifaceted roles in their communities. They are not only resources for avid readers, but they are also places of refuge and teaching, spaces for communities to gather, and sources of help and comfort for many.
It seems only natural that these places where creative and caring people gather would also become fertile ground for innovation. Here are three ways that we are seeing libraries and the communities that gather around them overcoming barriers and advancing technology through innovation.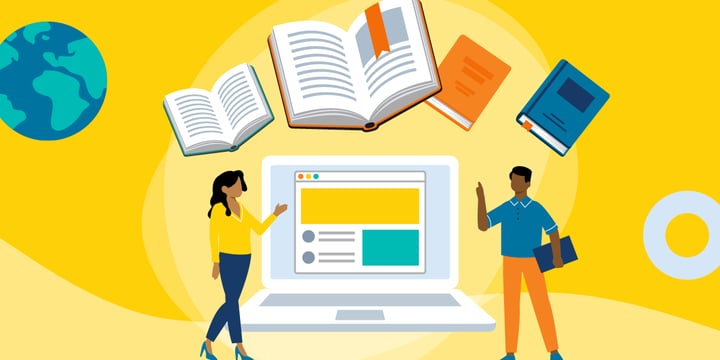 Library Vending Machines
The restrictions and heightened anxiety that came with the COVID-19 pandemic meant that libraries needed a no-contact method of reserving and collecting books so they could continue to serve their patrons, even when their doors were closed. For some libraries, book vending machines were an ideal solution.
Although they seem like a shiny new innovation, book vending machines have actually been around since 1822. They usually look a little like a package delivery locker, with a screen to manage your collection and compartments that contain the items that patrons requested. Some vending machines serve as pickup stations for preordered items, while others display the books available and allow you to choose on the spot. Some also have Wi-Fi, allowing patrons to download digital e-books and audiobooks.
But library vending machines offer a variety of advantages beyond mitigating pandemic risks. Some counties have used them as a way of offering library services in remote or hard-to-reach areas. Vending machines are cheaper to set up and run than a brick-and-mortar library branch, so some cash-strapped library systems have chosen them as a less resource-intensive lending option. Others have set up vending machines in the vicinity of their building in order to expand their reach and provide access even when the library is closed.
Of course, a library is much more than a book-lending outlet, so vending machines aren't a replacement for a brick-and-mortar library, nor are they designed to be. They can, however, be a cost-effective way to provide basic library services, and they can bypass some barriers to education and inclusion in underserved areas.
Coding Clubs
Often aimed at school-aged children with an interest in technology, coding clubs give library patrons the chance to create animations or games using popular programming languages like Scratch, HTML, and Python.
These programs are especially important for children and teens from marginalized communities and underserved backgrounds. Jobs in the technology sector are highly sought after, and those with a privileged background have a head start thanks to better access to extracurricular activities and college education. These clubs allow patrons to build the capabilities they need to seek a career in the industry, to get creative, and to have fun while learning new skills.
An increasing number of tools and resources are available to aid in teaching kids how to code. One is the micro:bit. These tiny computers have a 5-by-5 grid of LED lights on one side, which can be programmed to display numbers, emoticons such as a smiley face, or any other pattern. They have various inputs and outputs, a light sensor, touchpad, and movement sensor. You can connect the micro:bit to a computer or tablet and use a special piece of software to program its behavior. Micro:bits can be programmed to serve as temperature sensors, pedometers, alarms, or anything else that makes use of the various inputs offered by the tool. In libraries in the UK, micro:bits are being loaned out and used as tools to allow children to learn the basics of code, and get a little creative with it along the way.
Podcasts
The podcast is becoming ever more popular since gaining traction in the mid-2000s. There is a podcast for any topic you could be interested in — from comedy to politics to storytelling and beyond — and libraries have wholeheartedly jumped on the trend.
Podcasts can be a great way of reaching new audiences, engaging those that wouldn't visit your physical location, and offering new content to your community. And they're a great way for library professionals to connect with one another.
Library podcasts range from book-club-style podcasts to interviews, library tech guides, and conversations that highlight inequalities within library-centric career paths. You can also use a podcast as a community-building tool, perhaps interviewing patrons or asking them what content they would like to see.
If you're in need of inspiration, check out some nonprofit podcasts that have found success in their sectors.
Innovation in Libraries
Even in our rapidly changing world, libraries remain a pillar of many communities, thanks in large part to the flexibility and innovation of library staff. Library teams are constantly responding to the needs of their community, investing in technology and ideas to increase accessibility and resources for their patrons. We're excited to see how these communities grow and thrive in 2022 and beyond.
Top photo: Shutterstock