It has been just a few months since the pandemic hit and nonprofit work changed dramatically to remote work and online operations. Thousands of TechSoup members requested Zoom and Microsoft 365 and Office 365, so we thought we'd talk to some of our members to see how they have pivoted to online operations and also their plans for opening back up like they were pre-pandemic. Their response may surprise you. We spoke to execs from two types of organizations.
Urban Food Initiative is a nonprofit that runs the Daily Table grocery stores in Boston. It has a large staff, including public-facing essential workers.
Child Rescue Coalition in Boca Raton, Florida, is a technology nonprofit.
In a second installment on this subject, we will feature church and faith-based organizations and how their work has dramatically changed.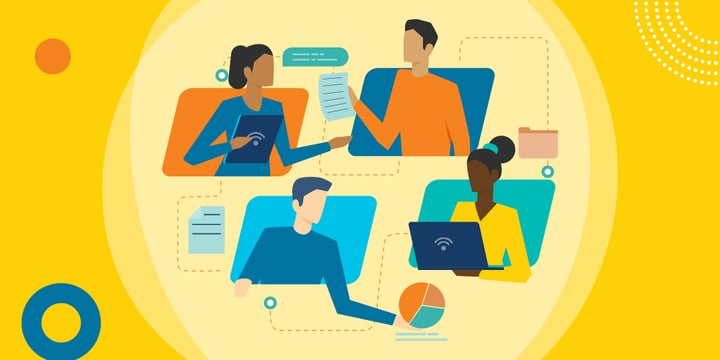 Urban Food Initiative
We chatted with Michael Malmberg, chief operating officer of Urban Food Initiative. This charity has a large staff and complex operations. It runs two Daily Table grocery stores in Boston and plans to open two more in the coming year. The organization was founded by former Trader Joe's president Doug Rauch in 2012.
Its mission is to address the problem of urban food deserts by providing nutritious food to communities most in need at prices everyone can afford. Michael says, "Providing affordable healthy food is essential now more than ever." Michael has had operations and general manager roles, including running an Amazon warehouse and a sustainable forestry enterprise in East Africa. .
How the Work Has Changed Since the Pandemic Started
As an essential organization, the Daily Table didn't close its grocery stores during the pandemic. It did reduce operating hours to give employees a break and put in social distancing procedures. The administrative and support teams stopped using their office and became largely remote workers.
How They're Using Online Tools
The organization now relies more heavily on Zoom, Slack, and email. They use Zoom to conduct morning stand-ups to plan for each day. They also use it to do staff trainings and interview new hires.
Plans for Opening Back Up
For the foreseeable future, the organization plans to continue with remote work in the areas of management, the support team, logistics, fundraising, marketing, and operations support.
Recommendations for Other Charities
Michael has found that structuring time to have "water cooler moments" has been essential to their pivot to remote work. The organization uses Slack for informal communications to chat about nonwork activities. He regards this as critical for successful remote work and maintaining team morale.
Child Rescue Coalition
Bill Wiltse is president of Child Rescue Coalition in Boca Raton, Florida. It is a technology nonprofit organization with nine employees that rescues children from sexual abuse. They do this by building technology for law enforcement, free of charge, to track, arrest, and prosecute child predators.
The centerpiece of the organization is its Child Protection System Technology. To date, they have trained more than 12,000 law enforcement officers in all 50 U.S. states and in over 96 countries to use their service to locate child sexual predators. On the unique importance of this work, Bill says, "Our work provides law enforcement with information they can't easily get on their own."
How the Work Has Changed Since the Pandemic Started
Bill reports that the pandemic stopped their plans for their annual spring fundraising gala. To keep constituents engaged, they have been doing online town hall events. These events have a fundraising component, but they're mostly about educating people on the issue they're working on.
Fortunately, a year ago, the organization implemented a fee-for-service revenue model for school districts, online childcare, and babysitting services. The paid service screens out known child sexual predators who try to get involved with children. Bill says, "We did this as a growth strategy, but it saved us when our annual fundraising event wasn't possible this year.
How They're Using Online Tools
Bill reports that his charity upgraded its IT two years ago to be more cloud-based. The pandemic has not endangered his organization. After the crisis started in March, it initially used Zoom for remote workers but is now using it for all internal meetings among employees and also to connect with customers. It has upgraded Zoom with the webinar add-on.
Plans for Opening Back Up
Bill reports that their landlord will not open their office until October. The offices closed in March, and the organization became 100 percent virtual and is doing all meetings from home. It can and probably will function like this indefinitely. "If we never go back to having offices, we will continue to do our work and innovate. We're using technology as a force multiplier. It makes it possible for nine people to do all that we do."
Recommendations for Other Charities
Bill says that "change is scary, but being flexible and looking dispassionately at the circumstances you're in allows you to consider changes you wouldn't have considered just some weeks ago. Ask yourself how you can do things differently; figure out a way to adapt to achieve your mission. With technology, you can't stand still. The longer you wait, the harder it becomes."
We hope these profiles of TechSoup members are helpful to you. Stay tuned for part two of this series, which will feature church and faith-based organizations.
Additional TechSoup Resources