If your organization is looking for a way to stay in touch with members, donors, and the community in general, there are many messaging apps available to choose from. In this post, we'll be taking a closer look at WhatsApp, which is popular in the U.S. but even more popular around the world. As of February 2020, WhatsApp had over 2 billion users globally.
The free mobile phone messaging app features text, call, video, voice memos, and picture and file sharing capabilities, most of which can be also used via desktop through a web browser extension called WhatsApp Web.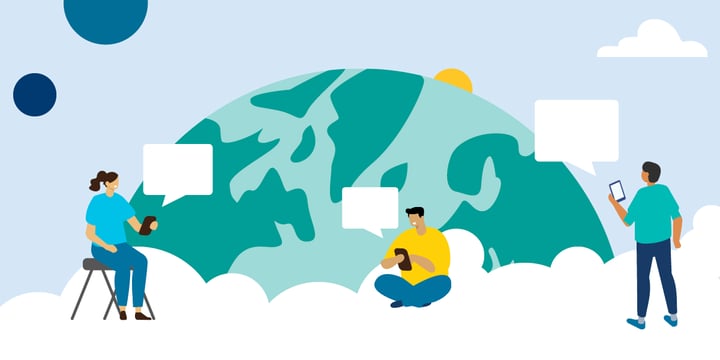 CDI Chile and PDF Egypt — our TechSoup Chile and TechSoup Egypt partners — have created their own WhatsApp groups and use them to communicate with members on a regular basis. For these organizations, using WhatsApp was an easy decision since it's the most popular messaging app available in their respective regions.
I talked to Marcia Cortez (MC) from CDI Chile and Sheriene Mansour (SM) from PDF Egypt to learn about the way their communities interact online via WhatsApp groups. Read on for some insights on WhatsApp groups used in nonprofit settings.
Both organizations use the free version of WhatsApp for their groups. In Egypt, voice calls are blocked via the app due to geographic restrictions and security concerns, but the other functionalities are all that PDF Egypt needs for their groups.
ABH: Why did your organization choose to use WhatsApp to communicate with members?
MC: There are more cellphones in Chile than inhabitants, and more than 95 percent of people in Chile have access to WhatsApp. When we decided to have a CDI Chile WhatsApp group, we didn't have to train anyone on how to navigate the app. And since it is free, and most of our members already had it, we were able to onboard members and volunteers with minimal instructions.
SM: Back in June 2020, we had to migrate our workshops into virtual groups, so we asked participants to share their contact information and the best ways to reach them. WhatsApp was a free solution where we could provide ongoing support, share coursework material, make announcements, and avoid communication getting lost in email spam folders or not being read because of lack of access to email work accounts from mobile devices. Since the app is free and everyone felt comfortable navigating it, the decision was easy.
ABH: What kind of conversations happen in your WhatsApp groups?
MC: In our main CDI Chile group, in general, we use it as a one-way channel to maintain an informal and close fluid communication with our beneficiaries and network organizations and partners. We share about events and opportunities and answer questions about our programs and offers. Since we started using the platform, we have had many different groups, though. We have participated in at least 12 different groups that happen for specific promotions, training programs, product partnerships, and so on. My phone has professional and personal groups that have ongoing conversations happening all the time.
SM: Our PDF Egypt WhatsApp groups revolve around our virtual workshops. We are able to share Zoom links for our meetings, remind the participants about deadlines, make assignments, give them space to ask questions, and share their progress with the group. When we participate in groups led by other organizations, we try to find useful information like news about our sector, updates on technology for nonprofits, and resources that we can share with our network. Once the workshops are completed, we maintain them open as a way to send custom messages, hear updates from their organizations, and promote our offers.
ABH: Who moderates these conversations?
MC: We have a few different people moderate the conversations. Our head of training answers questions from our training beneficiaries, and I tend to lead communication with our partner companies and nonprofits. We answer questions and send out messages whenever we are available; there are no fixed hours, and we haven't had any problems so far.
SM: PDF Egypt has two different departments, Youth Academy and Civil Society Support Center, with different directors. I am a team member in CSSC and responsible for some of its programs like TEG. We each have our own WhatsApp groups and moderate them according to who is leading the training program. So for now, whoever is facilitating a workshop is also in charge of establishing and moderating the WhatsApp group.
ABH: How long have you been using the app?
MC: We have been using WhatsApp for our nonprofit for the last five years and have always had a steady increase in members until last year. We noticed a big spike in our group members back in March and April of 2020 when other nonprofit organizations and partners had to ramp up their activities online because of the pandemic.
SM: We have been using WhatsApp for the past three years. Since we have increased the need to rely on virtual interactions, it's hard to imagine not using the app on a regular basis.
ABH: How are you leveraging WhatsApp in innovative ways?
MC: For now we are only using WhatsApp in a traditional way, but we are open to exploring innovative ways to use the groups.
SM: Here at PDF Egypt we have established work hours on our WhatsApp group. This is not usually what's expected from an instant messaging setting, but we felt like it was important to have boundaries that made it clear when we would be able to answer questions and communicate with our members. Our office hours are mirrored in the app because we want to maintain a professional environment, especially throughout these strange times when a lot of people and organizations transitioned to remote work. When I started working at home, I noticed that I ended up working around the clock until I found a better way to manage my time and separate my work life from my personal life. In a way, imposing the time limits is a way to normalize healthy work-life balance behavior.
ABH: How does using the app ultimately benefit the communities you serve?
MC: Communication via groups allows us to get to the point much faster and brings us closer to our members. They appreciate having an easy way to reach us, and we are always sure that our messages are being received. The style of communication used in WhatsApp is less formal and more conversational, so it leaves room for more genuine types of connections and conversations to happen.
SM: Ultimately we get better engagement and receive instant feedback from our group members. The tool is easier to access and less formal. It helps create a better division between messages that don't require using an email but are still important.
Key Takeaways and Next Steps for Nonprofits
Here are three key takeaways from my conversations that can be applied to any nonprofit looking to use a tool like WhatsApp.
Use a tool your community is already comfortable with for easier adoption. For the partners I spoke with, this was WhatsApp, but similar results can be achieved with other platforms.
Community guidelines should be established by group creators. Create yours based on your own needs.
When you create spaces where members can engage with each other, make sure to assign a moderator.
If you'd like to adopt the use of WhatsApp specifically at your nonprofit, here are some next steps to take:
Overall, the app presents itself as an extremely accessible tool for nonprofits to engage community members online. Looking for other examples of nonprofits using WhatsApp? Read this article by Beth Kanter, which talks about nonprofits in India that used the app to coordinate a #GivingTuesdayIndia video campaign.
I hope you found the above useful for your organization, and please share this information with anyone in your community who might be interested.
Additional Resources
Top photo: Shutterstock