Notion is an all-in-one tool, designed to blend workplace productivity apps into one service. Note taking, project management, wikis, and databases can all be created, managed, and accessed through Notion's customizable interface. Built to suit organizations of all sizes and scale with you as you grow, Notion gives you the power to create a workspace that is right for your nonprofit.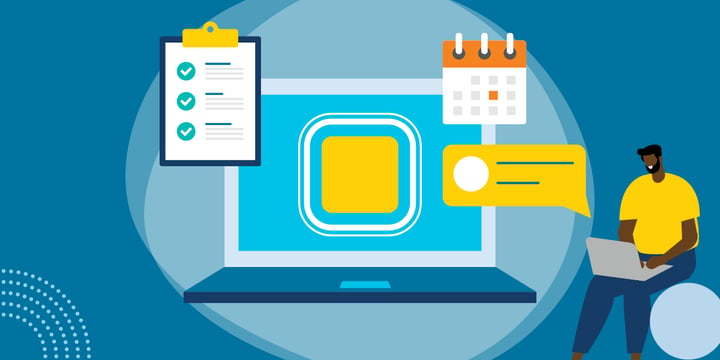 TechSoup has partnered with Notion to offer a great discount to our nonprofit members. By accessing Notion through TechSoup, you can get a 50 percent discount on this all-in-one workspace software.
Management and Customization
The sidebar in Notion is the key to making the most of its features. In the same way that an intuitive file structure will help your team to find the documents they need, keeping your Notion workspace neat and tidy makes it more effective.
Notion admins have the ability to add, remove, and edit pages, as well as editing members and security settings. You can create team-specific workspaces, or limit access to certain pages. This helps you to protect sensitive information and avoid cluttering your team members' sidebars. If you work with volunteers, you could also create a team workspace with FAQs and schedules just for them, without allowing access to your staff area.
Your team members can also create their own private workspace with documents and notes relevant only to them. They can use the Favorites section to pin documents for quicker access. If team members can't find an item in their sidebar or favorites, they can search the database using keywords and other handy factors.
Make It Yours
There are endless ways to use Notion and customize it for your team. We've gathered some of our favorite templates and ideas to help you make the most of your new workspace.
Create a Team Wiki
Notion's easy-to-use workspace provides a great framework to store all of your essential info in one place. This can be used for HR information such as how to book vacation time or claim expenses. You could also store department-specific best practices cheat sheets, IT-related troubleshooting pages, or org charts. All of this can be nested within a file structure of your own design, linking between documents and creating a clear path for staff members to find the information they need. Creating this kind of wiki could save you time, as well as reducing communication issues and ensuring that everyone has the most up-to-date information.
Projects and Tasks
Using Notion's customizable Kanban board template can help you keep track of your team's projects. When you apply for grants, for example, you could create a card for each fund you intend to apply to and include the team member responsible for this. You can move the card across the Kanban board to indicate its status and mark whether the application is successful. You can also keep track of projects using the calendar layout. If you have a blog, the calendar is an excellent content planning tool, allowing you to color code for different themes. This has some great HR uses too, such as tracking staff leave or key dates in your nonprofit's calendar.
The table view is useful for a content log, budget tracking, or inventory. If you run a food bank, you could keep track of food donations in a table, as well as how much of each item you are giving away, and use this information to reduce waste in your supply chains. If you're a larger organization, you could give each department a budget sheet in Notion. Then everyone can clearly see what is available to them and keep track of their spending so that you can distribute funds more effectively.
Notes and Docs
Apart from the handy layouts and tables offered in Notion, the basic document view is not to be underestimated. It can be used in the same way as a notes app or Google doc, but lives inside your Notion workspace, allowing for easy access at all times. This is a great way to store meeting notes — to keep a document of your weekly team meeting minutes, for example. You can keep track of who is responsible for what, any decisions that were made, and any action items that come from the meeting.
Notion's great range of integrations help you to continue working with the tools you know and love. You can connect your workspace to Google Drive, Slack, Dropbox, Trello, and many more services, leaving you space to use Notion as a central switchboard for your team.
Make Notion Work for You
Notion puts the power in the hands of its users. You know your team best, so try out different layouts and templates to see what works for you. You can access Notion through your web browser or through its app available on Apple or Android devices. Try it out with your team, or find out more in the TechSoup marketplace.
Notion offers plenty of great guides and tutorials to help you make the most out of its features. Here's even more.
Top photo: Shutterstock