March is Women's History Month, and we are closing it out with a snapshot of life as the leader of a nonprofit crossing intersections of gender, ethnicity, and age. While it might feel like we've moved on a long way, female leaders still face many setbacks in their efforts to achieve the mission of their organization. It is common to not be taken seriously, to experience gender-based harassment, and to lack access to the resources and relationships necessary to fund mission-based work.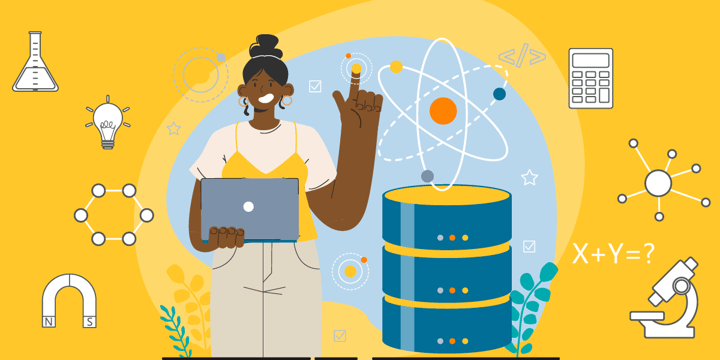 We spoke to Diana Nyamekye Wilson, founder and CEO of Black Sisters in STEM, to get her insight into the state of the nonprofit sector when it comes to opportunities, funding, and representation for organizations led by women. Wilson is a young Black woman, and her organization specifically advocates for young Black women, so she has extensive experience in how it feels to live at the intersection of those three identities.
Read on to learn more about Black Sisters in STEM, Wilson's personal journey to nonprofit leadership, and the ways in which her identity has put her at a disadvantage. We also talked about her hopes for the future of the nonprofit sector, where she sees room to grow, and how other organizations can account for the disadvantages faced by female, Black and younger leaders.
The Journey to Black Sisters in STEM
During a study abroad trip to Ghana, Wilson became startlingly aware of the global implications of her joint identity as a Black woman. She visited Cape Coast Castle, one of around 40 large commercial forts along the Gold Coast of West Africa, which are also known as "slave castles." During the Atlantic slave trade, enslaved people were held in these forts before being transported on boats to the Americas. During this visit, Wilson explained, "It was like the sky went black," and the course of her career changed.
Black Sisters in STEM was born out of a desire to bring back what was stolen: the innovations, the legacies, the economic and philosophical advancement that were also taken away by the Atlantic slave trade and the systemic oppression ever since. The organization's vision is threefold:
Build the largest talent marketplace of Black Generation Z women entering the field of STEM. Gen Z is generally considered to include people born between 1997 and 2012.
Build the largest global six-figure sorority of Black Gen Z women in STEM careers.
Build the richest database of the trajectory of Black women from university into STEM careers. This research can be used to influence governments and private sector companies on laws, programs, and decisions affecting the advancement of Black women in STEM.
Leading at the Intersection
"Being a Black woman nonprofit leader is really one of the toughest experiences," Wilson told us. Not only does she live at the intersection of being a young Black woman, but she's leading a nonprofit at this same intersection. Black Sisters in STEM also crosses the boundary between a nonprofit organization and a tech startup, meaning that it faces the struggles that come with being in each of those spaces.
In the process of building this organization, Wilson has faced discrimination and setbacks. She explained that people have often asked her who the founder of Black Sisters in STEM is, assuming that it isn't Wilson herself. She has also had people assume that the founder must be male, failing to believe that a young Black woman could do the work necessary to build an organization like hers. She has experienced inappropriate flirtatious advances when meeting with male executives and finds that she often needs to bring a man into those situations with her in order to be taken seriously. Repeatedly, she has to prove competence and earn her place in rooms that her white, male counterparts enter without question.
Finding the Funds
Wilson told us that Black Sisters in STEM has found it to be an uphill battle to secure funding, for a number of overlapping reasons. One is due to its status as both nonprofit and startup. It offers services for a fee, such as the talent marketplace, but it also has nonprofit programs that rely on grants, which often confuses funders.
The organization also suffers from the sectorwide inequalities affecting nonprofits that are led by or focused on women and girls of color. Of the $356 million in foundation funding that was available to women and girls of color in 2017, about 4.2 percent was specified as benefiting Black women and girls (PDF). There's also evidence to suggest that this gap becomes even wider when we look at unrestricted funding, or assets that are not tied to a specific goal, outcome, or program. A study found that between 2012 and 2015, groups led by white people had 76 percent more unrestricted assets than those led by people of color.
Grant funding is relational, which means that those who have received grant funding before are more likely to get it in the future. This means that it is very difficult for systemically underserved groups and organizations, such as women of color, to build relationships with grantmakers. Wilson also noted that there is a science to applying for grants, which is not necessarily clear to those who don't have history or connections in nonprofit spaces. She explained that she has experienced lack of knowledge, relationships, and resources dedicated to helping underserved groups learn how to win grants.
Moving Forward
In her five years leading Black Sisters in STEM, Wilson has not seen any significant change in the sector when it comes to inclusion and opportunities for young Black women. She said that she would like to see more foundations making strides to get out of their usual funding circles and actively supporting underrepresented groups.
Wilson cited Giving Gap as an organization that actively focuses on bringing more money to nonprofits owned by Black women, explaining that more of this type of work is necessary in order to elevate the work of marginalized groups. She herself has also benefited from the accelerator Fast Forward, which directs resources and training towards tech nonprofits. Of the nonprofits they have supported, 66 percent have a founder who is a woman, and 79 percent have a founder who is a person of color.
Empowering Women-Led Nonprofits
Throughout our conversation, Wilson emphasized the importance of thinking intersectionally about issues of inclusion and equity. Foundations, individuals, and fellow organizations need to consider not only how gender impacts people's experience of the nonprofit sector, but also how each intersection of ethnicity, age, nationality, and other factors interplay. By being active in our empowerment of nonprofits led by women — and especially women of color — we can begin to rectify the structural inequalities in our sector.
To support Black Sisters in STEM or join one of their programs, take a look at their website or contact the team directly.
Top photo: Shutterstock