Facebook Live has exploded in popularity since its 2015 launch. Today, Facebook users watch live-streamed content three times longer than regular videos, and Facebook Live now comprises 20 percent of all video content on the platform. And since Facebook's new algorithm will now rank these types of posts higher in the News Feed, those stats will only continue to rise.
Facebook Live is a great way for your nonprofit to directly engage with its followers, and it's surprisingly easy to use. After reading this post, you'll be able to broadcast a Facebook Live event of your own.
1. Gather Your Equipment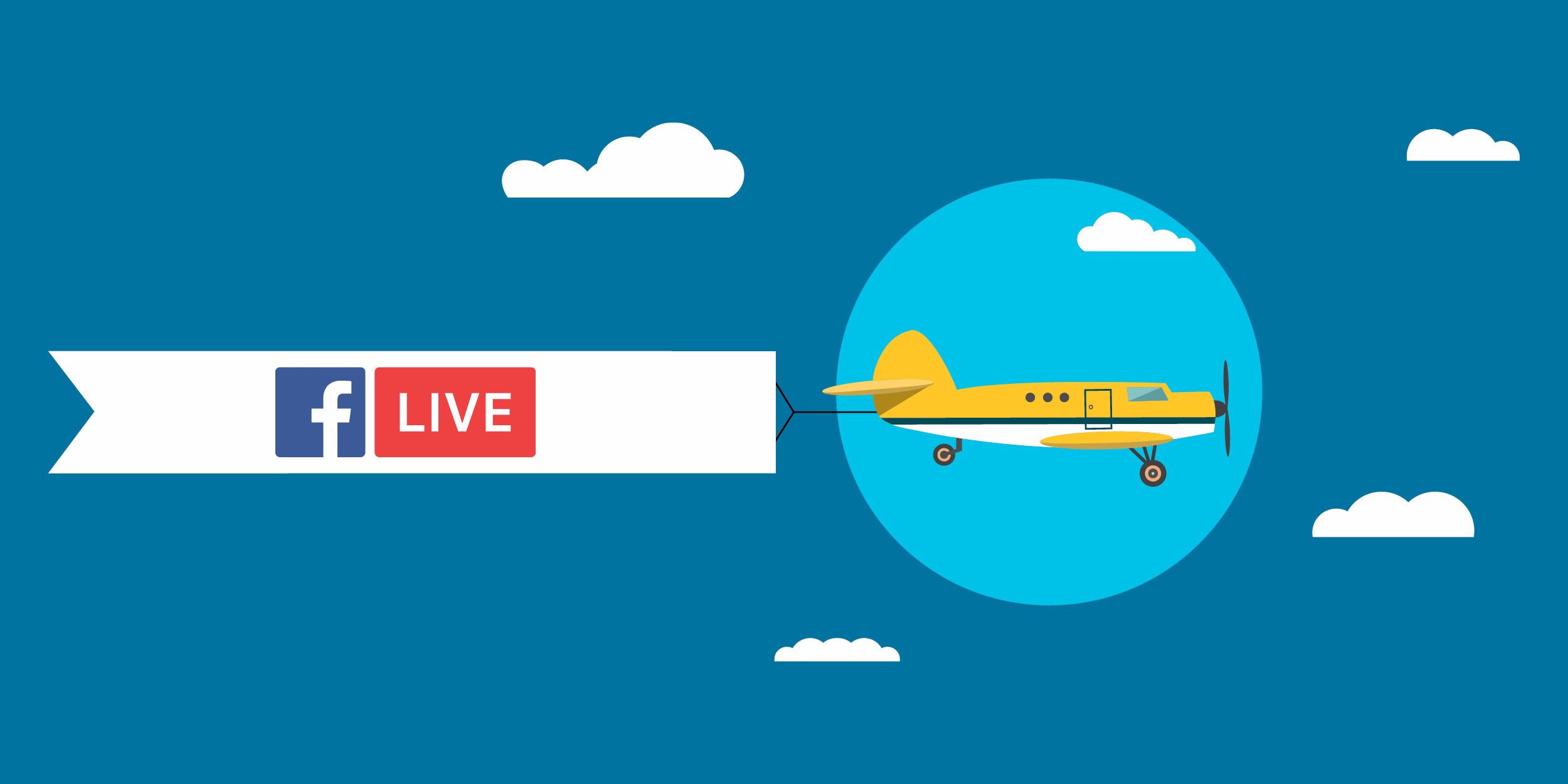 One of the best things about using Facebook Live is that it doesn't require any fancy equipment to get started. All you really need is one of the following:
Smartphone
Tablet
Basic webcam
Built-in laptop camera
If possible, use a tripod for a steadier, more professional shot.
A basic lighting setup can also improve the look and quality of your video, but it isn't necessary. Here's a guide to building one for under $100. Otherwise, just be mindful of how your subject is lit and make sure they aren't lost in any shadows.
The same goes for recording equipment. A trip to an electronics store or a brief web search will yield dozens of affordable options, so if you have the resources and know-how, then by all means go for it.
But again, you don't need expensive gear to broadcast a Facebook Live video. We'll be focusing on how to do it using materials you likely already have or can afford, even if you're on a tight budget.
2. Alert Your Followers
First, let your followers know in advance that you will be broadcasting live. This will promote better viewership and give your video a more official feel. Letting people know a day beforehand is usually sufficient.
3. Set Up the Shot
Preparing for your live event will vary depending on the nature of your broadcast, but it's good to keep a few things in mind.
Be mindful of both noise and lighting wherever you shoot. Try to have as controlled an environment as possible. If you are using a real-deal lighting setup, take a look at this video on the basics of three-point lighting.
If you can, use a tripod. The advantage of using a webcam or laptop is that they can easily be kept steady using some kind of flat surface.
If you are shooting a lecture or an interview, restrict people from entering the area in which it's taking place.
If you are shooting something like the Best Friends Animal Society video, be aware of your surroundings, and be prepared to act quickly if something unplanned occurs.
4. Test Your Wi-Fi Connection
You need a strong Wi-Fi connection to live-stream. You don't want your video cutting in and out as the action happens, so test your connection beforehand. Hotspots, such as those offered through Mobile Beacon, can also help boost your signal. If you are away from Wi-Fi, you can still broadcast on Facebook Live — just be sure that your mobile device has access to a 4G network.
5. Go Live!
After completing these steps, you are ready to go live. Using the Facebook app, go to your organization's page and click the Publish icon. Next, click Live Video. Finally, write a short description of your video in the space provided and click Start Live Video to begin. Be sure to click Finish when you're done recording, and if you'd like, click Share. It's that simple.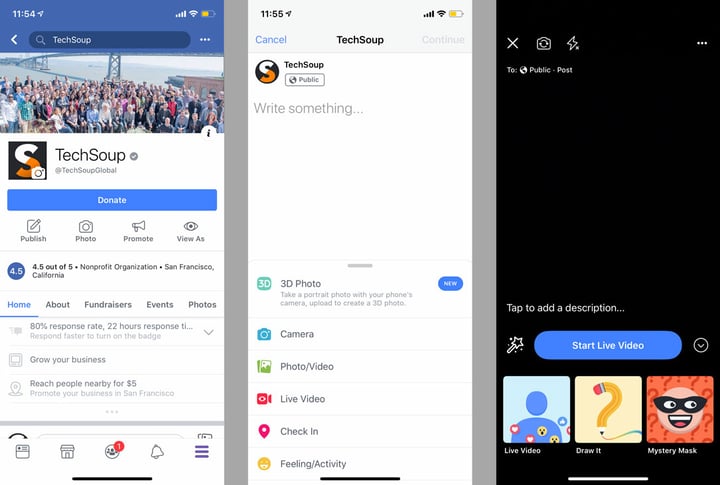 Here are a few tips and best practices to keep in mind when recording your video.
Before going live, add a title to your video to let your viewers know what to expect. If you're shooting from a special event location, consider geotagging where you're shooting from.
Take advantage of the opportunity to interact with your viewers by utilizing Facebook's donate button in Live. Simply click the ellipsis dots in the upper right of the screen before you go live to add a donate button to your broadcast.
Give people a minute or so to join your Live video before getting started.
Clicking Live opens your device's camera in selfie mode. You can make your videos more playful by applying one of the suggested filters that pop up.
Remind your audience to subscribe to Live notifications so they are alerted each time you go live.
Address commentators by their names and respond to people in real time.
Indicate that you are wrapping things up with a line such as, "Thanks for watching!" Then, wait to hear the "ping" indicating you are no longer recording before moving on to anything else.
Use this guide to create a Facebook Live event at your nonprofit today. Your followers will thank you!
Additional Resources: Social Media for Nonprofits
Susan Chavez, Zerreen Kazi, and Molly Bacon contributed to this blog post.