When someone expresses interest in volunteering with your nonprofit, library, or other program, they want to feel engaged quickly. Or at least they want to understand if the role is something they'd actually want to do. This is true for both online or in-person opportunities.
As a nonprofit, you want to know as early as possible if a candidate is the right fit, and you want to get that person oriented with the information they need to be a great volunteer as soon as possible.
Chances are, at least some of your nonprofit's operations are still being conducted remotely, and that includes volunteer management. In fact, even when in-person volunteering and onboarding become the norm once again, you can still make the process much more efficient by doing much of it online. Here are a few tips on how to quickly and effectively onboard new volunteers at your nonprofit.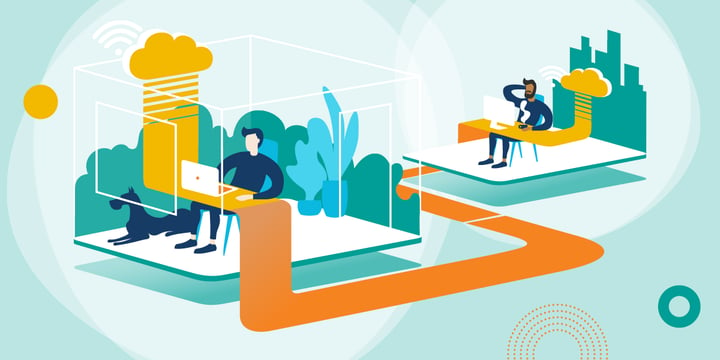 Clearly State the Role or Volunteer Task in Your Description of the Opportunity
It may sound obvious, but it's crucial to clearly state the scope and details of the volunteer opportunity when posting on a volunteer matching site such as VolunteerMatch, All for Good, or the United Way's volunteering site or on your website:
Length of the volunteer commitment
Nature of the service or activity
Why the task is important to your program or clients
Roughly how many hours a week or month the work consists of
Necessary skills needed by the volunteer
For the most part, people won't apply for roles they can't do if they can clearly see the expectations of the role. Clarity here will also help attract the candidates who are, in fact, a great fit for your volunteer opportunity. A solid, honest description of the opportunity should be seen as your first level of screening for the right candidate.
Make the Application Available Online
Allow people to fill out and submit the volunteer application entirely online. Don't require them to print out an application, fill it out manually, scan it, and send it to you as an email attachment. In fact, the best practice is to avoid asking volunteer applicants to upload anything online, except a short CV. Extra steps that require downloading and uploading, rather than something more automated and streamlined, will turn away great candidates who want the application process to be easy, convenient, and not overly burdensome. Make the application submittable entirely through a form on your site.
Also, make certain fields mandatory to be completed, and don't worry about the application being too long. In fact, the application itself can be a great screening tool to gauge if a person has good attention to detail, decent writing skills, and other such talents. Make sure your form is accessible, including for people who use screen readers due to a visual impairment and people who may not be able to use two hands to navigate online. Otherwise, you might lose out on terrific talent from people with disabilities.
Send an Automated Response Explaining the Next Steps in the Onboarding Process
When someone expresses interest in volunteering, you can have a prewritten email ready to send for an immediate response to their message. For instance, if you are using a volunteer matching site, your email might ask to send people to the application form on your website. Or, the message could confirm a person's interest in volunteering and ask them one or two additional screening questions before sending them to the application. These are examples:
What were you looking for when you found our volunteering opportunities?
What kind of volunteering tasks do you like doing? And what kind of volunteering tasks do you NOT like doing?
If an applicant doesn't respond, it's likely the person has already lost interest in volunteering with you or doesn't understand the importance of following through on tasks. It's much better for a candidate to "ghost" you at this point than after they have started on an assignment.
Create an Orientation Video
A video is a great way to welcome new volunteer candidates and give them the basic information they should know about your organization. At the same time, it can help establish the culture of your nonprofit. It's important that this orientation video be short — it shouldn't be longer than 10 minutes, but five minutes is ideal. If you don't have the resources to make a fancy video, that's OK. Even a basic one can serve a purpose if it features key people from your nonprofit that volunteers may be working with.
Some programs use the automated confirmation email (see above) to direct new applicants to view this video. They will then say, "After watching the video, follow the three steps outlined at the end so we know you are interested." In fact, those steps could be the questions mentioned above. Again, if an applicant doesn't respond, it's likely that the person has already lost interest in volunteering. It's much better to know this before investing any more time in the candidate or planning a project around their involvement.
Build an Online Community
An online community for volunteers is essential. Volunteers can talk to each other, share advice, ask questions, and receive important updates. Free options for hosting private, members-only online communities include Google Groups, Groups.io, and LinkedIn. Facebook Groups is also an option, but note that it is tied to people's personal social media accounts, and volunteers may not wish to mix personal online activities with volunteering.
You may want to wait to invite a new candidate to the community until after they complete at least one small task for the program. But some nonprofits invite new volunteers as soon as they have completed all of the aforementioned steps.
Either way, it's a great way to get volunteers involved with your organization beyond just doing a task. You may want to share new volunteer roles on your online community first to give current, vetted, and proven volunteers the first crack at expressing interest before you start recruiting new folks.
So, maintaining an online community is a great way to retain good volunteers, but also to source trusted veterans for new projects. It's also a great way to ask quick questions related to other things at your nonprofit. For example, "Hey, ya'll, what do you think of the new logo?" It's a great way to get instant, easy, valuable feedback — and you don't even have to form a committee to do it.
Stay Prepared
Investing time to prepare all of this will drastically cut down the time it takes to screen and onboard new volunteers. Much of the process can also easily be integrated into volunteer management software that you might use, or even automated, with all information going into a private Google spreadsheet. With the right processes in place, volunteers will feel supported immediately and will be more likely to stay.
These steps help establish that your nonprofit has a culture that is responsive, supportive and focused on quality. You will also see a greater retention of volunteers because of how you have made them feel, and clear expectations and immediate engagement is the only way to get started.
And finally, please share how you use technology to screen, onboard, and support your volunteers in the TechSoup Forums. Other nonprofits, libraries, and other community groups would love to hear from you.
About the Author
Jayne Cravens is an international consultant, researcher, and trainer with a long involvement with TechSoup. She is the author of The Last Virtual Volunteering Guidebook.
Additional Resources
Top photo: Shutterstock