If every crisis contains an opportunity, then 2020 is the mother of all opportunities. This is certainly true for fundraising events and corporate sponsorships.
Most nonprofits are grappling with what to do now that their big fundraising events cannot take place in person, and how to keep their corporate sponsors on board while making that switch. Yet instead of trying to re-create the old in-person model for an online event, it's a great time to revisit what your sponsors and supporters want, and then meeting those needs in our new virtual reality.
Typically nonprofits have approached sponsorships for events as a fixed-price menu: offering just a handful of set packages with fixed prices. Each level offers items to get the sponsor's name in front of the audience, including their name or logo in programs and signage.
But the pandemic has blown up the old way of doing fundraising events. Without the option of meeting in person, everything changes. Galas, golf tournaments, annual dinners, and live auctions all had to be dropped or reinvented. That meant that the approach to sponsorships needed to change too.
After all, signage is a bit more difficult to provide during a virtual event. And sponsors have always looked at signage as a nice thing to have but not necessarily an important asset. That's why limiting the menu approach and focusing on what a potential sponsor actually does want could reap long-term, profitable partnerships.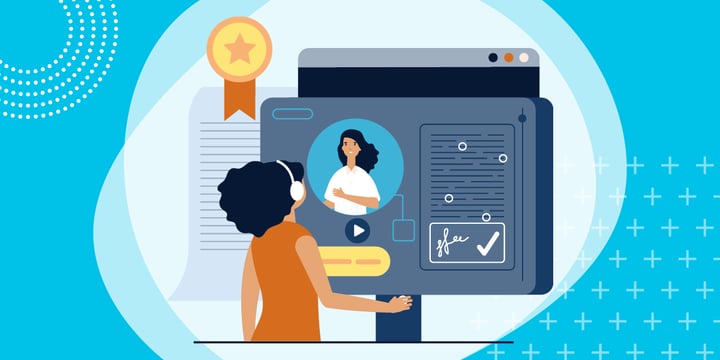 Rethinking the Traditional Sponsorship Approach
The unprecedented challenge of 2020 is a great opportunity for savvy fundraisers. Let's face it: Many fundraising events have been using the same template for so long that they have lost sight of why they chose their format and activities in the first place. When it comes to promoting sponsors, for example, many nonprofits are using methods that made sense in the era of Mad Men but may no longer be optimal in the age of personalized digital marketing. It's time to rethink the best way to connect your sponsors with your supporters, to create a more satisfying experience for everyone.
Typically, sponsors are looking for
A visible connection with an organization, event, or brand
Direct connection with the members of an organization, event, or brand for potential sales
Opportunities to position themselves as a thought leader or key resource for a particular type of audience
Let's revisit the original purpose of those traditional packages and levels. Gold, silver, and bronze levels kept things simple back in the day, but now we are in the digital age, not the bronze age. We have new tools and, as a result, new expectations from companies and customers. Sponsors want a more direct connection to your audience, without spending money reaching people who won't be interested. And your supporters expect customized messaging that speaks to their individual needs and interests.
So instead of focusing on a narrow selection of one-size-fits-all packages, why not focus on providing customized sponsorships with pricing based on the level of "touch" the company will be able to have?
The Key to Pricing Sponsorships Is High-Touch Versus Low-Touch Marketing
Companies are willing to pay more when they engage more with your supporters. The more intimate the engagement, the higher the touch and the more valuable it is to the company. Examples of high-touch sponsorship opportunities include speaking directly to the donors and sending an email on the sponsor's behalf. Low-touch sponsorship opportunities can include a mention in a press release and a logo on a backdrop or invite.
The higher the touch, the higher the price point for the sponsorship. You can add several touchpoints to create a customized package based on what your potential sponsor really wants to accomplish.
Prior to the pandemic, high-touch opportunities typically included face-to-face interaction, as they are viewed as having a higher return on investment than many other outreach opportunities.
In today's world of virtual events, fundraising staff need to get creative and find ways for their sponsors to establish new relationships with the audience. It may take a bit of work from both parties to accomplish this.
For example, a great high-touch opportunity in the time of COVID is a sponsored email. But for this to work effectively, the sponsor needs to get creative as to how to motivate people to interact with them after the email is sent. This could mean that the company needs to create a lead generation landing page or some other means of capturing information about the participants.
Getting Companies to Invest in Custom Sponsorships
Companies love the opportunity to create a sponsorship package that helps them meet their goals while investing in a mission they love. And the best way to tap into that enthusiasm is to reach out to them and help them personally craft what they want to invest in.
Focus on direct outreach with the potential sponsor to determine how your cause or audience is a good fit for their outreach programs.
Don't even talk about pricing until you have discussed goals and how you can help sponsors reach them with your target market. Only then should you discuss their budget. And remember that the kind of customer-focused sponsorships you are offering should come out of their marketing budget, which typically has a lot more money than their charitable budget.
Once you know their goals and budget, create a sponsorship proposal exclusive to them. Show them how this partnership will accomplish their goals, only offering what the sponsor needs and wants, as opposed to proposing a bunch of deliverables they don't care about and will view as a waste of money.
Added Benefit of the Customized Sponsorship Approach
You'll find the customized approach also will help you continue to build the relationship with that company, allowing them to feel confident in investing in your organization further. The key to a long partnership is to continue your own touchpoints with the company once the sponsorship is over. Think about additional ways to acknowledge their sponsorship gift, as well as provide them with metrics of their investment, both the reach of the sponsor's brand, as well as the less tangible stories as to how the sponsorship money was used to help your mission.
It will strengthen the bond between your organization and its corporate sponsors. This in turn creates more positive benefits such as greater audience awareness and increased authenticity as a partner. Plus, your supporters will appreciate a more personalized approach from your corporate partners.
The time to start outreach is now, as many companies set their budgets in January. In addition, some companies may have unused funds that have to be spent by year's end — especially this year, when so many nonprofits have canceled their events but failed to come up with compelling new offerings. Think of that as one more silver lining to the dark cloud of 2020.
Additional Resources