Think about the technology skills of your staff. Are there only a few members of your staff who are especially tech-savvy? Are there some who shy away from anything technology-related? Is there one "go-to" person for any and all technology questions or programs?
As technology programs and access become more of a focus in public libraries, it is important for all library staff to get up to speed with technology. But how do you turn tech-resistant people into tech embracers? Through fun and engaging staff activities!
We invited Diana Laughlin from the Estes Valley Library (Colorado) and Rachel Schmidt from the Sunnyvale Public Library (California) to talk about staff training programs on technology for our January webinar (watch the archive).
Tech-Shy to Tech-Savvy: Core Competencies at the Estes Valley Library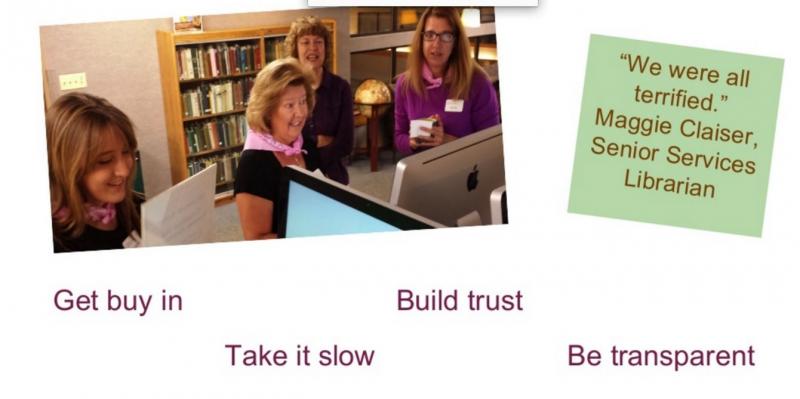 Diana serves as the tech guide for the Estes Valley Library, where she trains staff and patrons in using various technology tools. Diana developed technology training for the entire staff of the Estes Valley Library — not just the librarians or library assistants. The library director wanted to hold these trainings to ensure that all staff members were technically proficient before the library ramped up its technology programming to patrons.
The tech competencies (which you can browse through here) were delivered over six months with a final assessment to measure the skills learned. The final assessment took about an hour; the staff had to complete a list of tasks, which Diana scored based on time or whether they needed hints or help.
When kicking off a tech training program for your staff, Diana advises taking it slow, getting to know your staff, and being transparent about the goals of your program.
"As we started this tech training process, people were afraid," Diana shared. To address this, Diana held one-on-one meetings with the staff members to find out what their skills were and what they wanted to learn. She also had them fill out a self-assessment of their current tech skills. She also found success in making the training hands-on and having activities be fun.
For example, she did a tech scavenger hunt with staff in which they had to do various technical tasks around the library. To make things extra fun, Diana borrowed some costumes and stuffed animals from the children's department that the staff could don during the trainings.
She did group trainings, too, which helped build camaraderie and teamwork among the staff, especially since they got to wear team bandanas! She also let the training be self-directed: staff members could pick what format they wanted their training to be in (online, in a group, or one on one).
Sunnyvale Public Library's Seven-Week Ninja Training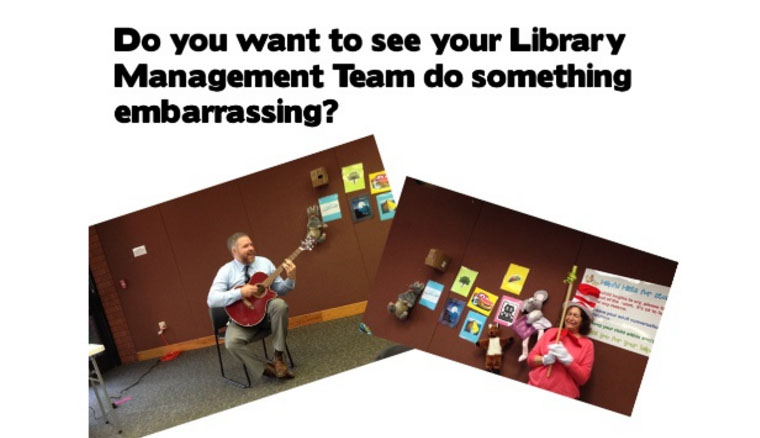 Because it's located in the heart of the Silicon Valley, the Sunnyvale Public Library really needed its staff to get up to speed on technology skills. Rachel designed a "Ninja Training" curriculum that spanned over seven weeks. The all-staff training covered topics that were frequently asked by patrons in the library: how to get e-books on a device, how to use the OPAC, where to find information on the website, and so on.
To get staff on board with training, Rachel wanted to offer some sort of incentive, such as a pizza party. But when she found out the library had no budget for such a thing, she had to get creative. She asked library administrators and management if they would reveal a secret talent if the staff met their tech training goals. For example, one prize was to hear a staff member play a song on her flute. The top prize was homemade brownies from the library's director.
She created a ninja training site where staff had to complete "missions" related to technology. Like Diana, Rachel wanted to make the training fun, so she modeled the different tasks after classic video games with fun descriptions and images.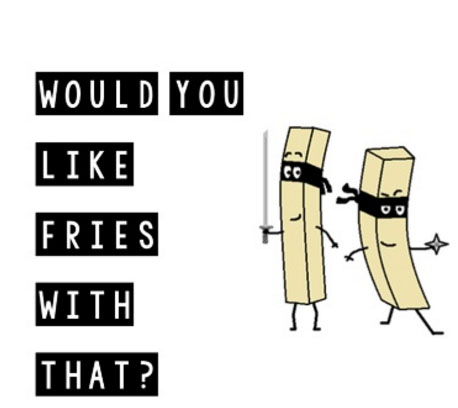 I really liked that Rachel's program incorporated the "art of the upselling" or as she put it, "Would you like fries with that?" I firmly believe that libraries can learn a lot from the retail/customer service world, and this is definitely a key technique. She wanted the library staff to feel comfortable telling patrons about other services in the library, particularly when they sign up for a library card. "Did you know that we have a 3D printer? Did you know that you can get the latest issue of Consumer Reports here?"
The Ups and Downs of All-Staff Training
Both Rachel and Diana had success in bringing their staff members together and bonding through these training exercises. At the same time, they were also met with some resistance. "Why do we have to learn what technical services already does?" asked one staff member. Diana shared that one person had actually decided to retire as a result of the training.
But overall, our two webinar guests were pleased with how the training went. The key to successful training for both of these libraries seemed to be making it fun, whether that involved costumes, team challenges, incentives, or gamification.
More Training Resources from TechSoup
Images: Diana Laughlin and Rachel Schmidt