User training is a big part of your nonprofit getting the most out of new technology. It helps to smooth the transition to new systems and processes by getting staff members comfortable and working efficiently as soon as possible.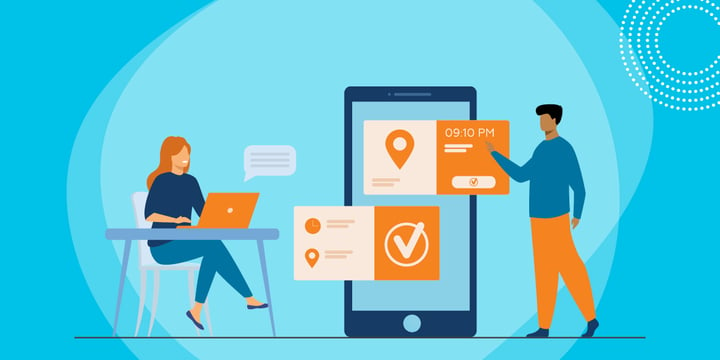 If you have new technology you're using at your organization, or if you think your staff could benefit from a training refresh, there are four basic concepts that can help:
Planning time for training
Pre-training
Introducing the new technology
Role-based training
Let's dive in.
Planning Time for Training
To start, you'll need to set aside time for your staff to spend on training. Nonprofit teams are busy and often have competing priorities. Technology training should be planned into the project so your staff feels supported and encouraged to learn the new system. The amount of time you'll need to dedicate to training will vary based on the specific technology you're implementing and the complexity of your project. Training time will also vary for each staff member depending on their role in your organization. Here are a few tips for setting aside time for staff training:
Start planning early. Put training dates on everyone's calendars several months in advance so that all staff members are prepared.
Communicate with managers. Make sure they know the training dates, and send reminders as you get closer to training.
Identify "champions." Designate people within the organization who can help to keep their departments focused and send reminders about training and other milestones.
Be prepared for a temporary productivity dip. Your new technology should eventually help your organization work more efficiently, but your staff will need time to get used to the new processes. Acknowledging and planning for a temporary dip in productivity will alleviate pressure from your team as they learn how to use the new system. You should also avoid planning a big project in the weeks before, during, and after your new technology implementation. Allow your staff to focus on the training without the stress of a high-priority deadline, and let them know you'll understand if there are delays with their existing projects.
Pre-training
Not everyone will embrace new technology and processes right away. Change is hard, and with staff members often working on tight timelines, learning a new tool can seem overwhelming. Help your staff understand the overall plan and benefits of the new system so that they can stay focused during the training process. Here are some key concepts to convey to your entire staff to ensure that they have context for the technology implementation and training:
The "why" — When everyone understands the goals of the technology change, they're able to see the beneficial outcomes of the project rather than being distracted by the temporary challenges.
The bird's eye view — It can be useful for everyone in the organization to understand how new tools fit in with the overall technology ecosystem.
The objectives of training — Make sure that all of your planned training includes a description of what the user will learn. This educational best practice will help set expectations with your staff and keep them focused on the objectives for each training.
Introducing the New Technology
Some staff members will use the new technology more than others, but everyone will need to know some basics of the new system. Plan for everyone on your staff to have an induction, which will include the following:
How to log in
How to navigate to key areas and what areas each department will be using
Where to conduct common processes, such as tagging a colleague or viewing contact records
What terminology is different in the new system versus the old system
Where to go for documentation and on-demand training when they need a refresher, need to onboard a new staff member, or train a volunteer
Role-Based Training
Those using the new system daily will need more detailed training. To increase user adoption and decrease staff frustration, think about how to best support your staff and which techniques fit in with your organizational culture and constraints. Here are some modern learning approaches that can help make your user training more effective, whether you are in-person or virtual.
Microlearning
This approach divides complex content into smaller topic-specific modules that learners can access online at any time. This is not simply breaking training up into sections, but offering highly specified, actionable modules to be accessed as they are needed. This approach makes learning more convenient, promotes better learning and retention, and is easier to maintain and update as needed. In-person, hybrid, and virtual training environments can all make use of microlearning techniques.
Flipped Classroom
For a flipped classroom approach, learners complete online microlearning courses before coming together in a group to discuss, ask questions, and help each other. A trainer is present as a facilitator, someone to guide the discussion and help the group through the learning process. Learners come to these group sessions already having worked through content on their own, so they are more engaged and prepared.
Mix of Content Media
Providing content in a mix of media — such as videos, infographics, and short reference documents — gives people options that they can choose from based on how they prefer to consume and retain information.
Learning Management System
If most of your staff are in an online environment, you might want to consider a learning management system (LMS). It can help you present, manage, and track microlearning content.
Gamification
People are goal-oriented and tend to like friendly competition. Something as simple as offering electronic badges in your LMS that represent the modules each learner has completed goes a long way toward motivating staff to complete the training.
TechSoup Courses
TechSoup offers a wide range of virtual courses covering topics from fundraising, to data analytics, to cybersecurity. Importantly, we offer courses specifically tailored to technology training on many commonly used tools, which could serve as a great aid when introducing your staff and volunteers to new technology. You can also take a look at the Microsoft Digital Skills Center, which includes in-depth learning materials on using Microsoft products at your nonprofit.
Supporting Your Staff with Training
Technology will only move your organization forward if your staff knows how to use it. Training is a critical step in your nonprofit's technology journey. With these four fundamentals, you can build a program that supports your staff during your next implementation or refresher training.
About the Author
Brooke Belott is a senior strategist with Heller Consulting, a firm dedicated to empowering nonprofits with the technology tools and strategies they need to make a bigger impact. She works collaboratively with organizations to integrate technology systems and business processes. With over a decade of experience in the nonprofit sector, Brooke has worked in development, grant writing, strategic planning, marketing, data management, and more.
Further Resources
Top photo: Shutterstock