What's new in library tech! Welcome to our monthly collection of fun and hopefully useful news items from our great twitter feed and wherever else we find them.
With so many library buildings still closed, but online services booming, there is so much going on in libraryland! This month we bring you news on a new PLA grant program for rural libraries to improve Wi-Fi, EveryLibrary Institute's Help a Library Worker Out Fund, free Library Journal digital content, and Brian X. Chen's declaration that the iPad is officially the gadget of the pandemic.
We also cover California Library Association's excellent COVID-19 resources, free Facebook video calling for up to 50 people, free Netflix documentaries on YouTube for your patrons, and what questions people are asking reference librarians these days at Los Angeles Public Library. Perhaps most sobering of all: We ponder why New York Public Library is considering quarantining books when they reopen. Yikes.
Here's your library tech newsbytes for the still socially isolating month of May.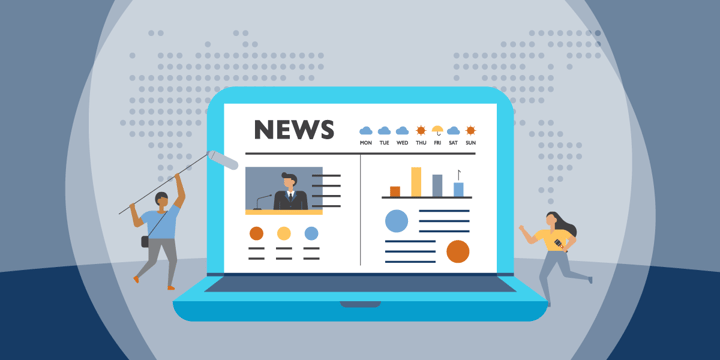 PLA Rural Wi-Fi Access Grant Opportunity
The Public Library Association and Microsoft Public Wi-Fi Access Micro Grant program has just launched. It will provide 50 rural libraries with hardware to create new public Wi-Fi access points using the library's current Wi-Fi service outside the library facility. The grants also provide modest funding to support equipment and promotion and, if needed, installation assistance. To see if your library is eligible, visit the project website. The first application period is open now. Awards will be made every week on a rolling basis until resources are depleted. Apply for the grant here.
Helping Library Workers Out
LibraryWorks wants to step up in support of our colleagues across the country in their time of need. That's why it is making a "challenge match" of $1,500 to support the EveryLibrary Institute's Help a Library Worker Out Fund. If you can join them and donate, they will match all donations dollar for dollar.
Quarantining Books When Libraries Reopen?
Yahoo Finance reports that Tony Marx, the chief executive of the New York Public Library is concerned that COVID-19 can survive on surfaces like paper and transfer from one book borrower to the next. Libraries, once they reopen, may impose a quarantine period on books that lasts as long as scientists determine the coronavirus can survive on the materials. Some strains of coronavirus live for only a few minutes on paper, while others live for up to five days. It can last for a day on cardboard.
Free Library Journal Digital Content
Library Journal and School Library Journal are now offering temporary free access to all their digital content during the COVID-19 crisis. They're not saying how long that will be, but this is an opportunity to sample all their content.
For Library Journal premium web content access, log in with the following credentials: Email: access@libraryjournal.com Password: LJfullaccess1.
For School Library Journal premium web content access, log in with the following credentials: Email: access@slj.com Password: SLJfullaccess.
New York Times: The iPad Is the Gadget of the Pandemic
Brian X. Chen, the personal tech columnist for the Times, has declared that the iPad has transformed from an "other" device to a go-to screen for video calls, cooking tutorials, and distraction-free emailing (with an add-on keyboard). The latest software update, iPadOS 13.4, adds support for wireless trackpads and mice, including accessories made by companies other than Apple.
California Library Association COVID-19 Resources
If you're not already overloaded with pandemic information, here's another great batch of COVID-19 informational resources, this time courtesy of the California Library Association. Definitely worth checking out are the programming ideas database that will be coming soon for public library staff to use while library buildings are closed. Another interesting page is the Urban Libraries Council set of resources. The set of COVID-19 legal resources is unique and useful as are the links to Wi-Fi-related information.
Free Facebook Messenger Rooms Video Calling for up to 50 People
If you're still experimenting with online meetings and events like story times, CNBC reports that Facebook has announced several new video calling features. One really useful one is an expansion of Messenger Rooms, which will allow Facebook and Messenger users to create group video calls of up to 50 people. Previously, Messenger video calls were limited to eight people. Messenger Rooms is the flagship of Facebook's new video calling services. Facebook said it will also expand its Facebook and Instagram live-streaming features. Instagram users, for example, will now be able to post their live-streams to IGTV, giving followers a longer time window to watch live-streams after they've been recorded.
Netflix Free Documentaries on YouTube
Here's a new online resource for your patrons. Engadget reports that in order to help teachers and students learning from home during the COVID-19 pandemic, Netflix is making a handful of documentaries available for free on its U.S. YouTube channel. At the moment, there are 10 documentary films and series available, including 13th, Babies, Chasing Coral, Knock Down the House, and Our Planet. Each comes with educational resources, like discussion questions, ways to take action, and more info. Netflix says it plans to add Q&As with some of the project creators soon.
What Do People Ask a Librarian in a Pandemic?
The LA Times published a great Q&A article with librarian Tina Princenthal, who is with the Los Angeles Public Library's InfoNow desk. Here are some of the questions people are asking her during this pandemic time.
Is there a way for me to watch story time online?
How do I access my library card number?
How do I get access to Kanopy, Hoopla, and OverDrive?
Teachers ask, "How can I adapt my classroom into a digital age?"
How can I use online library resources if I have limited internet access?
Where can I find resources on COVID?
Perhaps you've heard some of these yourself?
We hope you find our new batch of newsbytes helpful this month!