Note: This post has been updated to reflect price changes that took effect on January 4, 2023.
The Health Insurance Portability and Accountability Act (HIPAA) set forth regulations that dictate what health organizations must do in order to keep patient and client records private and secure. Failure to abide by these regulations may result in severe monetary penalties. But more importantly, it could leave your clients' or patients' personal data vulnerable.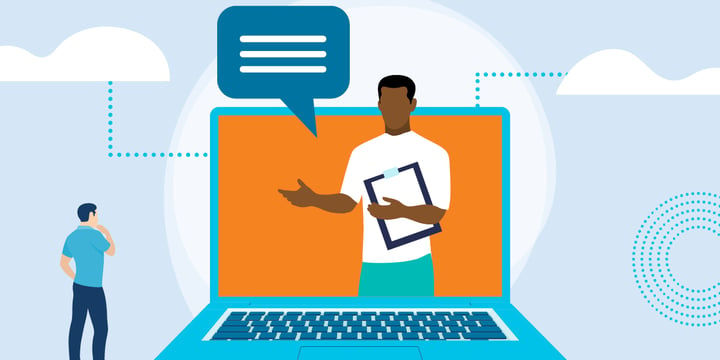 Microsoft 365 and Office 365 plans from TechSoup offer a range of features to better protect client and patient information. Even better? They're also cloud-based platforms for productivity and collaboration.
This blog post focuses primarily on Microsoft 365 E3 and Office 365 E3. These options are a good balance between cost and providing the full advantages that Microsoft's cloud solutions offer
Top Benefits of Microsoft Cloud for Health Organizations
Mobile Device Management
HIPAA compliance requires that only secure devices can access your data and systems. With Microsoft 365 mobile device management (MDM) features, your administrators can ensure that patient information is accessed only via approved devices (laptops, tablets, phones, and so on) and for appropriate uses. Office 365 data loss controls include customizable alerts and behavioral signals.
Microsoft's multi-factor authentication and role-based access controls allow you to fine-tune how employees use their own devices to access health records. For example, when sensitive data is sent, administrators can decide whether information should be blocked from external sharing. Information can be encrypted from the folder to the item level, regardless of location.
These controls can also ensure that messages delivered via email or chat are never transmitted outside the organization. You can also easily administer a unified bring-your-own-device (BYOD) policy to ensure HIPAA compliance.
Microsoft Cloud has all you need to implement data loss controls and administer item-level encryption, preventing the unauthorized use of protected health information. A basic data loss prevention policy (DLP) can be set up in Microsoft 365 and Office 365 E3 licenses or higher. This way, your IT team can conveniently manage all workers' devices and prevent impermissible uses and disclosures of protected health information.
Improved Patient Experience
Microsoft Teams can help you deliver the care that patients need while bringing human connection to remote visits and appointments. You can also boost user experience across other forms of communication. These include scheduling and reminders, mobile apps, and connection to electronic health record (EHR) systems.
Take advantage of video and audio conferencing to schedule check-ins that do not require an in-person visit. This keeps your staff and volunteers safe, maximizing resources while lockdown restrictions are still in place. It also reduces the likelihood of no-shows — enabling caregivers and practitioners to see more patients.
Secure Messaging
As a result of COVID-19, telehealth is on the rise like never before. Microsoft Teams allows you to send messages, images, videos, and urgent alerts on a secure system with HIPAA compliance baked right in. You no longer have to try to remember countless HIPAA privacy and security rules — Microsoft Teams takes care of that so you can focus on patient care.
Meeting Collaboration
Arranging a multidisciplinary team (MDT) call? Microsoft Teams allows multiple care providers to connect with a patient across a range of devices. Practitioners can use background blur to remove background distractions and to protect sensitive health information located behind them during a video conversation. Backgrounds are also customizable, so you can have a professional-looking backdrop, even when working from home.
Seamless Remote Work
While the potential costs of HIPAA noncompliance are severe, many caregivers are still working with fragmented tools and legacy systems. Staff and patients may not have easy access to the information they need. And when most or all of your staff is working remotely (or serving patients at remote locations), the need to upgrade your technology infrastructure becomes even more important.
Microsoft Teams can help you create a system that allows everyone to work seamlessly and securely, all from a single hub.
Core features include voice and video calling, encrypted messaging, secure chat, and private meetings. Plus, you can conveniently store sensitive files and patient records in a secure central location.
User permissions can be set in real time from anywhere, based on document sensitivity and the type of user. This reduces the likelihood that staff accounts will be compromised. And if they do become compromised, system administrators can revoke access until a security incident has been resolved.
Finally, with Microsoft 365 and Office 365 E3 licenses or higher, you can get both web and installed desktop versions of all the Microsoft Office applications that you are familiar with — Word, Excel, PowerPoint, Outlook, OneNote, SharePoint, and more!
Conserve Vital Resources
Your IT demands have probably increased with more remote work. By moving to cloud solutions, your team does not have to worry about getting new versions of software in order to take advantage of new features, products, or integrations that may be available within the cloud-based Office365 and Microsoft 365 suites. Each time a new feature is available, your cloud solutions will automatically be upgraded. Microsoft also has all the HIPAA-compliant security features you need to keep patient information safe. You can get number porting, emergency calling, toll-free numbers, and flexible calling plans for additional fees.
Which Microsoft 365 or Office 365 License Do I Need?
All Health Organizations
TechSoup recommends that you acquire Microsoft 365 E3 licenses for your team. This comprehensive license allows you to configure HIPAA-compliant data-loss and item-level-encryption controls. It also includes Enterprise Mobility + Security E3, a suite of tools to help you safeguard mobile devices against data theft.
If you prefer Office 365 E3 licenses, consider adding the Enterprise Mobility + Security E3 option. This is a good added layer of security if your organization lacks regulatory infrastructure.
Higher-Risk Organizations
Looking for even higher levels of HIPAA security and compliance? Consider looping in your legal team, and of course your IT staff, in acquiring your licenses.
Also, perhaps not everyone in your organization needs E3 or E5 licenses. You can mix and match your licenses based on the specific users' needs.
The following table lists recommended Microsoft 365 and Office 365 licenses for health organizations. Click the image to display the full-sized table as a PDF file.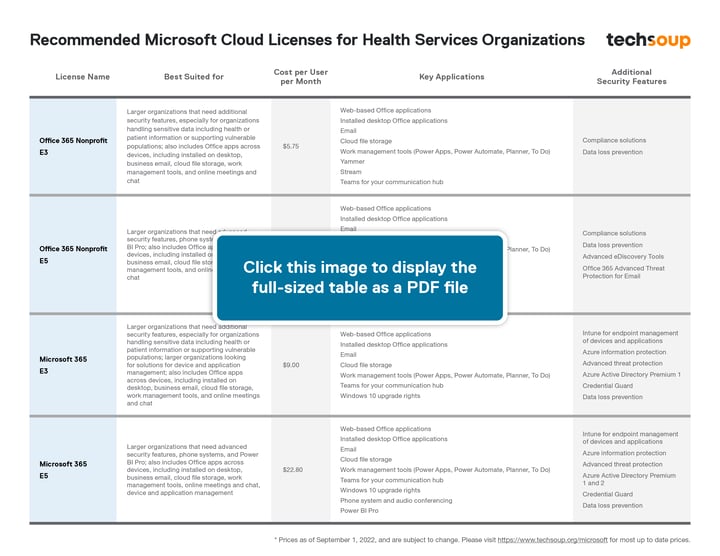 You can also read this blog post on How to Choose the Right Microsoft 365 and Office 365 for Your Nonprofit or view the comprehensive comparison chart of all available Microsoft cloud licenses.
How Can TechSoup Help You?
TechSoup can help make cloud adoption much easier for your health organization.
Sign up for a free Cloud Consult and talk to someone from our team about the solutions that may be best for your organization.
We also have services that range from license activation, migration, security assessment, and setting up multi-factor authentication to a full Office 365 Complete Setup that will help you get up and running.
We offer training courses for staff and volunteers on how to use Microsoft applications. And check out this live event on January 21 where the expert will answer questions about HIPAA compliance and how to stay compliant when using cloud products. In the popular Pivoting to Remote Work, you can learn to use Microsoft collaboration tools such as OneDrive, Outlook, Planner, SharePoint, and Teams while ensuring information security (free, normally $110).
Related Content
Top photo: Shutterstock