For many nonprofits, Adobe products are part of day-to-day life. Maybe it's reading, sharing, and collaborating on documents with Adobe Pro DC. Or perhaps using Adobe Creative Cloud to design fundraising materials with Illustrator, or creating short videos for social media with Premiere (or Premiere Elements!). Either way, software from Adobe can do a lot in the way of making things both easy and beautiful.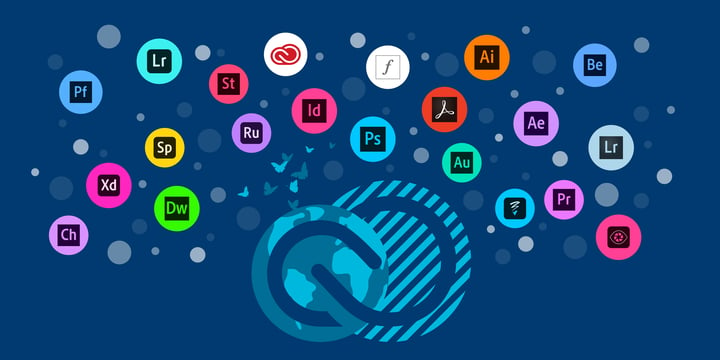 Here's some good news: Some recent changes and expansions to the Adobe for Nonprofits program at TechSoup are allowing us to get even more (and improved) tools into the hands of nonprofits to help tell their story. And with the end of the fiscal year just days away, there couldn't be a better time to take a look at which Adobe software might be a good investment for your nonprofit.
Let's see what's new.
Check Out the New Adobe Acrobat Pro 2020
While many of us expected the desktop version of Acrobat Pro to soon be discontinued (its last update was in 2017), Adobe has recently released the newly updated Acrobat Pro 2020, and it's available through TechSoup for an admin fee of just $60.
Improvements include updated compatibility to cover Surface Pro, iPad, and Android tablets. Also, you can write and draw on PDF documents more smoothly and accurately with an improved Pen tool that leverages DirectInk technology. Home view allows for a more organized place to search through your PDF documents, and more. So, if you prefer the desktop version of this crucial PDF software, this offer might be perfect for you.
Waived Admin Fees for Adobe Acrobat Pro DC
In response to the COVID-19 crisis, Adobe and TechSoup have waived all admin fees for nonprofits that need Acrobat Pro DC. Acrobat Pro DC is the industry standard for viewing, editing, sharing, and storing PDFs in the cloud. You can also use Adobe Pro DC to gather signatures, convert files to and from Word documents, and more. With no admin fee, there's no barrier to your nonprofit accessing discounted rates directly from Adobe.
Adobe Creative Cloud for Education Is Now Available to Nonprofits
The Adobe Creative Cloud All Apps plan offers over 20 best-in-class creative production apps for your nonprofit, including Photoshop, Illustrator, Premiere, InDesign, and more. It also includes Adobe Acrobat Pro DC!
One thing we've heard a lot from nonprofits is that it's a struggle to manage individual licenses across teams, especially when employees leave and new staff are hired. But now, Adobe Creative Cloud for education is available to nonprofits, and for a limited time, the $5 admin fee to access discounted rates is waived. Using Creative Cloud for education at your nonprofit allows you to better manage all the different licenses for Creative Cloud users you've acquired for individuals across your team. Additionally, extra collaborative features are available through Creative Cloud for education licenses. Take a look today!
Adobe Photoshop Elements and Premiere Elements Gets a 2020 Upgrade Too
If you need to do some basic (and not-so-basic) photo and video editing at your nonprofit, the Photoshop Elements and Premiere Elements 2020 bundle is a great tool to get to know. While Photoshop and Premiere are professional-grade solutions, they may take an expert to use them properly — depending on what you're trying to do. Alternatively, the Elements products are more user-friendly while still providing a wide array of features to produce eye-catching materials at your organization.
New updates to the 2020 version include the ability to resolve grainy videos, balance out noise to make audio clearer in Premiere Elements, and more. Updates to Photoshop Elements are the ability to remove background objects or subjects in a simple select, the automatic colorization of black-and-white photos, and other cool and helpful features.
Good Changes to Allotments and Budget Restrictions for Acrobat Pro
Until recently, organizations could only get a combination of four donated licenses (such as Photoshop Elements and Premiere Elements and Acrobat Pro 2020), and an unlimited number of cloud subscriptions. Now, there is no longer any allotment limit for any Adobe software acquired through TechSoup.
In more good news, the budget restriction for nonprofits interested in Adobe Pro 2020 has been raised from $2.5 million to $10 million. And there are no budget restrictions for Photoshop Elements and Premiere Elements nor for any of Adobe's other cloud products.
With all these exciting changes, you may want to look more closely at Adobe products for your nonprofit and start creating something great today.
Global News
Also, here's a bit of news from the TechSoup Global Network: We've just finished an expansion project to bring Photoshop Elements and Premiere Elements 2020 to an additional 24 countries, and we've recently expanded our Creative Cloud All Apps offer to Turkey and Israel. And, in the coming fiscal year, we'll be able to continue expanding Acrobat Pro 2020, and Photoshop Elements and Premiere Elements 2020 and Creative Cloud All Apps will be expanded to Ukraine, Morocco, Saudi Arabia, and Egypt.
It all adds up to more great tools being distributed to more organizations doing good. So, if you have any colleagues working in civil society in these areas, spread the word!