The global pandemic has necessarily put a bright spotlight on the stark contrast among the classes in the U.S., as it created one of the worst economic and job crises in modern history. Ensuring that training is relevant to the most in-demand jobs has never been more critical. As libraries continue to step up to fill the gap, we would like you to be aware of Microsoft's new, free Global Skills Initiative. See how Washington State Library and Kenton County Public Library in Kentucky are using it to help patrons.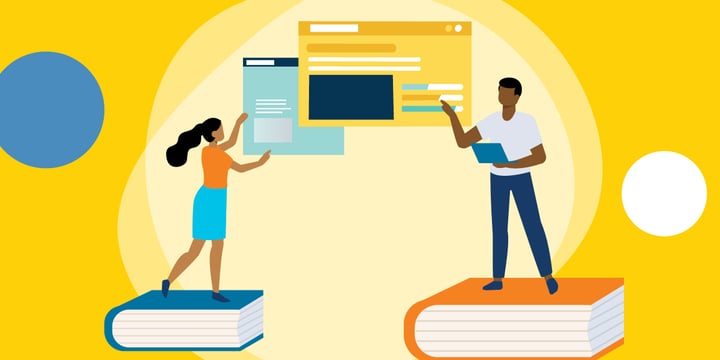 The Worsening Job Crisis
More than half of U.S. consumers have $3,000 or less in their savings and checking accounts, and savings have been exhausted by a third of all households. Jobs have only anemically recovered from earlier boom times. Leisure and hospitality, one of the hardest hit sectors, remained 3.4 million jobs short in November, according to the U.S. Bureau of Labor Statistics. Retail's holiday bounce was due mainly to hires of warehousing workers, and November was the worst month since the pandemic recovery began for the majority of retail's subsectors.
Those who have been hardest hit by job losses and layoffs often lack the skills, knowledge, or resources to seize the opportunities that do exist. Those opportunities lie primarily on the other side of that still-gaping divide, where the global digital economy holds out some 150 million new tech-oriented jobs.
Ensuring Relevant Job Training
Helping community members gain the digital expertise that's integral to today's world has been a long-standing imperative of America's public libraries. Ensuring that training is relevant to the most in-demand jobs has never been more critical. Libraries should be aware of Microsoft's new initiative to help. And they can be inspired by the creativity shown by their peers, like the Washington State Library and the Kenton County Public Library.
The workforce development program of the Washington State Library supports 60 public library systems and 470 library buildings. It has long upheld a goal of closing the digital skills gap and helping citizens create successful paths to careers, particularly in technology. Regardless of where people live or their income, they can find the books, classes, public access computers, and other resources to help with continuous learning and growth, and especially for career changers.
Microsoft's Global Skills Initiative and LinkedIn Learning
Microsoft and LinkedIn Learning have been integral to Washington's program for some time, but Microsoft's Global Skills Initiative launched last summer in response to the pandemic. It may well be especially beneficial to learners and job seekers there and elsewhere since it relieves some of the financial burden through March 2021.
Microsoft's initiative ties together resources from throughout the company, including LinkedIn and GitHub, with these objectives:
To identify the jobs most in demand and the skills needed to fill them
To provide free access to learning paths and content so people can develop essential skills
To offer low-cost badges and certifications and free job-seeking tools to help people pursue these jobs
The course content is designed to be global. The courses and other tools are available in English, Spanish, French, and German.
Washington State Library's Work
A critical new piece of the Washington program covers the certification aspect of digital training. It's one thing to provide access to learning. But Elizabeth Iaukea, Washington's workforce development librarian, points out: "If we're serious about the value of what people are learning for employment, certification is key; certification is the currency by which job seekers validate skills to employers."
She adds: "Certification has always been highly valued in the IT field where the speed of change and the development of new technologies outpaces the educational system, and many are self-taught. Certification is also increasingly recognized in other professions as the best way to validate a specific skill set acquired through nontraditional learning."
The issue is that too many of the people that Washington aims to serve don't know enough about certifications to recognize their value or how to earn them. So the certification process is presented in three steps — learn, practice, certify — with hands-on practice and practice tests as part of the approach.
These are the certifications that are currently supported:
Microsoft Office Specialist (MOS)
Microsoft Technology Associate (MTA)
Microsoft Technical Certification (MTC)
Microsoft Certified Educator (MCE)
IC3 Digital Literacy
QuickBooks Certification
Adobe Certified Associate (ACA)
Unity Certified User
Kenton County Public Library's Work
A different focus has been taken by the Kenton County Public Library, in Covington, Kentucky. This library system serves an area that also includes Ohio and Indiana due to recent trends that have shaped its program.
By 2016, full employment left major local employers like Amazon and FedEx desperate for entry-level workers in service, warehousing, logistics, and the like. Digital skills for such jobs were less in demand from those employers, plus the library's community partners offered such training through workforce development programs that Kenton didn't want to duplicate.
As the library's digital literacy classes saw attendance shrink, it knew it needed to continue to serve and reengage the community with electronic media in ways that narrowed the digital divide. In response, Kenton targeted an underserved market segment: mid- to late-career professionals who needed support in career transitioning and job search and a better understanding of the digital tools necessary for success in today's environment.
Job Search Central
Enter the Kenton County Public Library's new initiative, Job Search Central. Its relevance has only grown since the COVID pandemic disrupted the economy, affecting jobs at every level locally since its start.
The initiative, aimed at career changers and job seekers, is multifaceted. One is a support group that "started out with six to eight people attending weekly meetings and has grown to 80 – 100, while 1,000-plus current and alumni participants receive a weekly newsletter highlighting ongoing KCPL programs and celebration stories," says Natalie Ruppert, MLIS, the library's manager for workforce development.
The Job Support Group and the Job Search Process
The support group's weekly meetings are held every Wednesday morning. They have been on Zoom since March, facilitated through an annual subscription via a TechSoup coupon. The meetings feature announcements, then a volunteer guest speaker and a roundtable discussion where people share their status and where they need help.
"What they like is that we listen, we respond, and we share resources. We do a lot of networking with community partners and we share leads. We celebrate successes. It builds library loyalty. And during 2019-2020, 270 people who participated landed jobs, predominately in the tri-state area," Ruppert adds.
In addition to the weekly meetings, the Kenton County Public Library program encourages participants to become students of the job search process, offering specific beginner and advanced tracks.
Beginner classes focus on Google tools from email to resume templates, the basics of Microsoft Teams, and the ins and outs of Windows 10, Excel, Word, and PowerPoint. Participants also learn about their transferrable skills. Workshops on resume writing, cover letters, and interviewing are also held.
Advanced job search programs look at creating marketing plans and resumes for federal positions and networking workshops via LinkedIn.
Kenton County Library's Career Change Navigators
A lot has transpired for Kenton County and its surrounding area since 2016. The library and the community it serves have come full circle, driven by the pandemic. Those most impacted by the ensuing economic downturn are low-skilled workers who need to acquire digital skills as well as basic job search knowledge. The library is working with its community partners to reach them with digital literacy programs and to raise awareness about virtual job fairs. It received a federal dislocated worker grant in August to bolster efforts, and in November it hired three new staffers as career change navigators.
For more information on Microsoft's skilling initiative, the work of the Washington State Library, or how Kenton County Public Library is pivoting to serve job seekers in the community, watch the Public Library Association's free recorded webinar, 150 Million New Technology-Oriented Jobs and the Skills Needed to Get Them.
About the Author
Sally Saville Hodge is a content and media consultant to the Public Library Association. For more information on programs of the Public Library Association, contact pla@ala.org.