Last month, the winners in the four categories of Meet and Code 2019 were announced. Originally scheduled to take place in Budapest in March, the annual Meet and Code Awards was hosted as a virtual event on May 12.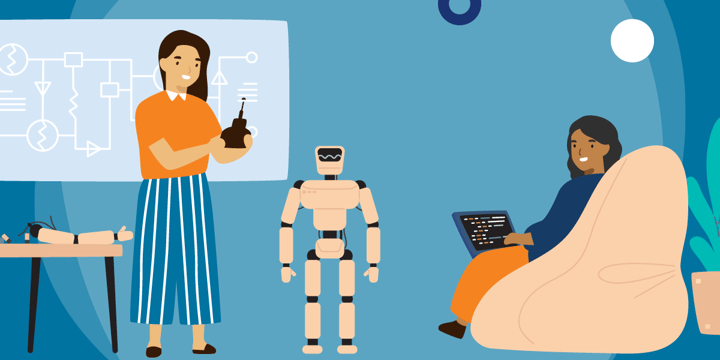 Meet and Code was created in 2017 by SAP, in partnership with TechSoup Europe and Haus des Stiftens. It aims to make digital skills accessible to every young European by providing funding to charitable organizations that facilitate events to introduce young people to technology. Each year, thousands take part in hackathons, workshops, classes, and other fantastic programs.
The Meet and Code Award offers a 2,000€ grant to the best event in each of four categories, all aiming to tackle social and environmental issues in technology. In 2019, these categories were Girls Do IT!, Diversity, Code for the Planet, and Community.
Girls Do IT!
This award category aims to help close the gender gap in IT and coding. For this category, we seek creative events that break down gender stereotypes and empower girls in coding.
Finalists
Moms Coding with Daughters (Belgium)
STEM Girls with Families by I Will (Ukraine)
Robot Fairytales by Foerderverein de Grundschule am Koppenplatz (Germany)
Winner: Robot Fairytales by Foerderverein de Grundschule am Koppenplatz
The winner of the Girls do IT! category was Germany's Foerderverein der Grundschule am Koppenplatz for their Robot Fairytales. Based upon a story in Stanislaw Lem's "Fables for Robots," this initiative encourages students aged 7 – 12 to design, build, and program character robots and present them in a video trailer. The unique combination of theatre and robotics provides an easy and fun approach to coding and supports the need for girls in technology.
Diversity
Commitment to diversity is critical to individual and organizational success, and by embracing different perspectives, we are made stronger by our combination of culture, race, ethnicity, age, gender, and sexual orientation. In the Diversity category, we are looking for ideas that inspire children and young people for a world with equal opportunities.
Finalists
Traffic Lights by Asociația Părinților Ioan Slavici Satu Mare (România)
Robotics Offline and Online by Adj Esélyt Alapítvány (Hungary)
Deaf Coders' School by Regional Youth Organization of the Deaf "Our Happy Life" (Ukraine)
Winner: Robotics Offline and Online by Adj Esélyt Alapítvány
In the Diversity category, the winner was Hungary's Adj Esélyt Alapítvány for their Robotics Offline and Online initiative. Taking place over two consecutive days, the program presented basics of coding for SEN students with floor robots (offline) and Scottie-Go (online). The tools also support cognitive and social skills.
Code for the Planet
For this award category, we look for events that combine coding and actions for the planet, events that help drive awareness for climate change and contribute to Sustainable Development Goal 13, Climate Action.
Finalists
3D Coral Reef Design and Printing by Fundacja ArchitectsPL (Poland)
Microcontrollers — Small computer games with real significance for people and the environment by Foerderverein Gymnasium Am Roemerkastell e.V. (Germany)
AMyZONE by Qendra për edukim dhe (North Macedonia)
Winner: 3D Coral Reef Design
Poland's Fundacja ArchitectsPL were the winners in the Code for the Planet category, for their Designing and Printing the Coral Reef in 3D. In implementing the project, the team attempted to rebuild the world's ocean reef using a coral design in CAD software and printed using 3D printers. Young students were invited to design artificial reefs that mimic the texture and architectural structure of natural reefs.
Community
Events in this category take local customs into consideration and think about community-specific needs. These events should unite and foster cohesion among people and neighborhoods with similar interests and goals, through the passion to meet and code!
Finalists
Play Against Cyberbullying Workshop by ATL da Bolonha (Portugal)
San Rocco 3.0 — Discover Your Neighborhood by Cooperativa Sociale META Onlus (Italy)
Give IT Back to Community by Asociația Give IT Back (Romania)
Winner: San Rocco 3.0 — Discover Your Neighborhood by Cooperativa Sociale META Onlus
In the Community category, the winner was Italy's Cooperativa Sociale META Onlus for their San Rocco 3.0, a guide to help discover neighborhoods. The solution aims to build a guide to rediscover neighborhoods by using a free augmented reality platform that involves coding elements using interactive experiences. During the event, children were involved with unplugged coding activity, such as drawing and adding content to flow diagrams. Older participants were able to use augmented reality for the first time, providing geolocated experiences and testing the results in real time.
Recognizing Europe's Digital Changemakers
Each of these finalists is an inspiration to us all. Thank you for your hard work, support, and devotion as we continue to empower our youth and ignite Europe with 21st century skills!
Registrations for Meet and Code 2020 opened on June 1, and we couldn't be more excited for what is to come.
Find Out More