GetResponse is a suite of simple and effective marketing solutions that are designed to create an improved user experience and nurture leads in order to build your supporter and partner base. Using great landing pages, beautiful email campaigns, and engaging online events, you can easily make your supporters feel valued and encourage them to become long-term partners in your work.
GetResponse allows you to do all this without spending hours brainstorming, testing, and crafting marketing materials. Their templates and automations make it easy for you to choose the campaign that is right for you, tweak it to your branding and audience, and use it right away.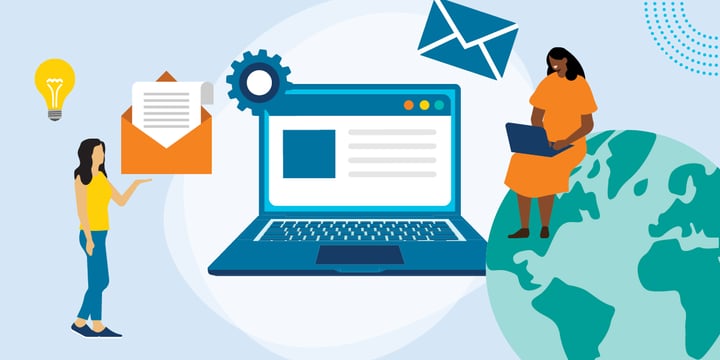 GetResponse has partnered with TechSoup to offer nonprofit organizations a 30 percent discount, with the option to increase that discount to 50 percent if you add the GetResponse logo or link to your website. Read on to find out how GetResponse can help you to share your story and gather support without wasting time and money that could be used to work towards your mission.
Email Marketing
GetResponse helps you build beautiful emails that make an impact. Depending on your organization's goals, the platform will help you to craft campaigns that engage your audience and use subscriber data to improve your reach.
A library of great email templates allows you to send out professional-looking campaigns that look great on both desktop and mobile. You can add your organization's branding to emails and use free Shutterstock images to enhance your design. One simple interface allows you to view scheduling and setup details, and the tool uses your subscribers' data to send out emails at the perfect time to increase your impact.
Subscriber data can also be used to personalize the user experience, allowing you to segment your contact lists according to a user's profile. All of this comes in an intuitive and easy-to-use interface, helping you to use your time and resources effectively without sacrificing the quality of your marketing campaigns.
Landing Pages
You don't need to be a web designer to create stunning landing pages that build interest and convert browsers into supporters and partners. Decide what your goals for your landing page are and use GetResponse's simple design tool to grab the attention of visitors to your website. Similarly to the email building tool, GetResponse provides great templates, which can be adjusted, branded, and customized using an easy drag-and-drop editor. You can access comprehensive data on the performance of your page, tweaking the features accordingly. GetResponse also allows you to run A/B tests to ensure that your landing page is as effective as possible at achieving your goals, whether those are mailing list sign-ups, donations, or new partnerships.
Webinars
Webinars are an increasingly popular way of running events, and a great way of engaging supporters and partners across the world. GetResponse makes it easy to design and run webinars, adjusting your layout, subscription settings, and more through the intuitive interface.
Share your screen, brainstorm ideas, and collaborate using interactive whiteboards. Share files and YouTube videos with your audience, using tools designed to maximize engagement. Customizable email invites, reminders, and nurturing campaigns help you to build up an engaged and tailored audience, and an SEO-optimized landing page makes the registration process easy and enjoyable.
Marketing Automation
Nonprofits are often pushed for time and resources, and marketing activities can be time-consuming and expensive. This can put many nonprofit organizations off investing in marketing themselves well, and they lose out on support, partnerships, and exposure.
With GetResponse, you can deliver a great customer experience, automate your processes, and personalize your marketing strategy without a need for in-depth knowledge or intensive time investment. You can use GetResponse's marketing automation templates, or create your own, to deliver a tailored experience to your website's visitors.
Using tags, you can profile visitors and interact with them accordingly — for example, by sending them a thank-you email after they donate or sign up to your mailing list. This is an effortless way to make your supporters feel valued, encouraging them to continue contributing to your organization's work.
Market Your Organization with GetResponse
Marketing is an area often neglected by nonprofits, but it is a great tool that can help you build your supporter base and raise awareness of your mission. GetResponse helps you to get smart about your marketing processes, helping subscribers and website visitors to feel valued and effectively getting your story out there. From email campaigns to crowdfunding and social media integration, GetResponse can help you to streamline your marketing processes, engage your audience, and build support.
Additional Resources
Top photo: Shutterstock