There are many ways to approach fostering a culture of belonging in the workplace, and affinity groups are a great place to start. These groups, also known as employee resource groups (ERGs), are internal resources for people with similar identities and interests to engage in discussion, build their networks, and promote the visibility of diverse perspectives throughout the organization.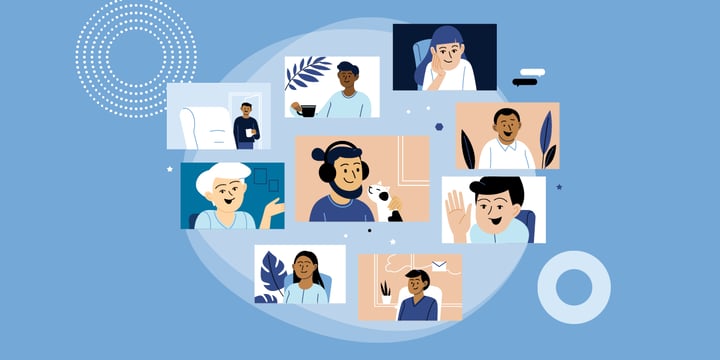 Many nonprofits are confronting racism and injustice within our communities and continuing our mission-driven initiatives, while faced with prolonged or permanent remote work. In these times, creating and supporting affinity groups allows employees the space to network and seek solutions to issues that matter to them. In this post, we'll share the benefits of affinity groups at nonprofits and highlight one of TechSoup's own: Alphabet Soup.
Affinity Group History
The first known workplace affinity group in the United States was the National Black Employees Caucus (now Association) founded in 1970 by Xerox in an effort to confront the injustices Black employees faced in the height of the civil rights movement of the mid 20th century. In 1978, Hewlett Packard (HP) created the first known LGBTQ+ affinity group called the Gay and Lesbian Employee Network, known today as the PRIDE Business Impact Network. The phrase has now been converted to recognize any group of people with similar backgrounds that come together and promote equity and inclusion.
Why You Want to Have Affinity Groups
Although the most common affinity groups are based on racial identity, gender identity, or sexual orientation, newer groups are being established that promote disability rights, social and environmental justice, volunteerism, and allyship. Here are some benefits to establishing affinity groups at your nonprofit.
Foster a culture of belonging: Employees want to feel comfortable bringing and expressing their whole self at work, which will promote engagement and allow them to create the space to do so.
Gain diverse perspectives on business needs: Employees want to know their workplace cares about who they are and is committed to promoting diversity, equity, inclusion, and belonging. If you have affinity groups, engage them for programmatic insight and consider highlighting them on your organization's website and social media.
Invite discussion and networking: These groups can identify discussion topics and provide opportunities for cross-departmental networking, which can strengthen DEI (diversity, equity, and inclusion) initiatives and offer space for collaboration and innovation across teams.
TechSoup Affinity Group Spotlight: Alphabet Soup
TechSoup's first affinity group, Alphabet Soup, was born out of the employee collective BRIDGE (Building Respect, Inclusion, Diversity, and Global Equity) and founded by training and development manager Aron Ford in early 2020. At its first meeting, the group wrote its mission statement:
Supporting inclusion and diversity of sexuality and gender within TechSoup and our greater community. Spotlighting intersectionality with other identities and creating alliances.
Furthermore, member Jules Weiss expressed that the group's goal is to "provide educational programming about the LGBTQ+ community, history, and contemporary relationship to the nonprofit sector, especially highlighting how LGBTQ+ issues impact TechSoup's work internally and externally."
Since its inception, the group has hosted internal brown-bag events to recognize observances such as Harvey Milk Day, Transgender Day of Visibility, Pride Month, and LGBTQ+ History Month. This past Coming Out Day (U.S.: October 11, 2021), Alphabet Soup published a blog post highlighting the work of two nonprofits serving the LGBTQ+ community: GLBT Historical Society and The Amsterdam Rainbow Dress Foundation. In 2022, the group plans to host one discussion or brown-bag event per quarter, and it is considering future blog posts while further engaging the nonprofit community.
As the affinity group consists of employees and events are hosted by volunteers, it is important to remember that its activities contribute to the mission-driving efforts of the organization. Member Bruce Ackley says, "I feel inspired that my workplace embraces the concept of affinity groups, including Alphabet Soup. I find the integration of affinity groups and TechSoup work to be motivating."
Affinity Group Toolkit: Getting Started
Starting a new affinity group program at your nonprofit requires a few tasks and is well worth it. First, work with talent management teams such as Human Resources and Legal Services to establish a policy that defines what an affinity group is, how to form one, and how group activities align with the organization's mission, business needs, and DEI strategy. Learn more about United States legal policy regarding affinity groups.
Next, identify which groups are necessary for your organization and impact the well-being of your employees. Ensure that each group writes a mission statement and a vision statement and identifies goals for the coming year.
Lastly, encourage ongoing engagement with executive leadership. Establish an outcomes assessment to track metrics regarding group activities, business impact, accessibility, and resource needs, including compensation and funding for the affinity groups and their leaders.
Affinity Group Toolkit: Established Groups
If your organization, like TechSoup, has established affinity groups, below are some ways you can expand group activities and maintain momentum.
It is important to regularly consider the need for new affinity groups and survey staff to see if they have suggestions or requests. This includes gaining and maintaining executive sponsorship. An additional benefit to including leadership in group activities is further opportunity for professional and personal development and mentorship.
Encourage cross-group collaboration to continue fostering cultural competency and benchmark group initiatives with those of similar groups at other organizations. Common initiatives that inspire activities are internal networking, internal events, community engagement, and business needs.
Final Thoughts
As you begin or continue on your affinity group journey, we'll leave you with some advice from Aron Ford and Alphabet Soup:
Endorse work time being spent in organizing affinity groups. Create a process for the creation of affinity groups so folks who may be interested but who don't know how to organize can start one.
Additional Resources
Check out these TechSoup blog posts championing diversity, equity, and inclusion and consider how these topics may inspire new affinity groups.
Top photo: Shutterstock