Recent research from the Pew Institute shows that only 59 percent of older adults go online. New technologies can be difficult to learn, and older adults may not understand the benefits of using technology. But libraries can help older adults adopt technology in meaningful ways for communication, lifelong learning, and entertainment.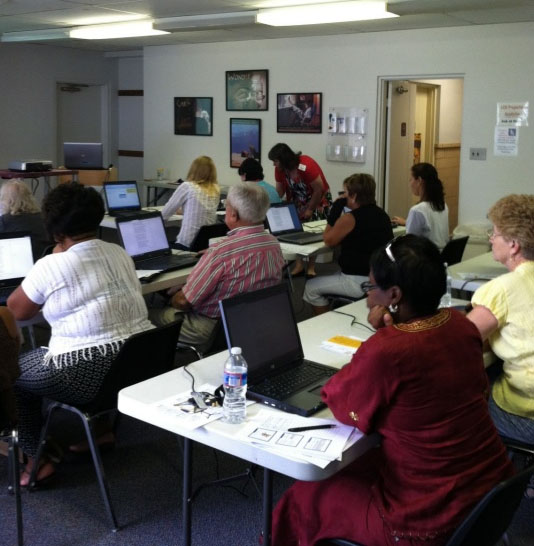 TechSoup for Libraries hosted a webinar in May on teaching older adults technology at the library. We invited the following speakers to share tips and tools:
The Right Tips
Kathy Faubion shared how she teaches technology to the older adults in her community. She noted that we now live in a society where almost everything is available online — from medical bills to IRS forms. "It's more important than ever to help this group with technology so they can cross the digital divide," said Kathy.
Outreach Strategies
The first step to bridging this divide is to actually bring older adults through your library doors to attend classes. Kathy provided a few tips for outreach based on the library's post-event surveys:
The local newspaper is how the majority of attendees found out about courses.
Put up flyers and print up brochures for classes around the library.
Don't assume that older adults aren't on social media. Kathy said about 21 percent of adults who attended her courses learned about them online.
Partner with local agencies and nonprofits that work with older adults to help spread the word.
Planning Ahead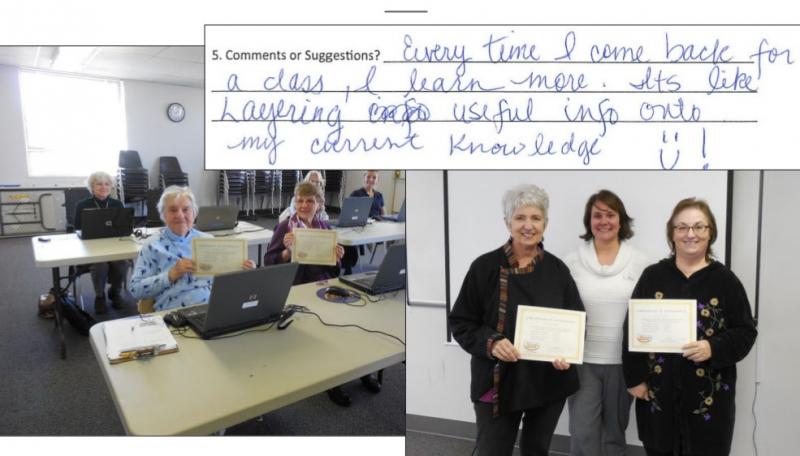 When planning programs, Kathy recommends considering the physical space you plan to hold classes in. Does it accommodate walkers or wheelchairs? Do you have technology, such as screen readers, for people with low vision?
Also, make sure to consider the best times of day and travel needs for older adults. Night classes, for example, might not be the best option for your attendees. Last, but not, least Kathy advises to stay patient when teaching classes or giving one-on-one help.
Kathy Faubion draws from a few different technology training sites. They include DigitalLearn, TechBoomers, and the Denver Public Library's lesson plans for its technology classes. She also recommends a book from the ALA called 5-Star Programming and Services for Your 55+ Library Customers. Games such as Mousercise or simple games like Solitaire are a great way to get new technology users accustomed to using the mouse and keyboard.
The Right Tools
Steve Black was inspired to start TechBoomers to help his mom sign up for Netflix and start a Facebook account. He is a firm believer in the power of technology to positively change lives, but he had a hard time finding adequate basic technology and Internet training. Thus, TechBoomers was launched with the mission to "improve the quality of lives of older adults by empowering them to learn how to use technology."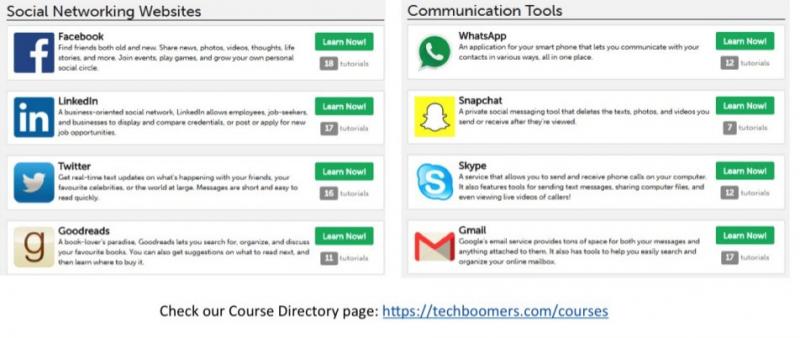 TechBoomers currently offers over 80 free courses, 1,000+ videos, and article tutorials. In April 2016, TechBoomers taught more than 160,000 people across 100 countries how to use technology, social media sites, and web services. The courses will always be free for both users and partners, such as libraries and other digital literacy providers. Steve shared six ways libraries can use TechBoomers materials to teach digital literacy:
Recommend TechBoomers as a self-learning resource to patrons. You can add a link to courses on your library's website or advertise courses with flyers. Let patrons know about TechBoomers when they ask for information on a tech topic you don't already offer classes on.
Share TechBoomers content on social media to motivate and excite learners in your community. You're free to share all TechBoomers videos and articles with your social media followers!
Use training materials for your existing programs. You can share videos or articles as supplemental resources for your classes.
You can also design a new class curriculum around TechBoomers courses. It can be an online textbook for your class!
Run self-learning sessions. This would be something like a "tech drop-in" where people bring their own devices and work through tutorials.
Repost articles on your library website or blog. TechBoomers has 30 articles that you are free to repost.
There's no registration or partnership agreement to sign to get started. You can simply visit the Library Partners page, where you can subscribe to the partner newsletter, download flyers, find articles, and much more.
Both of our guests had so much more to share, but you'll have to watch the full webinar!
Do you teach technology classes for older adults at your library? Share your tips and tools with us in the comments.
Images: St. Mary's County Library and TechBoomers