We covered the launch of GoFundMe Charity in November of 2019 and thought it might well become an important source of funding for charities. Sure enough, peer-to-peer fundraising has been a lifesaver during the pandemic and recession. We got a bit concerned when Nonprofit Times recently reported that GoFundMe Charity will stop online fundraising on September 30, 2021. So we called the folks at GoFundMe to see what the closure will mean to nonprofits.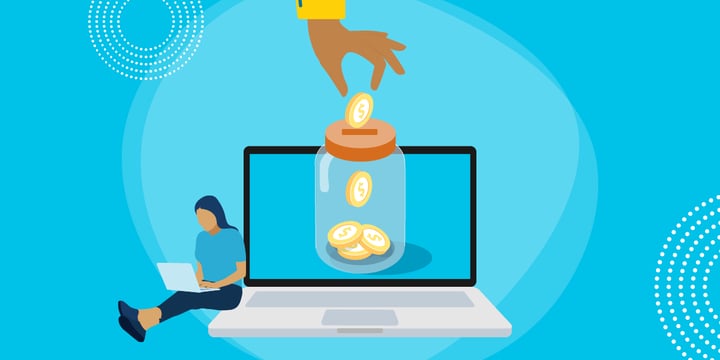 The good news is that GoFundMe Charity is being unified with GoFundMe.com so that nonprofits will be able to use the service with zero percent platform fees and nominal transaction fees going forward. In other words, the terms will be the same as GoFundMe Charity. GoFundMe is unifying the services to bring both communities closer together. Here are some details.
Finishing Up Your GoFundMe Charity Campaigns
If you already have GoFundMe Charity campaigns going, you can still use the service through the end of September 2021. When you have concluded a campaign, it's probably a good idea to download all your donor and fundraiser data from GoFundMe Charity. GoFundMe Charity campaigns will not be transferred automatically to GoFundMe.com.
Downloading your donor mailing addresses into a spreadsheet is a five-step process. If you asked participants for additional information like their location or phone number, download a full attendee report. It's a six-step process. Find the step-by-step directions for both reports here. December 31, 2021, will be the last day to view and export GoFundMe Charity donor and fundraiser data.
If you have donors on recurring gift plans on GoFundMe Charity, It is important to note that all recurring gift plans on GoFundMe Charity will be canceled after September 30, 2021. GoFundMe.com plans to set up a new system for direct-to-charity recurring donations by September 30, so that donors can set up new recurring donations. Also note that if you have a GoFundMe Charity button, it will become inactive at the end of September as well.
Getting Started on GoFundMe.com
To create a new charity fundraiser on GoFundMe.com, sign up at gofundme.com/sign-up. The company will guide you through a step-by-step process to create your fundraiser. Select nonprofit or charity when asked who you're fundraising for. This option enrolls your nonprofit with GoFundMe.com's payment processor, PayPal Giving Fund, to process and pay out donations to your charity. PayPal will automatically issue tax receipts to your donors. Your account with the PayPal Giving Fund also allows you to export your donor data through your PayPal account.
Like GoFundMe Charity, GoFundMe.com has a zero percent platform fee plus a 2.9 percent transaction fee and 30 cent fee per donation. At this time, charity fundraisers on GoFundMe.com are available to U.S. 501(c)(3) nonprofits and Canadian, U.K., and Australian registered charities.
The Reason for This Change
The unification of GoFundMe Charity and GoFundMe.com is probably of benefit to charities over the long haul. Here is what a GoFundMe spokesperson told us:
"To best serve our charity customers, GoFundMe Charity is uniting with GoFundMe.com to bring personal and charity fundraising together under one platform. This investment in a unified experience will make it easier for donors and fundraisers to discover and support charities, while allowing charities to engage and connect with GoFundMe's global community. Our goal is a powerful charity experience with a focus on simpler tools for optimal use on GoFundMe.com, which over 50,000 charities have already used for fundraising to-date. The unification of GoFundMe Charity and GoFundMe.com is underway and we look forward to sharing more information with charities, donors, and fundraisers in the coming months."
We'll keep you posted when and if more news becomes available. We believe that peer-to-peer fundraising will remain a powerful new tool for nonprofit fundraising, and GoFundMe.com's unification, we hope, will keep the service available for charities for a good long time.
Additional Resources
Top photo: Shutterstock