As we head toward the new year, we wanted to highlight some of the great new offerings that TechSoup has made available to our nonprofit community this year. Whether you're looking to identify areas for digital growth, try out a new CRM tool, or manage your digital assets, check out these great new offers from TechSoup.
Not sure where to start? Use TechSoup's Digital Assessment Tool to understand your organization's digital maturity and get support in how to grow and improve.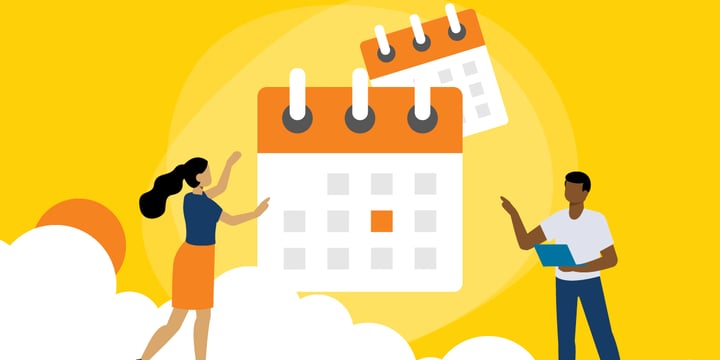 Digital Assessment Tool (DAT)
If you want to increase your organization's digital capabilities but aren't sure where to start, TechSoup's Digital Assessment Tool can help. Our free assessment tool measures your organization's digital maturity in six areas and makes tailored recommendations to help you become more digitally capable. We will tailor our recommendations to the specific needs of your nonprofit, helping you to lead a more informed, engaged, and focused team.
To learn more about our Digital Assessment Tool, check out this blog post to explain how it works, and what it might be able to do to help you.
Constant Contact
Constant Contact is an online marketing platform, combining an easy-to-use email design tool with useful automation features and even an online store. You can use Constant Contact to customize your emails and optimize the content you send out. It can help you to track engagement, using A/B testing to improve your strategy and helping you to understand your audience while complying with data protection regulations.
Check out this post from our blog to learn more about Constant Contact.
GetResponse
GetResponse offers a suite of marketing tools to help you build emails, landing pages and campaigns that engage your audience and build support for your organization. You can use a range of templates to create campaigns tailored to your organization's branding, and a drag-and-drop design tool lets you edit your pages easily. Testing, a personalized user experience, and analytics data help time-strapped teams to tweak their marketing materials in order to increase the impact of their campaigns.
If your organization could benefit from GetResponse's suite of marketing tools, head over to our blog to learn more.
airSlate
signNow from airSlate is a remote signing solution that enables you to send and sign contracts, invoices, or any other documents, completely remotely. With the rise of home working and many nonprofits operating with people scattered across cities and continents, a remote signing solution is fast becoming a necessity. signNow integrates with your existing apps and complies with data protection laws to ensure that your signing process is both smooth and legally binding. You can even use an intuitive mobile app to manage and sign documents.
To understand more about digital signatures and how airSlate can help, check out this post on our blog.
iFax
iFax enables you to send and receive faxes securely, from any device with an Internet connection. HIPAA compliance and 24/7 support make this a great tool to manage any faxing needs you may have. iFax offers three different subscription options depending on your needs, so you can scale the solution to suit your organization.
Keela
Keela is donor management software, designed to help you raise funds, build better relationships with your donors, reach out to supporters and volunteers, and build reports that will help you to understand your audience better. It combines a series of tools, from donation forms to a CRM dashboard, and campaign recommendations to help you tailor communications to each potential donor. Keela is a scalable solution, making it suitable for organizations of any size.
Learn more about using Keela at your nonprofit to build great relationships with your supporters.
OnPay
If your organization needs a reliable, customizable payroll service, OnPay can help. It can help you process payments to employees or contractors and to manage HR and benefits. It also takes care of payroll taxes to ensure that you have declared, filed, and paid everything you are required to. It can integrate with popular accounting software, and it includes useful features like employee self-onboarding. OnPay allows 501(c)(3) organizations to process payroll with FUTA exemptions, and it can also handle parsonage allowances for churches.
Learn how to choose the best payroll software for you on our blog.
Webex by Cisco
Webex Meetings is a video conferencing service from Cisco. It enables secure, integrated audio, video, and content sharing. The tool can scale to your needs, from one-on-one meetings to conferences of up to 1,000 people. The platform also includes messaging for easy collaboration and excellent administration and security support.
Fresh Solutions for Forward-Thinking Nonprofits
We're constantly looking to update our catalog with exciting offers and to support our nonprofit members as best we can. If your nonprofit is in need of some new solutions, or exploring how it can more efficiently manage marketing, faxing, or contracts, these great new tools can help! With all of these tools being offered as donations or at significant discounts to nonprofits, you can streamline and upgrade your technology while staying within a tight nonprofit budget.
Additional Resources
Top photo: Shutterstock