Over the past few months, I've been sharing some of our plans to invest the funds raised through TechSoup's Growth Capital Campaign. I've written about our strategies to facilitate the development of more apps for good, to build a new NGO marketplace, to expand on our global data and validation services, and to build our Cooperative Technology Platform.
And now, it's time to talk about how we plan to improve our own business processes. By which I mean the enterprise systems comprised of humans, technology, and standard operating procedures here at TechSoup. Fun, right? Well, actually, yes.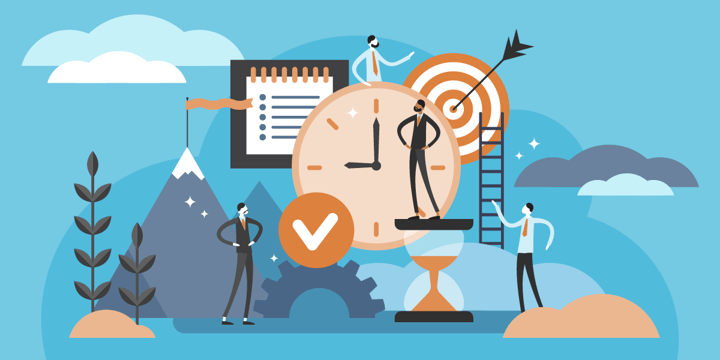 There are three main categories of items in which we'll be investing:
Systems that allow us to deploy solutions more quickly and reliably for you and all our other civil society community members.
Systems that allow us to more effectively conduct and understand global communications campaigns.
Systems that provide additional support for our staff members.
Let me dig into each one.
Systems That Allow Us to Better Deploy Solutions
We've actually already begun to do this. Last year, we developed a suite of processes and tools that allow us to better support organizations seeking Microsoft cloud subscriptions and TechSoup services solutions. Our tools help us to better engage with our nonprofits, learn from their questions and insights, streamline our licensing distribution, and support seamless subscription and recurring services payments for our nonprofit customers.
This year, we launched the Microsoft Digital Skills Center. Both of these were built on the backbone of next-generation software. We've also improved our nonprofit validation service, which allows you to receive a token from us so that you can access offers like the Google for Nonprofits suite of products directly through the Google site.
Some of these processes — like those using APIs to move all our registered user information from all over the world into a secure and segmented data repository — are invisible to you. Other processes still need work. For example, the connection between requesting a product and taking a course may feel less than elegant, requiring you to log in multiple times.
We want to fix this.
We want to develop an overarching system that allows you to log in once to access all TechSoup resources. This new system will make it easier for us to deliver on our goal of increasing the resources distributed to NGOs globally from $1.995 billion to $4.8 billion by 2023.
We also want to invest in systems that allow us to easily give you access to bundled solutions.
Imagine for a moment that you want to take advantage of TechSoup's offer from Box.org, but you don't necessarily know the best way to set the tool up at your organization. You want to be sure that your team is able to store its information securely, to set up different sharing permissions for different files, and to organize it all in a way that makes sense.
The new systems we're building at TechSoup will make it possible to get that same Box offer, bundled with services that help you set it up with the configurations you need and train your team members so they know how to use it. This bundle could also include a suggested standard operating procedure and policy to help you document your use of Box and make that documentation easy to access for your entire team.
Now imagine that you could access this entire bundle with a single transaction, and you can start to see what we have in store for the future.
What if we started getting even more specific? For example, make solutions easily available for organizations that share a common purpose. We are experimenting with this now — check out our page offering Digital Essentials for Organizations Focused on Domestic Violence. We would like to make more of these pages by collecting more information about your specific needs and developing comprehensive solutions that work or you.
Systems That Allow Us to Conduct Global Outreach Campaigns
You are reading this on the TechSoup.org website, so I'm going to make the leap and assume that you know TechSoup through our U.S. presence. That is not all of us. Actually, since 2013, more than 50 percent of the organizations registering with the TechSoup Global Network have been outside of the U.S.
TechSoup is a part of a global network of capacity-building organizations. From Colombia to Germany to Kenya to Japan, these civil society organizations are deploying solutions, offering training, and providing direct support to non-governmental organizations on the ground. Some of their work is unique to their constituency, driven by disaster or new opportunity.
Our partners are working hard to respond to the needs of organizations they support. We want to have the systems in place that help us take advantage of our combined strengths and unleash the true power of this network that we have built. We would like to be able to conduct campaigns globally — connecting all of our partners and the community of civil society organizations worldwide. We would also like to take solutions developed for addiction services organizations in Ireland and make them available to similar organizations in Tanzania.
What does that mean?
It means collecting common data points across our network that we can analyze to better understand our reach and impact. This can partly be achieved with tools. But it's more about establishing common data standards so that we are using the tools in the same ways. (I'm going to avoid saying standard operating procedure again, but you must know that I want to.) Then we can share what works and what doesn't and better learn from each other.
It also means when we do a large campaign, let's say Storymakers, we can launch it globally and reduce the work of each individual partner.
It also means that when our colleagues at MAKAIA develop a training on the United Nations' Sustainable Development Goals we can deploy that training worldwide much more easily than how we do it today.
This will help us ensure that we are learning across the network, reduce operational costs for each individual partner in the network, and make solutions available to organizations on the ground faster than ever before.
Systems That Provide Additional Support for Our Own Team Members
Like so many other nonprofits, we have historically underinvested in the tools and processes that support our own operations. From training to tools, we put ourselves last in an effort to create as much value for those we support as we possibly can. This is not unique to us. This philosophy — investing in impact first — is a core part of the civil society sector. Truthfully, that our community is our biggest stakeholder is the reason I work in this field. I suspect it may be a motivating reason for all of you too.
But we have to acknowledge that our push for impact can be hard on our team members. They throw every bit of themselves and their time at the problems we're trying to solve. This means entering data early on a Saturday morning instead of spending time with family. Struggling with systems that are too complex or out of date. At times, our staff cobbles together their own professional training from snippets of YouTube videos, materials in product forums, and the time-tested "try-fail, try-fail, try-IT WORKED!" methodology.
This can grind a team down. It makes it hard to find the time for reflection that is so necessary for a learning organization, and it makes collaboration across teams hard. It also leads to burnout.
We can't get rid of all of that. We at TechSoup are never going to put ourselves ahead of the organizations doing vital work in communities. However, we can reduce it.
This means a plan to invest in Okta as an identity management and single sign-on system for our own staff, so that we can use one secure login to access all the systems we use every day. Whether it be to request a day off, look at a program performance report, or enter an expense report, solutions that allow us to move easily between systems like this greatly improve our ability to do all that we do here at TechSoup.
It means training for us. Training that engages us with the newest features of Microsoft 365 or vSphere from VMware. Training that supports new supervisors throughout our organization on better staff management skills. And sensitivity training to support our continued work to ensure we have a safe, inclusive, and diverse workplace.
This Work Is Vital
This is the fifth blog post I've written to share the ways we are investing the money from our growth capital campaign. And this has been the hardest. I've struggled with it. My colleague Stephen Jackson (who manages our blog) has been waiting and patiently reminding me that I've got to get this done.
It's been the hardest because I kept thinking of it as the least interesting — let's face it, business processes are boring. And the benefits to our employees don't feel as exciting or transformational as the idea of increasing the number of purpose-built products available to you, or even the geeky love with which I can discuss the Cooperative Technology Platform.
In writing this, I realize that my resistance has been wrong. It's wrong for me just like it's wrong for you — using technology to make fundamental changes to organizational operations can make all of our impact greater and more profound .
When I speak about civil society and technology — and I do a lot — I talk a lot about the importance of investing in reliable systems that organizations can depend on, that make things easier for them, that offer the potential of transformation.
I have to recognize, at the end of this post, the need to take my own advice. I need to be less shy about our need to invest in our own systems and staff. And I need to be less shy in asking for your help in doing this too.
As we all know, it's difficult to get the funds necessary for this kind of investment. Likely, you use individual donations, support from your board, and the rare capacity-building or unrestricted grant to acquire the resources you need to upgrade your systems. We are deploying all of these tools as well. But we are a big organization, and our aspirations are even bigger. We launched our Growth Capital Campaign in order to pave the way for the important work that TechSoup has left to do — and there's a lot still to accomplish.
Join us.
This is one part of a series of posts describing the investments we are making with our Growth Capital Campaign. Read the other parts: